This article is more than 1 year old
Fire danger as iOS mislocates towns, again
Making fun of Apple maps, #729
The failings of Apple Maps are in the spotlight again, after an app that uses the service fell foul of its infamous inability to find decent-sized towns.
Here's the background: the Country Fire Authority (CFA) in the Australian state of Victoria decided it needed an app as a two-way channel between itself and citizens travelling through or living in fire-prone areas, and built one for iOS. Fires are a big deal in Victoria, where over 100 lives were lost and a great many homes destroyed in recent blazes. Delivering more information about fires, more often, is therefore well and truly on the State's agenda.
This means, of course, that it turned to Apple's much-derided mapping capability, which in turn has landed the CFA squarely in front of the finger of scorn.
The Sydney Morning Herald has the story straight, but offshore, publications like TechDirt have been unable to resist the chance to fire some rant-arrows at the hapless app:
"What could possibly go wrong when you place lives in the hands of Apple? Is Steve Jobs not a caring god who protects those who buy his products, at least for the year before the warranty runs out?"
The Register would like to frame the question differently: why did FireReady have to be an app at all?
For pushing information to users, the CFA has a perfectly adequate Website – yes, Vulture South understands that this lacks the cachet and cool of an app, but it works. It takes what's really known about the fire – presumably more reliable than asking Apple Maps to locate Mildura or Mount Isa – and drops a pin on top of Google Maps.
It even works on mobiles – at least, this author's Android device: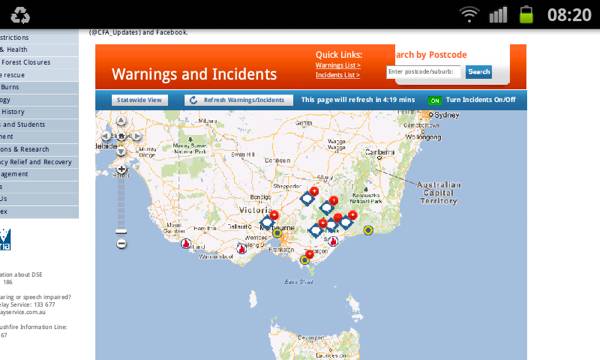 *The design decisions behind FireReady become even less comprehensible when you realise that somewhere in the CFA's IT systems it already has the geographic coordinates, as best as they are known, for a fire. So: why on Earth use a place-name lookup on someone else's map service to reproduce the information?
The Register has asked the Country Fire Authority for comment on this design decision, and will post an update if a response is received. ®
*Bootnote: The Country Fire Authority has advised The Register that the FireReady app does, in fact, use its coordinates rather than Apple Maps lookups.
The confusion that arises is at the user's end: that is, users are asking "where am I?" and receiving an occasionally-wrong Apple Maps answer, while viewing the fires in the correct location. Of course, the same user could just as easily look up their own location on Google Maps or, heaven forbid, using a browser. So it may be that this story has been somewhat inflated. ®