F5 Networks scarfs up LineRate Systems for SDN smarts
Homegrown OS is the secret to network acceleration
---
Another software-defined networking startup has been scarfed up before it got rolling very far on its own. In this case, network-acceleration and load-balancing juggernaut F5 Networks has acquired LineRate Systems, whose founders have spent the better part of the last decade figuring out how to shape traffic way up in the stack to improve application performance.
The financial terms of the acquisition were not disclosed, and F5 Networks said the deal would not have a material impact on its operating results. But the technology created by LineRate Systems could have a profound impact on the BIG-IP network appliance that is the flagship product at F5 Networks.
In a statement, F5 Networks did not elaborate on its plans for integrating LineRate's technology into its BIG-IP appliances, which come in physical and virtual versions these days. But what seems clear is that the smarts that the founders of LineRate – CTO John Giacomoni and chief architect Manish Vachharajani – have come up with to accelerate Layer 7 in the network stack, an in particularly the LineRate Operating System that was funded in part by the US Defense Advanced Research Projects Agency, are going to be a key to fulfilling F5 Network's SDN aspirations.
LineRate is based outside of Boulder, Colorado, and as Giacomoni explained in a blog post last May after LineRate Proxy, the company's first product, started shipping, it has been a long and winding road for the two researchers to get their product to market.
Giacomoni and Vachharajani were working on other projects at the time when they met in 2006 then founded LineRate Systems in 2008. The problem they first tackled was creating an efficient network operating system that did not have the bottlenecks of other network operating systems that are based on modified Unix or Linux kernels, thus allowing for LROS to boost throughput and packet processing by anywhere from a factor of five to ten over these Unix and Linux alternatives.
The LineRate Proxy service, which offers dynamic application traffic steering and management, is the first service that was developed to run atop LROS. It was developed by Giacomoni, Vachharajani, and two other employees, and with the help of a Series A funding round of $4.75m from Boulder Ventures in April 2011, the company was able to ramp up to two dozen people and get LineRate Proxy out the door in April 2012.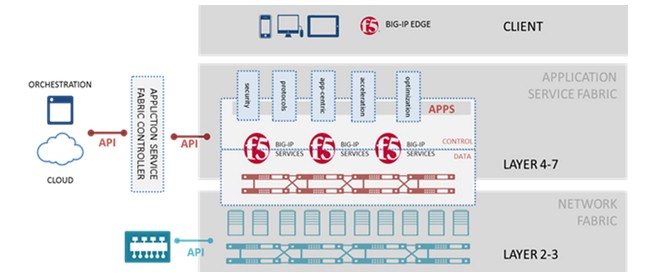 The F5 Networks SDN strategy before LineRate Systems was snapped up
LineRate Systems was just starting to get some traction when F5 Networks swooped in, no doubt to not only get its hands on LROS and LineRate Proxy, but to also keep that software, the patents surrounding it, and the techies at LineRate Systems from falling into enemy hands.
"In order to reap the benefits of software-defined data centers, programmable and scalable network services must be present throughout the entire network stack – up to the application layer," said Vachharajani in a statement. "We recognize that the SDN fabric may be good at Layer 2-4, but ultimately customers care most about the applications. The LineRate team is excited to join F5 and looks forward to helping F5 accelerate development initiatives in this important market."
The basic problem that F5 Networks is helping to solve was articulated by Lori MacVittie, senior technical marketing manager at the company, in her own blog post about the acquisition. The central problem, she explained, is that with SDN controller setups, you don't have to do a lot of deep packet inspection in the controller further down the stack, say down in Layers 2 and 3. But as you progress up through Layers 4 through 7 in the network stack, if you want to shape network traffic to optimize application performance, you have to do more and more packet inspection because you need to bundle network packets together to ensure application performance.
"LineRate brings a programmable, scalable platform to the application layer SDN table," MacVittie writes. "Its platform is not only capable of scaling on demand and meeting performance expectations on commoditized x86 hardware, but it is highly programmable. In fact it is designed specifically to be programmed to execute purpose-built business and operational logic at high speeds. It's a proxy-based architecture, similar to that of F5 BIG-IP, and offers what I can only describe as 'extreme programmability' as its core capability."
What MacVittie means by this is that the LROS and LineRate Proxy and other services that run on it act as independently operating service nodes that can scale independently and offer high-availability, which stands in stark contrast to the current Layer 2 and 3 SDN architecture, which rip out the network data plane from switches and routers, and centralize it in an controller in charge of forwarding tables inside of those devices.
It will be interesting to see if LROS, which runs on x86 iron, takes over for F5 Networks' own Traffic Management Operating System, or if ideas from LROS are just borrowed to extend it. ®