Cache 'n' carry: What's the best config for your SSD?
How to gain solid-state performance with out losing hard drive capacity
Dedicated cache drives
Probably the most useful alternatives to SRT are the solid-state cache drives offered by the likes of Corsair, Crucial and OCZ with their Accelerator, Adrenaline and Synapse products. These three and others use Nvelo's Dataplex caching software. The software works with AMD as well as Intel chipsets - so it's the obvious choice for folk with a dislike of Chipzilla products - but doesn't support chipsets produced by Nvidia. These cache drives have another distinct advantage over Intel's technology: you don't have to disturb your original setup. Just fit the cache drive, download and install the software, tell it which is the drive being cached, and off you go. To make sure that the Dataplex install has worked and the drive is in cache mode, there is a utility included to allow you to check all is well.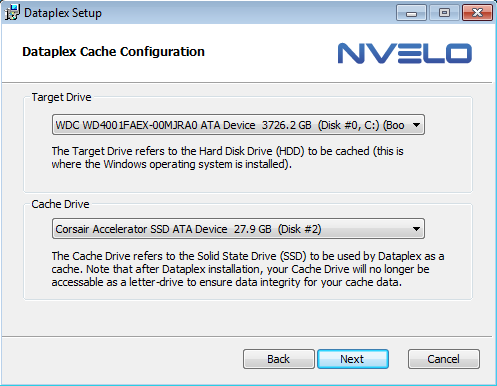 Setting up Nvelo's Dataplex cache operation software
That's all well and good, but what about laptop users who generally only have space for one drive in their machines? For these folk there is the hybrid drive: an HDD with a NAND Flash cache built in. Both Seagate and Samsung introduced hybrid drives a few years back and, it must be said, these early drives didn't set the world on fire. Undeterred by this reaction, Seagate kept on with the concept and in early 2010 launched the Momentus XT range, a 2.5in drive is available as a first-generation drive with a 3Gb/s Sata interface and 500GB capacity, and as a second-generation 750GB unit with a 6Gb/s interface. The two are priced at £84 and £99, respectively. Both come with a 7200rpm spin speed and 32MB of normal cache. The 500GB drive has 4GB of SLC NAND while the 750GB has 8GB. WD is expected to launch a hybrid drive soon.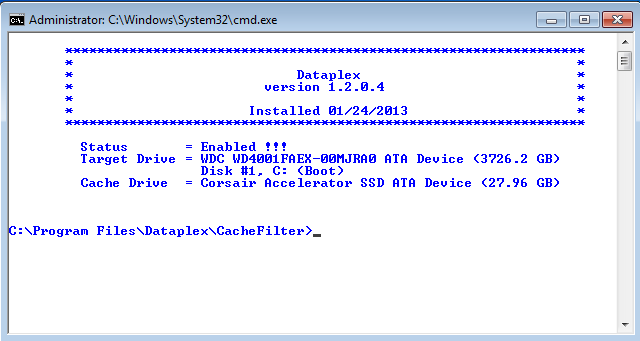 Dataplex comes with a quick-look status utility
Caching in Windows
In Windows 7, Microsoft turned off file defragmentation for SSDs, but with Windows 8 it's back, albeit in a different guise. The new Storage Optimizer utility handles different kinds of storage in different ways. If it sees a standard hard disk in the system, it will regularly defrag it in the normal way to ensure file data is kept in contiguous sectors. However, if it sees an SSD, it will send a complete set of Trim hints for the entire volume. To make sure that the OS knows what drives or what kinds are in the system you need to run the Windows Experience Index at least once.
Real-time Trim hints are sent to the drive when the file system moves or deletes files, but the drive may not be able to react to the hints if it's writing or erasing. The Storage Optimizer resends these hints when the system is in an idle state to make sure the SSD can react to them.
Testing
To explore the potential desktop performance benefits of Intel's SRT technology and of SSD cache drives over a standard large capacity hard drive, I used an Asus P8Z77-V Premium motherboard which, as well as supporting SRT, comes with a 32GB LiteOn mSATA SSD already installed. I also had to hand a 30GB Corsair Accelerator (£47) SSD cache drive, which also comes in 45GB (£55) and 60GB (£80) capacities. I've a Crucial Adrenaline (£60) which comes in just one flavour, 50GB, too. I used both this 2.5in drive and the 30GB, 2.5in Corsair as alternatives to Intel's technology. For the mechanical drive, I used one of Western Digital's latest 4TB Black drives, a fast performer with a 7200rpm spin speed and 64MB of cache. I then threw a 120GB Scandisk Extreme SSD into the mix, a reasonably fast drive which you can pick up for around the £75 mark if you shop around.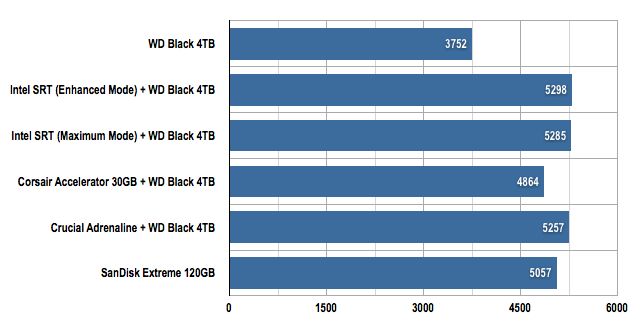 PCMark 07 Overall Results
Longer bars are better
To get a feel of how the various caching technologies would work in a real life situation, I used Futuremark's PCMark 07 benchmark suite. This provides various tests that mimic the kind of workloads a desktop or notebook PC might go through on a daily basis. The Gaming workload uses a trace of World of Warcraft being started up. Starting Apps is a trace of home and office productivity applications being started up, Importing Pictures uses a trace of 434MB of images being imported into Windows Live Photo Gallery, and the Windows Defender workload is a trace of the application running a quick scan of the system.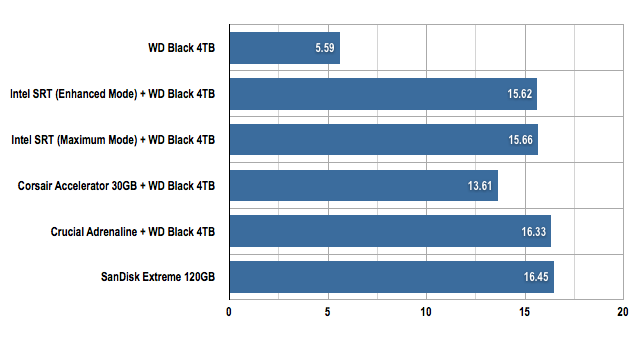 PCMark 07 'Gaming' Workload in megabytes per second (MB/s)
Longer bars are better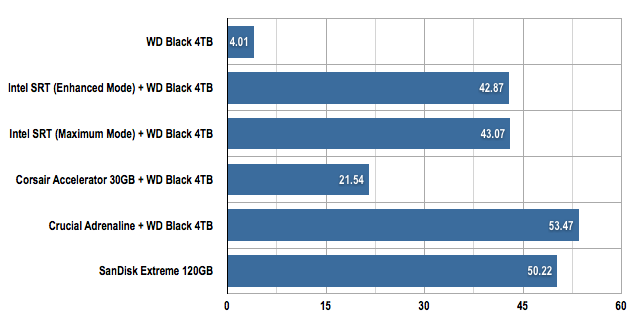 PCMark 07 'Starting Apps' Workload in megabytes per second (MB/s)
Longer bars are better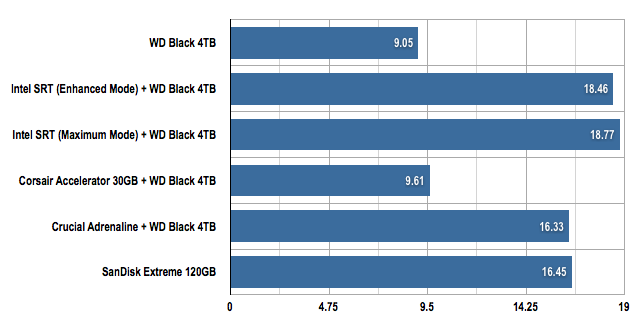 PCMark 07 'Importing Pics' Workload in megabytes per second (MB/s)
Longer bars are better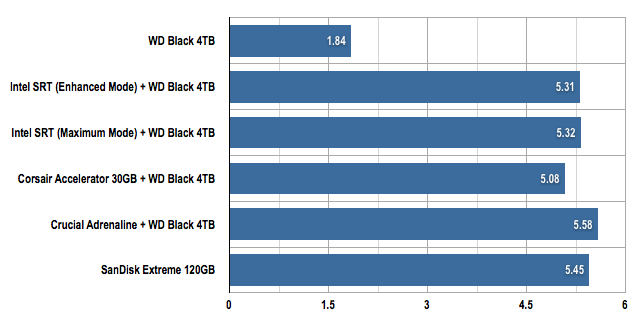 PCMark 07 'Windows Defender' Workload in megabytes per second (MB/s)
Longer bars are better
I ran the PCMark 07 benchmark four times to give the cache drive time to 'learn' which were the most accessed I/O blocks, and used the fourth run as the result to record.
Finally, to measure the boot time of the various combinations of SSD caching, I used the BootRacer application.