Cache 'n' carry: What's the best config for your SSD?
How to gain solid-state performance with out losing hard drive capacity
The Reg Verdict
As soon as any of the cache methods are used, the system boots up much more quickly than the standard mechanical drive alone, though that's no great surprise. The fact it's a 30-second improvement is very impressive.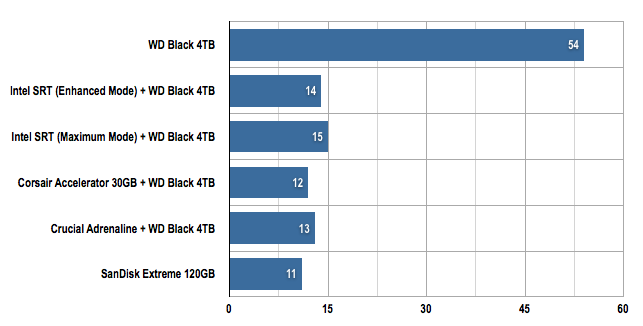 Boot time in seconds (s)
Shorter bars are better
Out of the two Cache SSDs I tested, Crucial's Adrenaline comes out on top. The drive is based on the company's m4 SSD, which uses the Marvell 88SS9174-BLD2 6Gb/s Sata controller chip. This gives the Crucial product a distinct advantage over Corsair's Accelerator drive, which is based on a 3Gb/s Sata LSI SandForce SF-2181 controller. The Marvell chip also gives the Adrenaline the edge over the SanDisk Extreme SSD, which has another LSI SandForce controller, this time using the more advanced SF-2281.
The difference between the two modes offered by Intel's Smart Response Technology is clearly show in CrystalDiskMark testing. Both modes show comparable read speeds - as they do in the various PCMark 07 tests, shown above. But it's a different story with disk writes. The Maximum mode delivers write speeds way in excess of Enhanced mode, which is held back by the need to write data to the hard drive simultaneously, though the quid pro quo is a more flexible set-up.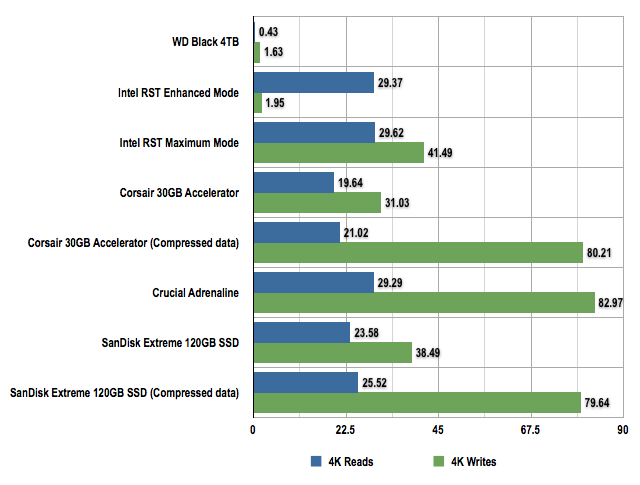 CrystalDiskMark results in megabytes per second (MB/s)
Longer bars are better
There are two sets of figures for the Corsair and SanDisk drives as they use a SandForce controller which hates incompressible data and likes compressible 1s and 0s.
So is SSD caching a viable option? If you're on a very limited budget or you just want to kick start your existing desktop system without the hassle of re-installing the OS or messing about with the Bios, then using a cache drive is undoubtedly the best way to go to get an instant performance boost without spending too much money or putting you to too much effort.
However, if you are building a system from scratch then the 120/128GB SSD for the OS and applications, and a separate high-capacity HDD for data makes more sense. This can still be a less expensive approach than a single, high-capacity SSD. If you're using a motherboard with a compatibly Intel chipset, SRT likewise is a good, easy option that's slightly slower than rival caches in some applications, slightly faster in others.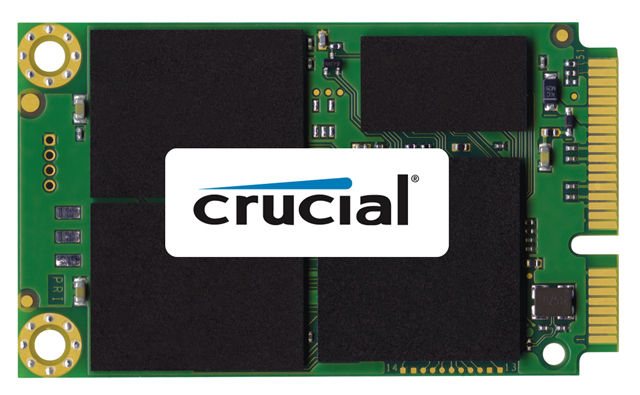 Crucial's m4 mSata solid-state drive
A 64GB mSata SSD such as Crucial's m4 will set you back a little more than £55, a tenner less than the 50GB Adrenaline cache drive, which is only warranted to work with Windows 7. Or rather the Dataplex software needed to make the the cache drives operate will only run under Windows 7. "If you wish to install Dataplex (in Windows 7 compatibility mode) on Windows 8, you do so at your own risk," warns Nvelo. It is working on a Windows 8 version, but is giving no hints as to when it might be released.
While you might think that SSD caching has had its day due to the relative cheapness of medium capacity drives, SSD drive manufacturers still think the concept has legs. In late 2012, for instance, Samsung acquired Nvelo. It clearly thinks there's mileage in caching, and when this approach so clearly brings the benefits of SSD speed and the capacity advantage of HDD technology, Samsung is almost certainly right. ®