Seagate: We'll bring down HAMR in 2014 ... this year, you get shingles
It's like all our storage Christmases came at once
---
Seagate aims to ship enhanced capacity shingled magnetic recording (SMR) disk drives later this year and bring in Heat-Assisted Magnetic Recording (HAMR) technology next year, a full two years earlier than supposed. Possibly this is its riposte to the helium gas attack mounted by WD subsidiary HGST.
Shingled magnetic recording - the overlapping of data tracks to cram more tracks and hence more data onto a drive's recording surfaces - will be introduced by Seagate on drives this year, according to Stifel Nicolaus analyst Aaron Rakers, who talked to Seagate EVP and chief sales and marketing officer Rocky Pimentel at the Stifel Tech Conference.
The current PMR (Perpendicular Magnetic Recording) process is nearing the end of its development, as any further decrease in the size of the magnetised bits renders them unstable, hence the need for storage firms to move on to newer, denser recording technology.
Pimentel said SMR drives would be introduced later this year, and enable a 20 - 25 per cent areal density increase. Taking a 4TB 3.5-inch drive and giving it an SMR upgrade would bump capacity up to 4.8TB to 5TB.
Meanwhile, rival HGST is approaching the same problem with a different solution - filling a drive with low friction helium gas and adding more platters so that, for example, a 4TB 4-platter drive becomes, for example, a 6-7 platter drive in the same enclosure with capacity ranging between 6TB and 7TB, assuming 1TB/platter technology. HGST could well start small, so to speak and intro a 5-platter 5TB drive.
As we explained here, SMR drives take longer to rewrite data because tracks overlapped by the new data track have to be reconstructed before the new data is laid down, thus creating a rewrite time penalty. Helium gas-filled drives won't suffer from this disadvantage.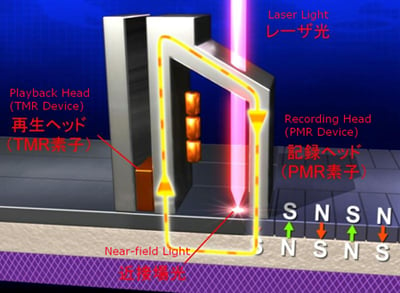 A HAMR type head
Pimentel told Rakers that following the 2013 SMR drive push, we can expect Seagate to ship HAMR disks in 2014. This is two years or so earlier than has been assumed. HAMR uses different recording media in which data bits are smaller than the current perpendicular magnetic recording (PMR) technology and much stabler than equivalent-sized PMR bits would be. This instability is what is closing off further PMR areal density improvement through decreasing the bit size. HAMR bits need to be heated (the H in HAMR) before their magnetic state can be changed, meaning a tiny laser heater has to be added to the read/write head to provide the fast and localised bit heating needed as the head flies above the moving recording medium surface.
Back in March last year Seagate said it had built a HAMR drive with a trillion bits/in2 areal density, some 60 per cent higher than the 620Gbit/in2 seen in a 3-platter, 3TB Barracuda drive. This implies that a 1TB/platter PMR drive could become a 1.6TB/platter HAMR drive and today's 4TB 4-platter 3.5-inch drives could become 6.4TB drives.
So, the Seagate capacity improvement from today's 4TB PMR drives is:
4-platter SMR drive at 4.8TB - 5TB later this year.
4-platter HAMR drive at up to 6.4TB in 2014.
Back in March last year Seagate was talking about 10 years of progressive HAMR technology generations leading to a 60TB 3.5-inch drive. We're looking at a disk capacity race between Seagate using SMR and HAMR, and HGST using helium (and SMR), with Toshiba and Western Digital so far having not declared their technology preferences. Which way will they jump to increase capacity?
Pimentel also said Seagate will start shipping 5mm thick 2.5-inch in dual drive and hybrid (flash cache + disk) form for the tablet and thin/light notebook market in the second half of this year, with possibly a million or more such dries shipped by year-end. He says there will bean insignificant price premium for hybrid hard drives, above 1 million shipment volumes.
The Seagate sales and marketing bod also talked about Virident, the PCIe flash card vendor into which Seagate pumped $40m a short time ago, and whose product it is offering its OEMs and channel (as a Seagate PCIe flash card product). He said additional functionality could be provided for the product, such as file management, device awareness and security.
Whoever said disk drive technology and supply was settling into boredom? No way, Jose. ®