Ericsson is going with OpenStack, and in fact joined the consortium that is steering its development a year ago. The company and now previewing a tweaked version of OpenStack that will run on its network iron.
Network equipment providers created carrier-grade versions of Unix and Linux operating systems, or worked with partners like Sun Microsystems who coded them, and now they are having to weave together carrier-grade cloud control freaks. And just like Linux and Unix were natural foundations for carrier-grade operating systems, so is OpenStack and, in theory, its open source competitor, CloudStack.
Ironically, network equipment makers have been peddling blade servers and modular switching and routing equipment for a lot longer than IT vendors have been peddling similar technologies. The telco blades have their own standards that ensure interoperability, which is something that should have been done for enterprise blade servers but was not because server makers wanted account control a lot more than they wanted to give customers compatibility.
The reason why compatibility is important in the telco space is simple: telco gear makers also think for the long haul, with investments that can span a decade or two instead of the three or four year production cycle in data centers. So you have to be able to add a new and more powerful element to an existing chassis.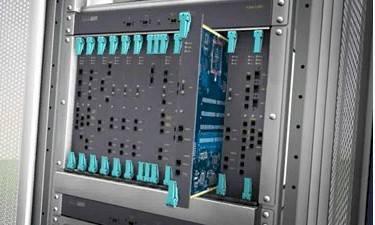 The Ericsson Blade System for telcos and SPs
The Mobile World Congress extravaganza kicks off on February 25 in Barcelona, Spain, but Ericsson had ants in its pants and couldn't wait until then to talk about its variant of the OpenStack cloud control freak, called the Ericsson Cloud System, that will run on its specialized gear.
For one thing, Ericsson does not want to get drowned out in all of the noise in Barcelona in two weeks, and moreover, the Cloud System won't be available until the first quarter of 2014, so the telecom equipment maker has to talk up the joys of an integrated cloud environment that runs on existing blade-based servers and routers that are the backbones of mobile networks.
This keeps its installed base focused on remaining on that iron and waiting patiently for a cloud environment that will run on the machinery they already have on site. With 40 per cent of the world's mobile traffic going over Ericsson gear and comprising 2.5 billion subscribers worldwide, telcos and service providers are probably willing to wait for the integrated version of OpenStack that the Swedish company is promising to deliver.
At the heart of the Ericsson Cloud System is what the company calls the Cloud Execution Environment, which runs on x86 iron, of course. It uses the KVM server virtualization hypervisor championed by Red Hat to dice and slice virtual server instances on top of physical server blades and puts KVM and the workloads that run on its virtual machines under the control of OpenStack.

The Smart Services Router 8020
from Ericsson
The software stack that the Swedes are putting together also includes Ericsson Cloud Manager, which is the Operational Support System (OSS) that is used to orchestrate the routers and other network elements including service modules running on blades, whether they are physical server instances or virtual ones, to provide telecom services.
Ericsson is giving the same server consolidation pitch that has been common in the mainframe market for three decades, in Unix for a decade and a half, and for the past decade or so in the x86 server racket, to push OpenStack into its telco gear.
By virtualizing, customers will be able to drive up the utilization on their blades and make the workloads on them portable and more flexible. Presumably they will also then buy fewer blades, which is bad news for Ericsson, but it is far better than letting customers porting to a router and blade supplier and getting no new sales at all.
The most current blade servers from Ericsson include the Mobile Switching Center Server (MSC-S), which does distributed switching for mobile networks when fired up with Ericsson's Media Gateway for Mobile Networks. These blade enclosures can be clustered, and the units have enough capacity to support 15 million subscribers in two single-depth cabinets.
Generally speaking, telco gear is shallower than enterprise IT gear, but some equipment makers have put DC power and other ruggedizing features onto enterprise blade servers that are deep by comparison and sold these to service providers and telecom companies.
The Smart Services Router 8000 family of routers has up to 16Tb/sec of half-duplex, non-blocking switch fabric bandwidth for supporting 3G and LTE mobile networks. The routers do Internet caching, virtual private networking, WiFi roaming, network resource provisioning, and other services using their own x86-based services modules. This is what OpenStack will take control of and virtualize with KVM early next year. ®
Similar topics