Lenovo, PayPal and lesser-known fellow travellers Agnitio, Infineon Technologies, Nok Nok Labs and Validity, have cooked up a new authentication standard for websites and an alliance to push it to the world.
The Fast Identity Online Alliance (aka FIDO), as the group and proposed standard are both known, advances a two-factor authentication scheme capable of working with a variety of tokens including biometrics, password-protected USB sticks and embedded hardware modules. The potential to use multiple tokens means the standard will be usable by one individual on many devices.
The group's idea is that sites adopt FIDO, promote it as a more secure form of login, and then liaise with third-party token issuers to validate logins. Such an arrangement, it is hoped, will prove more secure than simple authentication arrangements and also rather harder for scammers and spear phishers to exploit with fake websites.
A browser plugin is an essential piece of the FIDO plan, as it will handle exchange of information between the token and the FIDO authentication server employed by a FIDO-using site.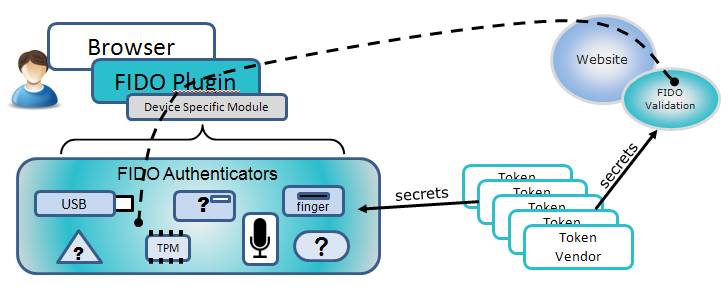 How FIDO works. Or will work if anyone signs up.
The USA's National Institute for Standards and Technology has applauded FIDO, with Jeremy Grant, senior executive advisor the Institute's National Strategy for Trusted Identities in Cyberspace (NSTIC) program quoted in its launch press release.
But there are gaps in FIDO's plan, including a lack of members who want to implement the standard. A seminar in Silicon Valley later in February should help to get the ball rolling.
Technical issues, such as persistence of tokens if one replaces or wipes a device, have also been identified and will be sorted out once committees sit down and start thinking about the standard in depth.
That committee's work may will need to consider that being conducted by the folks behind Security Assertion Markup Language and oAuth, two authentication standards FIDO mentions as complementary rather than competitive. Indeed, FIDO hopes to extend the first by offering an authentication process it lacks and improve the second by ensuring logins only happen with users' express permission. The group says it doesn't compete with OpenID, as it has no ambitions to provide federated identity management.
PayPal has an obvious interest in the success of FIDO, as anything that reduces fraud will doubtless be good for its bottom line. Lenovo, too, clearly has an interest given it has in the past promoted face recognition software as an authentication tool and is doubtless keen to point out the utility of fingerprint readers in its devices. As a new entrant to the smartphone market, offering secure and hands-free faceprint authentication won't hurt its prospects as it turns to markets beyond China. The other FIDO participants appear to hope for roles in the background, facilitating authentication with their own services and making a buck along the way. ®
Similar topics