This article is more than 1 year old
Vertu-alised Android revealed at an all-too-real €7,900
Luxury brand's first smartphone can repel ball bearings
Vertu, the luxury phone brand Nokia last year sold to a private outfit EQT, has revealed its first Android-powered smartphone.
The €7,900 ($US10,624 or £6,778) handset runs Ice Cream Sandwich, aka Android 4.0, boasts a "sapphire screen" said to be astoundingly scratch resistant and "four times stronger than other smart phones in terms of impact resistance." There's also a titanium case "around five times stronger than other smart phones, deforming less than 1mm when a 500NM force is applied."
Vertu says the screen can survive a strike from a 110-gram ball bearing , or 50kgs of pressure. All of which sounds like just the ticket if you want a phone that has a chance of surviving when stepped on by a horse, an application to which the base price leather and steel model is probably better-suited than the golden variant.
Reg readers operating in equine-free environments may also appreciate the Qualcomm Snapdragon S4, with two cores whizzing along at 1.7GHz, 64GB of internal memory, 8MP rear camera, 1080p video capabilities and 1.3MP front camera.
There's even baked-in NFC with tap-to-pay tech, for those who feel handling cash is a little gauche.
Vertu's site offers links to buy the phone online, but those links suggest would-be buyers "Contact a Boutique". Your correspondent once beheld such an establishment, which also sold high-end-bling, within the bowels of a casino.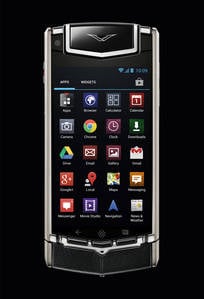 The €7,900 Vertu TI
Perhaps folks who frequent such venues are impressed by the statement Vertu has issued about the new phone, which describes it as "solid and beautifully crafted in the hand while offering unrivalled durability," a quality we're not entirely sure matters to those capable of spending so much on a phone. Perhaps the refined aesthetic of the phone, described as "distinctive Vertu design cues, such as the ceramic pillow and exposed watch screws, with a clean overall aesthetic, the result of which is a product that conveys a timeless elegance" are their buying cue?
At €7,900 we imagine buyers hope there's something timeless about the phone, which can also be had with alligator leather for €10,500, "Black PVD red gold mixed metals" for €16,500 or a "pure black" version at a mere €9,500.
The Reg has asked Vertu if it plans an Angry Birds tie-in, as a phone covered in real golden eggs sounds like a wonderful idea. Vertu is yet to reply to our query. ®