Imation takes $310.2m hit in hellish, wallet-draining 4th quarter
Storage firm keeps wolf from door by flogging off consumer brands
$310.2m: That's Imation's fourth 2012 calendar quarter loss. $299.1m: That's Imation's fourth quarter revenue. It takes some brass to record results like these and talk of the company's strategic transformation but that's what happens when you rightsize over-valued assets.
The chart below shows the scale of the disaster. Third quarter numbers were revenues of $248.2m and a net loss of $6.3m. It surely takes some going to record a sequential net loss increase of 4,900 per cent. Even on an annual compare the net loss increase was 24-fold, as the fourth 2011 quarter net loss was a mere $12.9m. Taking a hit on overvalued assets has meant taking a huge hit. We'll get to that in a minute...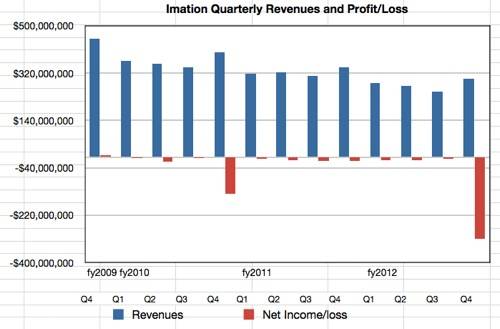 Annual revenues for calendar 2012 were $1.1bn, 15 per cent down on 2011, which was 14 per cent down on 2010, which as 12 per cent down on 2009. The net loss for the 2012 year was $340.7m. In the previous year it was $42.9m, Imation management having grown the annual loss by 800 per cent.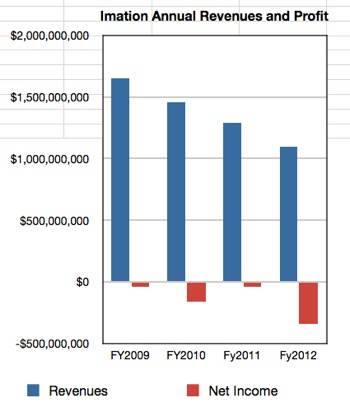 All in all these are abominable quarterly and annual numbers. The basic situation is well understood (described by El Reg back in 2011) - essentially, Imation's tape and optical media manufacturing and supply businesses had collapsed. Long-term CEO Frank Russomanno was replaced by Mark Lucas in 2010, who tried various tactics to rescue the biz. Imation went on to buy some supposedly high-growth companies, like MXI Security and IronKey, but no way could these grow fast enough to offset Imation's crashing revenues from its traditional products.
In October last year, Imation said it would fire a fifth of its workforce of around a thousand souls to get costs and revenues more in balance, and explore options like sales for its consumer businesses punting optical disks, USB sticks and the like. Then it went and bought privately held second tier storage array supplier Nexsan for $120m at the beginning of the year.
How does Lucas describe the current situation? "Imation's opportunity for higher margin, differentiated products is in our Secure and Scalable Storage portfolio which grew 16.7 per cent in the fourth quarter and rose to 21 per cent of total revenues, up from 15.7 per cent a year earlier." Er, yes Mark, but you made a $310m loss in the quarter. He said: "Our traditional storage business is in secular decline; therefore, we are acting with urgency to reduce our cost structure and transform Imation into a company focused on high growth markets in data storage and data security."
Now we come to the the reason for the huge loss: there were special charges in the fourth quarter of $305.2m, and these included intangible asset impairments of $260.5m, goodwill impairment of $23.3m and other charges of $21.4m. Imation's release said:
The intangible asset charges, which related primarily to the Memorex International Inc. acquisition in 2006 and TDK Recording Media acquisition in 2007, were driven mainly by an accelerated optical market secular decline.
These acquisitions were made when Frank Russomanno was at the helm. But now the two dead duck consumer electronic business - the Memorex and XtremeMac (bought in 2008) brands - are being flogged off. The retail optical TDK Life on Record business will continue "on a more focused basis", as will the similar Memorex optical business.
The big question is how long it will take for Nexsan revenues to grow enough to offset the declining tape and optical business revenues? If this doesn't perceptibly happen during 2014 then Imation's current leadership better start polishing their CVs. ®