Nvidia revenues fight the PC tide, but annual profits pinched
Tegra 4 ready for Q2 launch
Graphics chip and processor wannabe Nvidia turned in its numbers for its final quarter of fiscal 2013 after markets closed on Wednesday, and the top and bottom lines were more or less in line with expectations, given the cutthroat nature of the PC, smartphone, and tablet markets these days.
In the quarter ended on January 27, overall sales rose by 16.1 per cent to just over $1.1bn, bolstered by a $66m payment from Intel for intellectual property licensing after the settlement of a lawsuit relating to GPUs a few years back. Net income was $174m in the period, up 50 per cent. For the full year, Nvidia booked $4.28bn in revenues, up 7.1 per cent, but net income dropped by 3.2 per cent to $562.5m.
Starting during the current quarter, Nvidia will report its financial results in new categories: the Tegra system-on-chip business, which integrates ARM-based CPUs with GPUs, and the standalone GPU business, which includes GPUs for notebooks, desktops, and workstations as well as Tesla GPU coprocessors for servers and workstations and the winding-down CPU chipset business.
In the just-complted quarter, GPU sales were up 7.1 per cent compared to the year-ago period when the market was anxiously awaiting the launch of the "Kepler" family of GPUs. GPU sales were down 6.9 per cent sequentially, which indicates that pent-up demand for Kepler-based machines is waning a bit.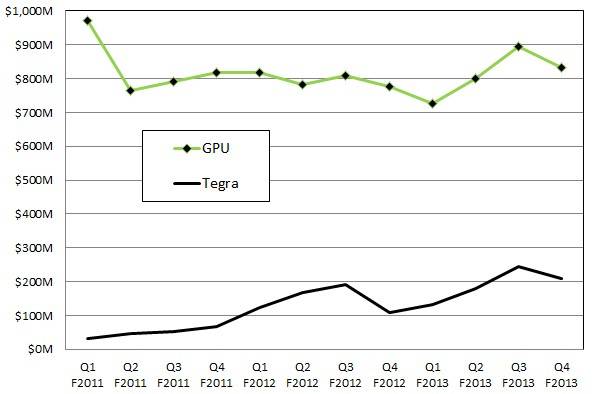 The ups and downs of the GPU and Tegra CPU/GPU businesses at Nvidia
The sequential compare is a tough one because Nvidia shipped a very large number of Kepler-based Tesla GPU coprocessors in the fall for the Titan ceepie-geepie supercomputer at Oak Ridge National Laboratory and the Blue Waters machine at the University of Illinois.
Nvidia CFO Karen Burns said that Tesla GPU sales did in fact fall quarter-on-quarter for this reason. Tesla GPU coprocessor sales were up year-on-year in the fourth fiscal quarter, however, which is a good sign of the progress of hybrid supercomputing.
Burns added that part of the problem in GPU sales' sequential decline was that the channel returned to its normal run-rate for desktop GPUs after a big pull in the fiscal third quarter that ended last October. The good news was that notebook GPU sales were up slightly year-on-year, thanks in large part to design wins Nvidia got many months ago for pairing with Intel's "Ivy Bridge" Core processors.
For the full year, the GPU business was up 2 per cent to $3.25bn, and if you take out the $173.1m in chipset revenue declines in fiscal 2013 compared to fiscal 2013, then sales at the GPU group were actually up 8 percent.
On the processor front, Tegra CPU sales were down sequentially thanks to lower revenues for Tegra 3 chips ahead of the launch of Tegra 4 processors, which Nvidia cofounder and CEO Jen-Hsun Huang said were ramping in production now for an official launch in the second quarter.
The Tegra 4 chips made their debut at the Consumer Electronics Show in Las Vegas in early January, and include a quad-core Cortex-A15 chip with a fifth Cortex training wheel for low-power computing as well as a 72-core custom GPU.
Nvidia said on a conference call with reporters and analysts that the Tegra 4 has more design wins than the Tegra 3 did, and that the company would ship its Tegra 4–based Shield gaming platform in the second quarter, as well.
Huang is calm, at least publicly, despite being at the helm of a company that is in the cutthroat CPU and GPU markets – and one of the reasons why is simple. Nvidia exited the quarter with $3.73bn in cash and equivalents, a pile that just keeps growing, and the company has no debts. The number of companies that have nearly a year's worth of revenue in the bank is not high, and it gives Nvidia both patience and maneuvering room – so long as Wall Street doesn't start demanding that Nvidia distribute it to shareholders.
Tegra CPU/GPU sales were up 29.3 per cent for the year to $764.5m, and in the final quarter of the fiscal year brought in $208.4m, which was an 89.8 per cent bump compared to the year-ago period. However, that Q4 level was 14.6 per cent lower than in Q3 – not unexpected, given the impending Tegra 4. ®