Western civilization is taking a drunken step forward with a what's claimed to be a unique conjunction of one of mankind's most basic forms of entertainment and the video game that provides one of its latest ones.
The Beercade, aka The Last Barfighter, is a full-sized cabinet arcade game (for younger readers that's six feet of wood and glass construction, with a joystick and some buttons, that was the most common gaming console of its day) running a Flash fighting game and holding a refrigerated keg. The winner of three rounds gets a slug of beer in a cup deposited from a tap where the coin slot is traditionally located.
"For the controllers, we ordered a lot of analogue parts because we wanted it to feel an old-school big box, the kind of thing you'd say 'Holy ****, look what we found in our basement!'," co-creator Adam Carroll told The Register. "We grew up playing these games and wanted the nostalgic feel to it."
The game itself is a World War Two–themed fighting game set in a biker bar, and has a variety of basic moves and some special attacks such as fire throwing, unicorn-horn impaling, and butt slaps – the latter administered by a 1970's Blaxploitation character dubbed Bad Penny.
"Gaming has got very social but also very antisocial these days," Carroll, who works as a creative technologist for the team, said. "There's no culture of going to an arcade, beating someone, and looking at their face and trash talking them right there and then. We're trying to bring that same environment back. Then if you add drinking, then everyone wins!"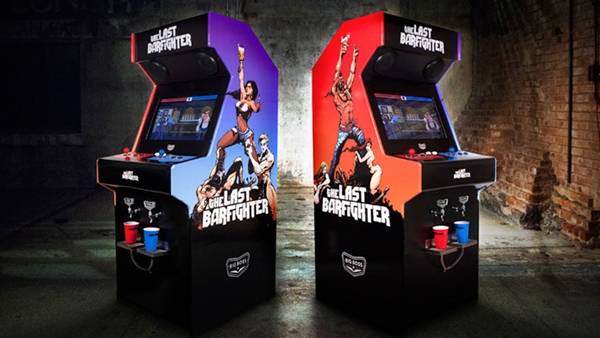 That's the Christmas present sorted, then
Sadly, this device won't be in general release. It was created as the brainchild of three staffers at North Carolina ad agency McKinney, which has a program allowing employees to spend 10 per cent of their time on private projects in the same manner as Google and others. It's going to be used by local microbrewery Big Boss Brewing Company to promote its ales.
The five characters are all based around different types of beer, which are themselves named after war-time aircraft. The games will appear at beer festivals and promotions for the brewing house across the country.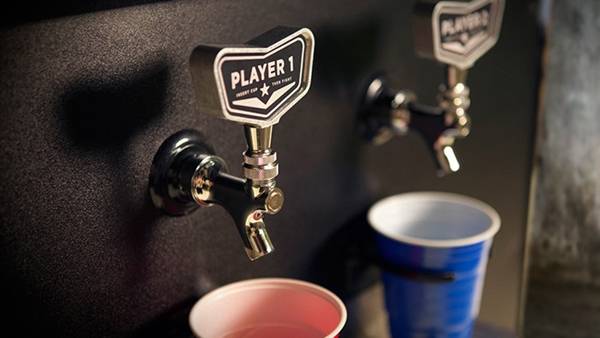 To Alcohol! The cause of and solution to all of life's problems
So it's a bit of a gimmick, but possibly a needed one given the stranglehold the big beer companies have on the US distribution and retail sector these days for their watery brews. Anything that makes better beer available in America is to be welcomed, and this El Reg hack is already preparing a pitch to management for an installation. ®