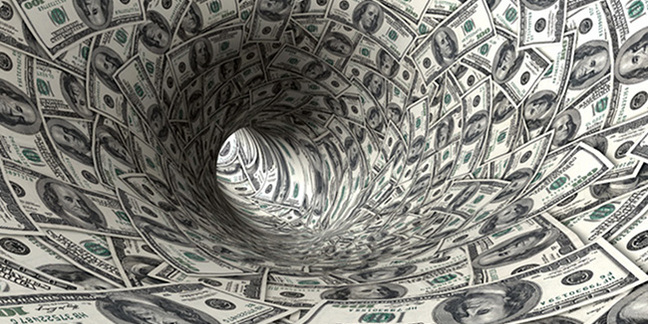 Storage networking and Ethernet supplier Brocade has grown its latest quarter's revenues but swung from profit to loss after changes to the state of California's tax code. It reckons it will soon be doing even better now on the back of its 16GBit/s Fibre Channel kit and added that software-defined networking has opened up a whole new raft of opportunities.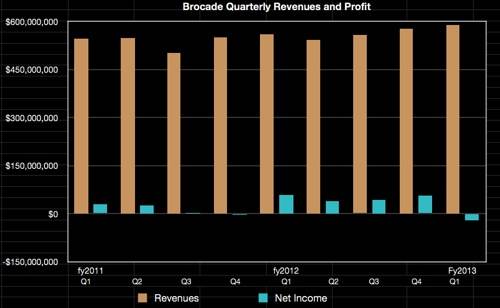 Revenues for the first fiscal 2013 quarter, ended 26 January 2013, were $588.7m - a record and a 5 per cent increase on the year-ago quarter. We would have expected net income of around $60m but instead there was a $21m loss due to the tax slurp.
A recent change in the California tax code reduced Brocade's deferred tax assets. There was a non-cash tax charge of $78.2m, due to the passage of Proposition 39 by the voters of California. Take $21m from that and we're left with what would have been a nominal $57m profit.
The company said Storage Area Networking (SAN) business revenue, including products and services, was a record $416.9m, up 3 per cent year-over-year.
IP Networking business revenue, including products and services, was $171.8m, up 11 per cent year-over-year, "principally due to lower Ethernet switch sales into the US federal government, which is typical in the company's first fiscal quarter." Within the IP networking business Ethernet switch revenue was up 18 per cent annually. Routing revenue was up 5 per cent and other IP Networking revenue was up 25 per cent driven by higher ADX (application delivery products) sales.
CFO Dan Fairfax said in the earnings call that he thought SAN revenue would go down in the short term: "For Q2, we expect SAN revenue to be down 5 per cent to 8 per cent sequentially … For the full fiscal year, we continue to see encouraging demand trends for the SAN market and expect year-over-year growth of 2 per cent to 5 per cent." The decline was attributed to Brocade's seasonal pattern of revenues. He thought IP networking revenue would not change in the forthcoming quarter.
Incoming CEO Lloyd Carney, 30 days into the job, sees great potential to grow revenues. One reason is this: "As long as storage demands increase, the demand for Fibre Channel will also increase."
Jason Nolet, Brocade's Data Centre Networking Group VP, pointed out Cisco was expected to introduce a 16Gbit/s Fibre Channel product line, despite its previous emphasis on getting Fibre Channel traffic sent over Ethernet, FCoE. The installed base of Fibre Channel users want faster Fibre Channel and not, so far, FCoE, Brocade said.
Carney chimed in here too: "FCoE didn't take over the world and they've [Cisco] drawn back from that, and FCoE now has got [to be] a bit part player in the overall scheme of things. … Cisco said Fibre Channel is dead. Well, Fibre is not dead anymore." Brocade said it's working with every major flash vendor to get Fibre Channel access certified.
Carney also sees opportunities in data centre fabrics, software-defined networking and next-generation products for SAN and campus networks because "networks have to evolve from the rigid, monolithic and proprietary entities they are today to be more open, dynamic and agile."
He said: "If you look in data centre, going forward, the firewall is going to be a piece of software. The switch is going to be a piece of software. The router is going to be a piece of software."
Answering a question about what Brocade might do he referred to Gartner's data centre networking infrastructure Magic Quadrants: "They had us there in the visionaries section, ahead of everyone, and there's no one in that top right quadrant. So that's us for us to go and take." He expects cloud service providers and the carriers to adopt new styles of data centre fabrics first, ahead of the financial sector companies, Brocade's traditional early adopters.
He also agreed that it was quite possible "a year from now that the composition of the business could look very different."
For example, El Reg speculates, Brocade could withdraw from the server host bus adapter (HBA) business where it hasn't made much impact if any on market leaders Emulex and QLogic.
There's a new high-end switch coming, with Carney saying: "We're going to have new high-end switching capability as well as new software content that is focused on manageability and diagnostics and visibility in the fabric end-to-end, right from the servers all the way to the storage targets. And we're not quite ready to announce that today."
On staffing Brocade is looking for a new head of sales and a new head of marketing. Outgoing CEO Mike Klayko had dispensed with the sales boss Ian Whiting last year. Carney said: "We're prioritising the VP of sales. And I'd be very surprised if we didn't have decision made on a candidate and candidate onboard within the next 30 days. Right behind that is VP of marketing and we've started that exercise and our process."
None of this sounds like Carney is positioning Brocade for a sale. In fact Carney says Brocade "is poised to take off." Okay Lloyd, take off. We're watching. ®
Sponsored: Ransomware has gone nuclear