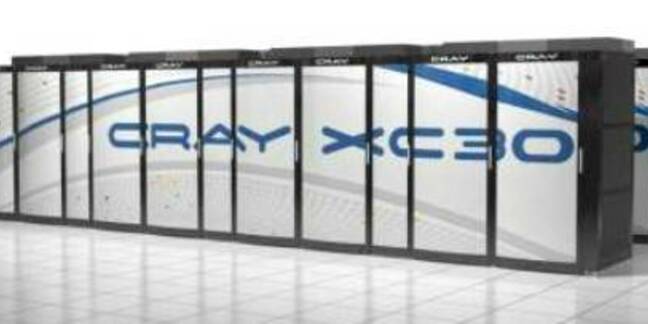 Supercomputer maker Cray has trotted out its financial results for 2012, and used the occasion to talk about its plans for its current year after closing out one of the best four quarters it has put together in many seasons.
On a conference call with Wall Street analysts, Cray CEO Peter Ungaro talked generally about Cray's plans to beef up its next-generation and DARPA-funded "Cascade" XC30 system, which was announced last November and which marries Intel's Xeon E5-2600 processors with the Cray-developed (and now Intel-owned) "Aries" interconnect to create a behemoth that can scale to over 100 petaflops.
Cray said last June, when Intel was touting the Xeon Phi x86 coprocessors, that it would eventually weave these into the Cascade system. It then said last August that it would do the same with the "Kepler" Tesla K20 GPU coprocessors from Nvidia.
The latter coprocessors are already part of the Cray XK7 supercomputer, on which the "Blue Waters" petaflopper at the University of Illinois is based, so Cray knows how to integrate these with processors to make a big old hybrid box. But the blade servers at the heart of the XC30 system need to be adapted to house the Xeon Phi and Tesla K20 coprocessors, and work is being done now on this for delivery later this year.
The Aries interconnect links to the Xeon E5 chips directly through its on-chip PCI-Express 3.0 ports, and it is not entirely clear how Cray will link the coprocessors in. Architecturally, you want to have one accelerator for every socket, as Cray has done with the XK7 machine. Or maybe even multiple accelerators per socket if the core count is high enough on the CPUs.
The company is also working on the software for its Cray Linux Environment to let it speak Xeon Phi in addition to speaking Tesla, Ungaro said.
For those jonesing for more x86 performance in their XC30 systems, Ungaro said on the call that the future "Ivy Bridge" Xeon E5 v2 processors, due later this year from Intel, will slip right into the existing machines because they are socket-compatible with the current Xeon E5s and will not require any re-engineering. If the Ivy Bridge chips come with ten cores instead of eight like their "Sandy Bridge" predecessors, this could represent about a 25 per cent increase in raw oomph, all clocks being equal.
Cray has said previously that it is working on a midrange variant of the XC30, which will scale from tens to thousands of processors and use a less-expensive cooling system than the one used in the full-on XC30 system, and that we can expect to see this machine in the second quarter.
What Cray cannot announce, of course, is a variant of the XC30 that uses the Opteron processors from AMD. The latest Opteron 6300s only sport PCI-Express 2.0 links, and the Aries interconnect requires PCI-Express 3.0.
High hopes for clusters
The XK7 and XC30 machines are not the only thing that Cray is fired up about as it enters 2013.
Last November, Cray dealt with cluster upstart Appro International by acquiring it for $25m in cash. The deal closed in November and Appro accounted for $600,000 in sales and a writedown of $1.3m in the fourth quarter ended in December as Cray wrote off some of its intangible assets.
Not great numbers for the first six weeks, to be sure, but not unexpected, either, given the transitions that come with an acquisition.
Ungaro said that the sales and marketing teams for the two companies have been integrated, and that Cray is working on integrating back-office functions – and, more importantly, that Cray is gearing up to push lots and lots of clusters.
"All of our current customers have clusters," Ungaro said, and none of them have the Cray brand on them. This is a greenfield opportunity for Cray to get "capacity systems" – which is HPCspeak for Linux clusters using InfiniBand or Ethernet interconnects – into places where it has already sold high-performance "capability systems" with proprietary SeaStar, Gemini, and Aries interconnects. Ungaro said the pipeline for Appro clusters was "building up nicely," and that the company expected to sell more than $60m in Appro gear in 2013. The first quarter is not going to be a huge quarter, but the business will build over the year.
Cray's fledgling storage and data management businesses (Sonexion arrays running the Lustre file system) brought in $50m in revenues in 2012, but at 29 per cent, gross margins were lower than the target levels Cray has for all of its units.
However, CFO Brian Henry said that he believes there is "room for margin expansion as this business grows," and Ungaro piped up that he believes Cray could grow the storage business anywhere from two to four times as fast as the HPC storage business at large. Part of that is just by getting Cray Sonexion storage attached to Cray XC30 systems, but the company is also planning to launch variants of the Sonexion products in the first half of this year that can attach to other systems. (It's not clear why you can't already hook Sonexion machines to non-Cray gear.)
The "Titan" system upgrade at Oak Ridge National Labs did not make it into Cray's 2012 numbers because the lab had not yet accepted the machine. But researchers were running apps on it starting last month, and the current plan is for it to be accepted – and hence the revenue booked – in the second quarter of this year, which will help the numbers a bit. And Cray has a number of other large-scale machines in the pipeline.
Add it all up, and Cray is now telling Wall Street to expect revenues of around $500m for 2013. That assumes around $70m comes in during the first quarter and about $225m comes in during the fourth quarter – again a big bunch of system upgrades seem to be expected quite close to the end of the year, and some of these could slip as has happened for two years now. The remaining $205m will be split in the middle two quarters in some way that Cray did not specify, likely because of the timing of the acceptance of the Titan machine at Oak Ridge.
Cray also said it expects to be profitable in 2013 – and that's without a killer intellectual property deal, which helped bolster the company's numbers for 2012.
Those numbers assume a pretty high core HPC system growth rate, when you consider that the Blue Waters deal at the University of Illinois was something of a fluke and gave Cray $188m it was not expecting in 2012 after the university and IBM decided to flush the original Power7-based Blue Waters system because it could not be manufactured at a price that made any sense for Big Blue. Cray can't count on such flukes going forward, and that's one of the reasons it made a lateral move into plain-vanilla x86 clusters with the Appro deal.
The numbers Cray turned in on Thursday were more or less in line with its preliminary results announced in early January. In the quarter, Cray's revenues were $188.8m, more than double from the prior period, but net income was cut by more than half to $14m.
However, for the full year – and you almost have to look at Cray's bumpy business on an annual basis given the nature of lumpy sales of large supercomputers – the company had $421.1m in sales and brought $161.2m of that to the bottom line.
In addition, the company started out 2013 with $323m in cash and equivalents, which is plenty of fuel to start the dance once again. ®
Sponsored: Webcast: Ransomware has gone nuclear