This article is more than 1 year old
WTF is... IEEE 1905.1?
Hybrid, multi-media home networking made easy
Feature It sounds like a solution looking for a problem. A technology that allows networked devices in the home connected by different network media to operate as if they were connected across a single medium. Surely TCP/IP already allows you to do that, routing packets from, say, network attached storage linked to a router over an Ethernet cord across to a TV that might be linked to the router wirelessly or over a powerline bridge?
IEEE 1905.1 may well be searching for a problem to solve, and it may, some observers argue, amount to little more than a standard designed to encourage consumers to buy more kit, but it has some big-name brands behind it and it's coming to domestic networking hardware soon.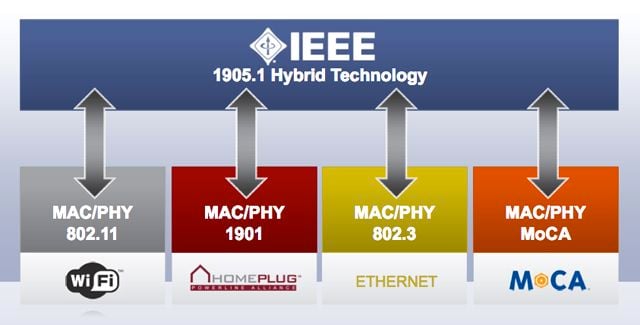 IEEE 1905.1: unifying multiple networking technologies
At its most basic, 1905.1 specifies the capabilities of firmware that sits just above a network device's MAC layer. It's able to seek out other, compatible devices on the network to learn what connections they have available to them and what hosts they're attached to. Data throughput sampling facilities allow 1905.1 devices to report on the quality of their active links.
The notion is that, say, a TV connected via a router to an online content source will receive that content over whichever network medium it has that is most appropriate. "Packets can arrive and be transmitted over any interface, regardless of the upper protocol layers or underlying network technology," is how the IEEE puts it. An example: the 1905.1 software in the router might choose to deliver the content - a streamed film, says - to the TV over a Wi-Fi link because that provides the best throughput. Should other wirelessly connected devices join the network and start drawing capacity away from the wireless link to TV, the router can seamlessly switch the television stream to an Ethernet connection instead. Likewise, if one link suddenly drops out, 1905.1 can switch the packets onto an alternative medium.
Purva Rajkotia, chair of the IEEE 1905.1 Working Group, claims this will happen in the order of "a few milliseconds" - not enough time for the viewer to notice the change, he says. Indeed, once the user has set up the TV to connect to the router by both Wi-Fi and Ethernet - whether directly over Cat 5 cable, or by way of a pair of powerline adaptors - he or she shouldn't need to do anything more to maintain the system - the 1905.1 "convergence layer" does all the work.
Multiple media, aggregated bandwidth
If the TV is only connected by Wi-Fi, 1905.1 can move other devices with access to other media off the WLAN. Even if all the networked devices operate only over wireless links, the IEEE standard's end‐to‐end quality of service (QoS) provision can give bandwidth priority to the streaming packets bound for the television. Devices with multiple connections can aggregate those connections to boost data transfer speeds.
According to Rajkotia, 1905.1 operates entirely independently from the application layer, so it makes no difference what software and protocols two devices are using to stream a video, play a song or transfer a file, 1905.1 works to route the data over the most appropriate network medium. It doesn't affect the underlying transport mechanisms. "The P1905.1 layer does not require modification to the underlying home networking technologies and hence does not change the behavior or implementation of existing home networking technologies," is how the IEEE describes it.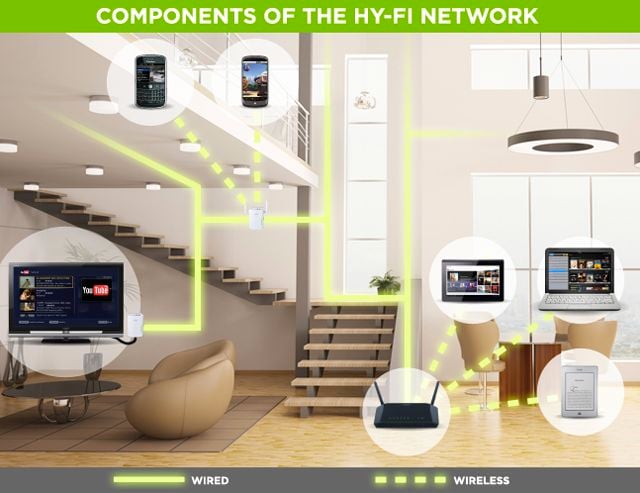 Wired'n'unwired: the hybrid network
Source: Qualcomm Atheros
In its first version, 1905.1 supports four media: Ethernet; Wi-Fi; powerline based on the IEEE 1901 standard - HomePlug AV, essentially; and co-ax cabling using the Multimedia over Co-Ax (MoCA) specification. A "legacy mode" ensures 1905.1 capable boxes can operate harmoniously with existing network kit, something the service provider backers of the technology were particularly keen on, says Rajkotia, so they don't need to implement it in one go. That's also handy for punters putting their own network kit in place.
And 1905.1 doesn't even mandate the use of all four media in a given device - one is enough, though there's clearly much less benefit to be gained from the specification's dynamic media selection abilities if a host gadget doesn't have at least two types of networking on board.
Rajkotia suggests that future versions of the specification may well add other network media: 60GHz WiGig, soon to gain the Wi-Fi brand, is an obvious contender. Not so the alternative powerline technology to 1901, G.hn. Since the ITU-backed next-gen networking-over-mains-wiring standard is designed to interoperate with 1901, there's no particular reason why it shouldn't be supported. It's un-interoperable specifications that are unlikely to make the grade, says Rajkotia. But with 1901 at the core of 1905.1 and strong support coming from the HomePlug Alliance, it doesn't seem likely to be granted the chance. Indeed, the HPA is no mere supporter of 1905.1 - it's the organisation that has been selected to oversee 1905.1 interoperability certification.