This article is more than 1 year old
Brand-new black hole found in supernova remnant
Chandra spots 'thousand year old' blast
NASA has released images from the Chandra X-Ray observatory which appear to show a distorted supernova remnant harbouring the youngest black hole ever observed.
Careful with the dates: NASA says it's a thousand years old as seen from Earth - which means something slightly different to "it happened in 1013". The remnant, W49B, is actually 26,000 light-years distant.
What's unusual about W49B is that when its star went supernova, it didn't explode in a nice, neat sphere: instead, the material ejected in the explosion was moving much faster at its poles.
Such "bipolar" supernovae are rare, and need stars much more massive than the sun to form. MIT's Laura Lopez said this makes W49B "the first of its kind" seen in the Milky Way.
The polar jets shaped both the supernova explosion and its aftermath, NASA states.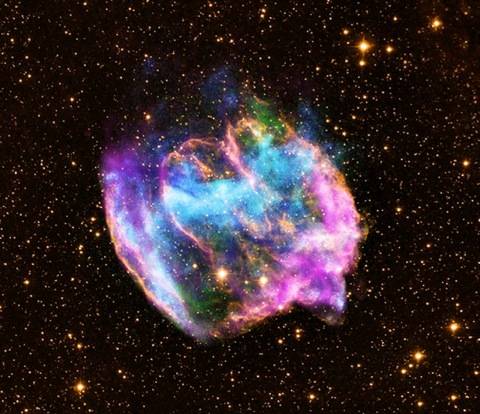 Strange shape: NASA image of supernova remnant W49B
The researchers say iron is only found in half of the remnant, while other elements like sulphur and silicon are more evenly distributed – and this discrepancy is what hints at the asymmetrical explosion.
"W49B also is much more elongated and elliptical than most other remnants," said co-author Enrico Ramirez-Ruiz of the University of California at Santa Cruz. "This is seen in X-rays and several other wavelengths and points to an unusual demise for this star."
The researchers infer the presence of the black hole because none of the data captured by Chandra reveal a neutron star left behind by the blast. While calling the evidence "circumstantial", MIT's Daniel Castro says "If that is the case, we have a rare opportunity to study a supernova responsible for creating a young black hole."
The research, to be published in the Astrophysical Journal, is available on Arxiv, here.. ®