This article is more than 1 year old
Crucial question after asteroid near-miss: How big was rock in Olympic pools?
BBC gets the measure of space boulder 2012 DA14
The services of Bruce Willis were mercifully not required over the weekend as asteroid 2012 DA14 came to within 27,700km of Earth.
As we reported on Friday, the space rock measures 45 metres across and weighs in at 130,000 metric tonnes, although it fell to the BBC to put that into proper perspective. The corporation described 2012 DA14 as being as "large as an Olympic swimming pool", and even produced a handy graphic to show its bulk in relation to the "approx height of a 1930s semi".
Sadly, despite assurances that a good pair of binoculars would enable trembling mortals to stare in awe at the fly-by, your humble hack failed to eyeball 2012 DA14 as it passed through the constellation of Ursa Major at a tad after 2130 GMT.
Stargazers at Oz's Siding Spring Observatory fared rather better, and produced this image showing exactly what an Olympic-sized swimming pool travelling at around 28,000kmph looks like (animated version here):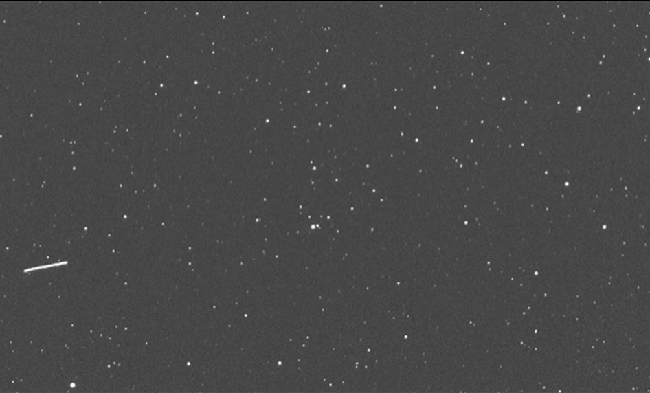 Asteroid 2012 DA14 as imaged by the Siding Spring Observatory. Pic credit: E Guido/N Howes/Remanzacco Observatory
So now you know. 2012 DA14 could return for another visit in 2046, but Don Yeomans of NASA's Near-Earth Object office assured "it cannot hit" our planet.
He explained: "Its orbit is now known so accurately that we can project through most of the 21st century. Right now we're looking at the very tiny possibility that it could hit the Earth in 2080, but I suspect that will go away and we'll know we're safe from this asteroid for a long time."
To further calms the nerves of those who've suffered excessive exposure to movies such as Armageddon, NASA clarified that last week's meteorite which slammed into the atmosphere in Chelyabinsk, Russia, was "completely unrelated" to 2012 DA14.
The meteorite has been estimated at 17 metres in size, or 1.884 double-decker buses. ®