This article is more than 1 year old
Review: The ultimate Chromebook challenge
Google laptops from Acer and Samsung go head to head
Too slow, too expensive, too limited. That was the verdict of most hacks and punters on the early Google Chromebook laptops.
Google has kept its shoulder to the wheel, though, and recently announced that 2000 schools are now using Chromebooks. Lenovo and HP have both recently jumped on the Chromebook bandwagon too, joining Samsung and Acer, which are also back for another crack at the market with a brace of new machines.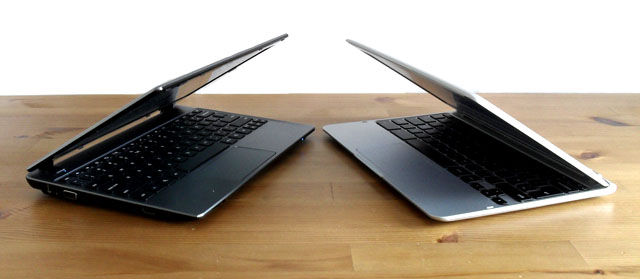 Chromebook contenders: Acer C7 (left) versus Samsung Series 3
The £229 Samsung Series 3 Chromebook and Acer's £199 C7 Chromebook are two variations on a theme. While sharing some important common ground - the operating system, 2GB of Ram and 11.6-inch, 1366 x 768 screens - they also harbour some very significant differences.
Most significantly, while the Samsung uses a 1.7GHz Exynos 5 dual-core processor based on ARM's Cortex A-15 architecture and includes a 16GB solid-state drive, the Acer packs a 1.1GHz dual-core Intel Celeron 847 chip and a 320GB hard disk. So here we have ARM vs x86 and SSD vs HDD.
Switch the two machines on and it's an easy first blood to Samsung. That 4200rpm HDD hampers the Acer's boot time. The C7 takes 22 seconds to start, the S3 just ten. I'd argue the 12 seconds difference is near irrelevant in the real world so it's more a case of capacity vs. jolt resistance.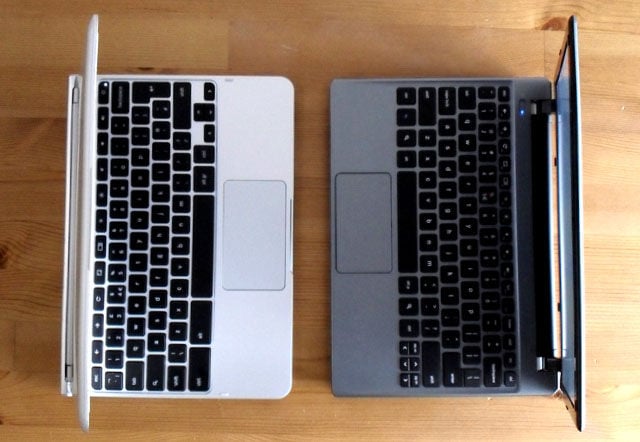 At 1.1kg, the Samsung is also the lighter of the two. The Acer weighs 1.4kg, though again I'll leave it up to you to decide how much difference 300g makes in the greater scheme of things.
In the 'Which Looks Coolest In Starbucks' steeplechase, the Samsung wins by a head. The Acer is smart enough but looks a little too generic: a small, cheap laptop alongside the more stylish Samsung. If you ignore the branding, the Samsung's keyboard area has something of a MacBook look to it. It's thinner too: no more than 20mm deep to the C7's 25mm.
The Samsung also sounds the better of the two. Its speakers are not only louder than the Acer's but they make a far less tinny and raucous noise. Of course, folk who use headphones in order to avoid inflicting their tunes on the rest of us may not care about speaker quality.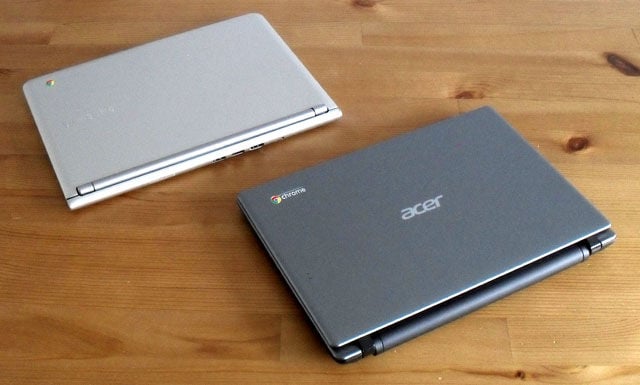 Both machines have chiclet keyboards as is the trend these days, but the Samsung's is the more solid of the two and has a crisper, more positive key action. It also has the larger trackpad, and one with a more satisfying action. All the C7's I've seen, including my review unit, use the US rather than UK keyboard layout which is a drawback.
In its first incarnation, Chrome was nothing more than a browser-based thin client to access Google's cloud services. And to be honest, despite some tweaks - Chrome OS is now at version 23 - that is pretty much what it still is. The new Windows-esque taskbar and desktop does make it look more mature, though, and make it a little easier to use.
The facility to automatically open web apps in a maximised window - so no tabs, bookmarks and tosh at the top - is a welcome addition that I don't recall seeing previously. Opened thus the integrated Google Play web apps like Books, Music and Movies look much tidier and have more room to present their content.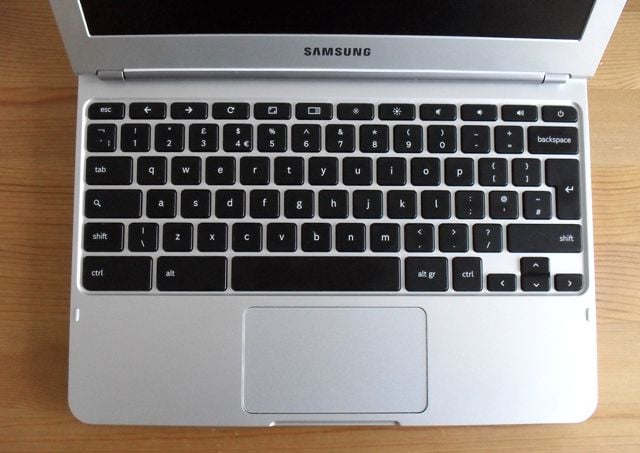 The Samsung has the better keyboard...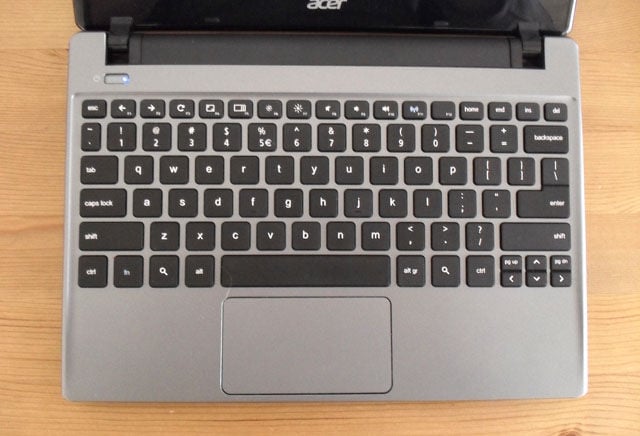 ...but the Acer has Caps Lock and Search keys
There are still a few Chromebook idiosyncrasies knocking about, though, like a right-click of the trackpad seldom actually doing anything. If you want to open a context menu to create a folder, change the desktop wallpaper or correct a misspelling in Docs, it's a two-fingered click on the trackpad you need. Right-clicking only works if you are using a USB mouse.