Review: The ultimate Chromebook challenge
Google laptops from Acer and Samsung go head to head
Cloud computing
On the subject of folders, a more advanced file browser still wouldn't go amiss. What you get from Chrome is functional but nothing more and doesn't even tell you how much free local storage space you have left. In line with Chrome's emphasis on the cloud, the file browser presents local and remote storage side-by-side in the same style.
To make remote storage more attractive both machines come with the offer of 100GB of Google Drive space free for two years to add to the 5GB every Google account holder gets. After those two years are up, maintaining your 100GB will cost you $4.99 (£3.16) a month at current rates.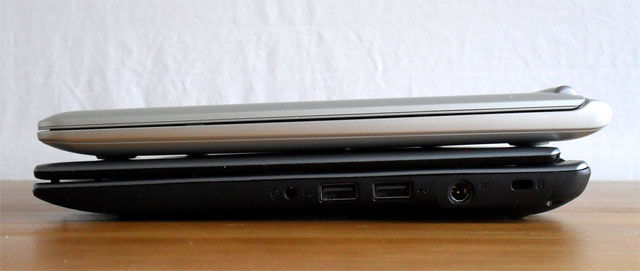 I've heard it said that a Chromebook with a conventional HDD is an exercise in pointlessness. I beg to differ. Running a cloud-oriented OS in no way detracts from the appeal of having enough local storage space to squirrel away a shed-load of video files.
As someone whose cloudy escapades occur largely on Google's servers I get along with Chrome's back-end - Google Drive, Picasa, Gmail, et al - just fine and really appreciate the one-shot Chromebook sign-in to all my Googly content. But if you have no truck with the Big G's services, the attraction diminishes massively.
Make no mistake, breaking away from Google is a hard and ultimately pointless task with a Chromebook. Fancy a video chat? If you are using Google+ Hangout you're in luck, it works brilliantly. But Skype is out of the question. You can use a browser-based IM client like IMO, but you can't video chat with that, nor can you with Facebook which of course uses Skype.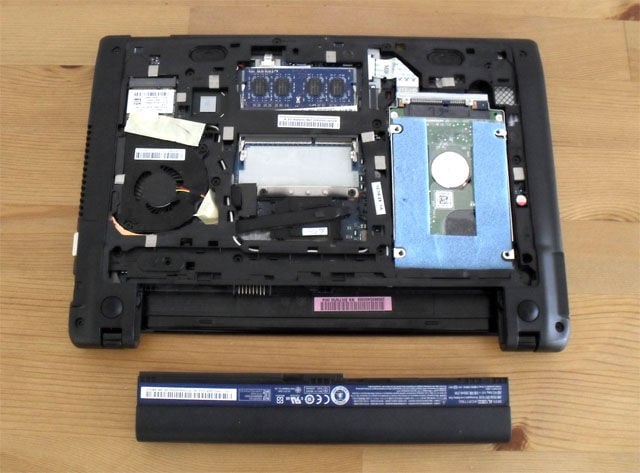 The Acer comes apart easily
Almost by definition a Chromebook only makes sense if it is permanently connected to the internet, but neither of these machines has the facility for 3G connectivity. In the US, $330 (£209 before taxes) gets you a 3G version of the Samsung but that option is not available in the UK yet.
That said, when it comes to cellular laptop connectivity I pray at the altar of Three's MiFi, or use my phone as a hotspot. So the lack of a Sim slot in a Chromebook isn't a killer. Since neither machine has the Chrome OS ModemManager packages installed there was no way - that I could find, at least - to get a traditional 3G USB dongle to work.
If you are cut off from the network, Chrome does now offer more in the way of offline support so you can at least use Gmail, Slides and Docs, and then sync your changes when you next connect. Usefully apps in the Chrome web store that work offline are marked with a grey lightning bolt.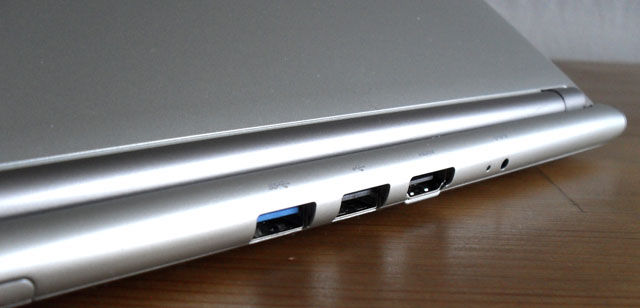 The Samsung's ports are all round the back
To print anything, you'll need to get to grips with Google's Cloud Print service, which while easy to use is still more aggro than simply plugging in a USB cable. Other USB peripherals like storage dongles, keyboards and mice work a treat, though. Sadly the ability to connect MTP devices like Android or Windows Phone 8 smartphones is still a work in progress.
Since Chrome relies on web rather than native apps I ran FutureMark's Peacekeeper, which rates HTML 5 performance, and SunSpider, which measures JavaScript speed, to get some benchmark numbers.
Numbers aside, there is actually little difference between the two machines when you are messing about in a browser. Pages load quickly and scroll smoothly even with multiple tabs open. If you fancy a little light gaming then the likes of Angry Birds and Bastion, both available in the web store, run perfectly.

Futuremark Peacekeeper results
Longer bars are better

Sunspider results
Shorter bars are better
Both machines also coped well with locally stored 1080p H.264 video and 1080p YouTube streams. Codec support by the stock video player is, however, dismal: MKV and WMV files won't play at all, and AVI support is patchy at best. On a side note, at the moment the Samsung won't play Netflix streams, something the Intel-driven Acer does with aplomb.