Review: The ultimate Chromebook challenge
Google laptops from Acer and Samsung go head to head
---
Best cheap Linux laptop?
Put the Acer under strain and the fan fires up and you can hear the HDD ticking away if you are working in absolute silence. The Samsung, being passively cooled and not having a moving drive platter is at all times as quiet as the grave. Thanks to the efficient ARM chippery, the underside of the Samsung never gets more than slightly warm.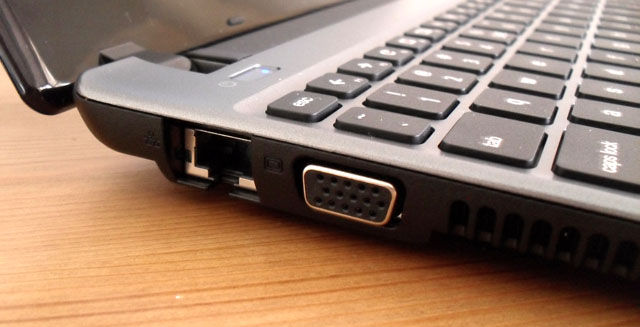 Acer sensibly locates ports on the side of the machine: on the left...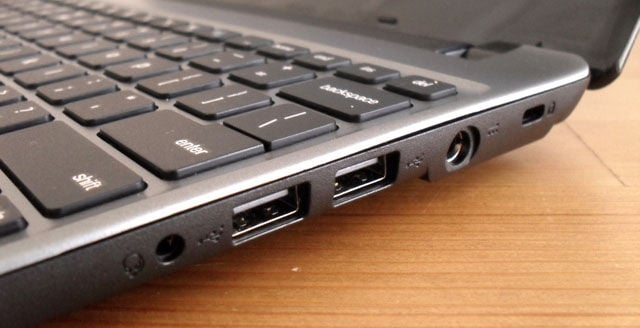 ...and on the right
Neither machine has a screen you could honestly describe as good. Colours are none too vivid and the viewing angles mediocre. There's not a lot of brightness about either. But the Acer's glossy screen - the Samsung's panel is matte - is the least worst of the two in all ways, unless you plan on being outdoors a lot, when reflection becomes an issue, as it does with all shiny panels.
The Acer is also the better connected, with three USB 2.0 ports, 10/100Mbps Ethernet, HDMI and VGA connectors against the Samsung's single USB 2.0, one USB 3.0 and HDMI. Both machines come with single-band 2.4GHz 802.11n Wi-Fi but without optical drives. Samsung gives you Bluetooth but Acer doesn't.
I'm not a fan of Samsung's positioning the USB and HDMI ports at the back. I prefer my ports, sockets and power jacks on the side where I can see the little buggers. Twice I folded the Samsung shut only to notice something I'd forgotten about sticking out the back as I made to shove it into my backpack.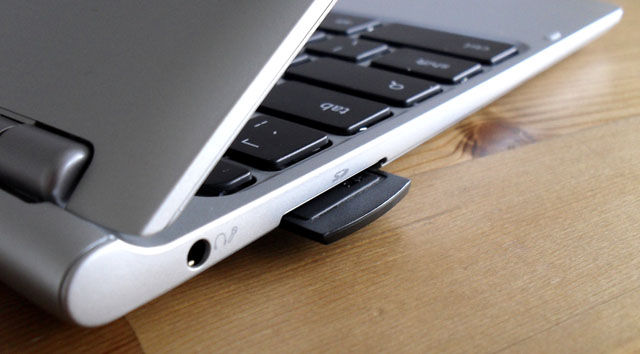 You've designed a bad SD card slot, Petey...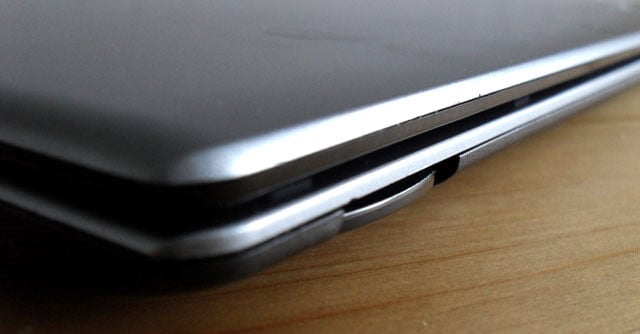 But Acer gets it right
On the subject of things sticking out, both machines have SD card slots. But when stuffed into the Samsung, a card sticks out to the tune of half its length, which is a truly catastrophic design failure.
I reckon nine out of ten punters will want to stick a 16GB or 32GB SD card into their S3 as the first order of business and leave it in there. After system requirements, you are left with less than 11GB of SSD space for files. Good luck with that.
Accessing the oily parts of the Acer is very straightforward: just remove one screw and the cover panel unclips. Prising the back of the Samsung off would have required more screwdriver-induced damage to the plastic case than I was prepared to inflict on a machine not mine to abuse. Even if it had been my machine I still might not have risked it.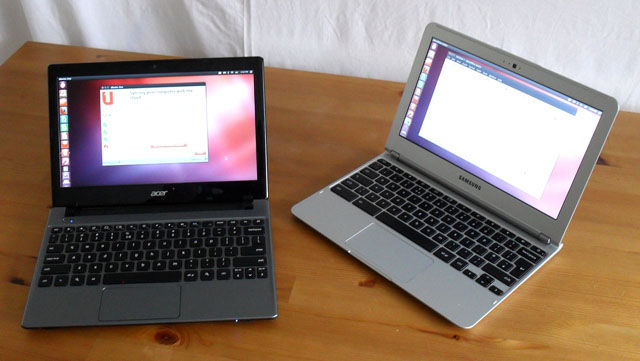 Both Chromebooks run Linux, but the Acer does so more stably - and with better support for the built-in devices
If the limitations inherent in Chrome as an operating system are just too much for you then you can jump ship to Linux. Installing on the Acer was by far the easier job and I had Ubuntu up and running in dual-boot in about an hour with everything working tickety-boo.
The Samsung was more of a problem. After several hours, much ranting, some raving, and even a bit of wailing and gnashing of teeth, I finally got it running but the trackpad and SD card reader refused to work, and the entire machine froze up on me several times. Not, on balance, a good use of time.

Battery life rundown results in minutes
Longer bars are better
Google's own wording gives you some idea what to expect when it comes to battery life. The C7's removable 2500mAh battery is good for "up to four hours". The S3's unrated and fixed battery will keep you working for "over 6.5 hours". Looping a 720p video turned in times of 3 hours 10 minutes and 4 hours 35 minutes, respectively. So in general use, you can expect a solid six hours from the Samsung and around four from the Acer.
The Reg Verdict
Has Google cracked the Chromebook second time around? Just about. Clearly you need to be in the market specifically for a cheap and smallish machine for day-to-day web surfing and some light media consumption, but assuming you are then both of these machines do a good job and the price is certainly right.
If I was buying one it would the Samsung because it's lighter, has the superior keyboard, is more resilient to knocks and drops, and has the longer battery life. That is what I want from a Chromebook, though the sticky-out SD card is a very big drawback.
The Acer counters with a better screen, an extra USB port, Ethernet and a proper hard drive plus a price tag that's £30 lower. Which is what my someone like my mum wants from a Chromebook. And it has much better (unofficial) Linux support.
In a nutshell, then, the Samsung is the purer Chromebook, but the Acer is the better cheap laptop. ®

Review: The ultimate Chromebook challenge
Stylish ARM process and SSD based notebook that's the current acme of Chrome OS laptops.

Review: The ultimate Chromebook challenge
Intel-based notebook with a big hard drive and good Linux support if you're not keen on Chrome OS' cloud-centricity.