HP brings wired and wireless nets under single SDN umbrella
Shiny stackable OpenFlow and hybrid wired/wireless switches
---
Wireless networks are becoming as important as wired ones for companies, and if you want to manage both and provide both wireless and wired functionality, it makes sense to mash up a hybrid switch that has physical and ethereal ports and is all managed by the same software stack. If you can slap a "software-defined networking" label on it and say "cloud" and "BYOD" a few dozen times, then the marketeers are happy. And that is precisely what HP's Networking division is doing.
HP is hosting its Global Partner Conference in Las Vegas this week, and at the event the company is previewing a set of converged wired-wireless switches and a management software stack that is aimed at offices and campuses that are wrestling with the demands of users and the plethora of devices that they are plugging into the corporate network.
And this being HP, there are of course services that the company is trying to peddle through the channel to help customers assess their wired and wireless networking and management needs.
Let's start with the hardware and work our way out from there.
There are three new switches that HP rolled out on Tuesday as part of its BYOD networking extravaganza. Well, two new switches and a switch module for an existing chassis, to be more precise.
First up is the 2920 Series, a kicker with the existing 2910 managed switches, and in this case one that's upgraded to support OpenFlow on its forwarding plane and reconfiguration and control of that forwarding plane through an external OpenFlow controller.
This OpenFlow support is inherent in the product, and Kash Shaikh, senior director of product and technical marketing for the Networking division, tells El Reg that there is no incremental cost for the OpenFlow support. With the announcement of the 2920 switch, that brings HP's total number of OpenFlow-supported switches to 29.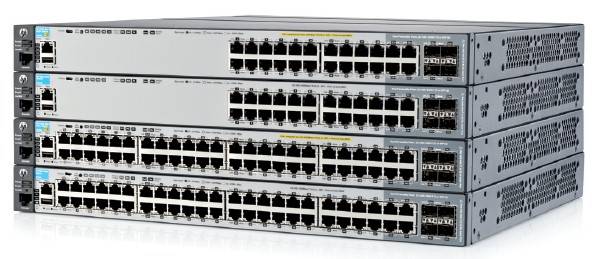 The stackable and rackable HP 2920 switches
The 2920 comes with 24 Gigabit Ethernet ports with four optional 10 Gigabit Ethernet ports that have SFP+ or 10GBaseT cabling (you have to pick one). The 2920-24G has normal ports while the 2920-24G-PoE+ has – as its name suggests – Power over Ethernet Plus ports that can pump power down to switched-attached devices like dumb terminals and IP phones. There are also two module slots that allow you to add another dozen Gigabit Ethernet ports each, for up to 48 ports total.
This particular switch is based on the TriCore ARM 1176 processor running at 625MHz, which has 512MB of SDRAM and 1GB of flash memory attached to it for buffering inbound and outbound packets. This switch can handle up to 95.2 million packets per second and has 128Gb/sec of bandwidth across its ports with a latency of under 3.3 microseconds for its 1GE and 10GE ports.
The 2920 switch shipped on Tuesday, and while the product is not yet up on the HP web site as El Reg goes to press, Shaikh says it will be around $119 per port.
In office environments, an increasing number of people are on the go with tablets and laptops, but many users still need direct connectivity to the network using old-fashioned CAT cables. And so HP has cooked up a hybrid switch that welds fixed switch ports and functions onto a wireless switch.
"We are really taking the wired network and pulling it into the wireless network," says Shaikh. The ASIC that controls the wired and wireless parts of the switch are the same, and it runs the Comware switch operating system with the same management tools and policies and with a single pane of glass – HP's Intelligent Management Center network control freak – babysitting all this iron.

The HP 830 unified wired-wireless switch
The 830 unified wireless-wired switch has either 8 or 24 Gigabit Ethernet ports with PoE+ support to feed those 'leccy-hungry IP devices plus either 24 or 60 wireless access points, all in a single shiny 1U rack-mounted (or closet-tossed) unit.
The 830 unified switch supports HP's MSM460, MSM466, MSM466-R, MSM430, and WA2620 access points and supports the IEEE 802.1X protocol, has HP's WiFi Clear Connect RF optimization, an integrated intrusion detection system, and supports Layer 2 and Layer 3 roaming.
The 830 unified switch will be available in May. Pricing has not yet been set, but Shaikh says it will be on the order of $250 per port for the wired side with the wireless functionality tossed in.
For very heavy mixed LAN-WLAN workloads, HP is creating a unified wired-wireless module that slides into its 7500 and 10500 series of modular campus switches.

The wireless card for the HP 10500/7500 modular switches
This device, technically known as the 10500/7500-20G unified wired WLAN module, is basically a card for the modular wireless switch that you can slide into existing wired networks to give them wireless functionality.
Each module supports up to 1,024 wireless access points, and in the top-end 10512 switch chassis you can combine up to 11 of these units for a total of 11,264 wireless devices that are fluttering all over the place.
All the same Wi-Fi features are supported, and you have various kinds of redundancy you can setup for the wireless units as well (1+1, N+1, N+N configurations are available). The 10500/7500 module supports HP's MSM430,MSM460, MSM466, MSM466-R, and WA2620 access points.
Like the 830 unified switch, this 10500/7500 module ships in May; HP marketeers are currently hemming and hawing about its price.
And now for the squishy bits
Of course, what HP wants you to do is to buy all of these nice toys and upgrade your campus networks so they go wired and wireless in a unified fashion. Here's how the bits fit together: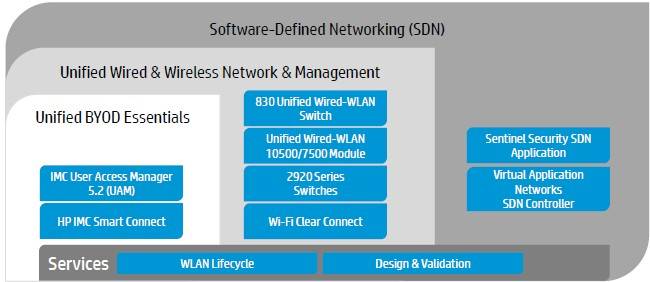 HP's SDN wraps around wired and wireless networks
Along with the new switches, HP is also revving its IMC Smart Connect, which is a virtual appliance for managing wireless networks. This appliance has an embedded Red Hat Linux instance with an unnamed SQL database server that is licensed for 50 access points, 100 device nodes, or 200 users (whichever is greatest), and it deals with the management of wireless devices through the IMC console.
This release also includes a new software module for IMC called User Access Manager, which weaves together access policies for switches, routers, and servers to provide end-to-end management of users over wired or wireless links all the way back to the data center. It is, in fact, a Remote Authentication Dial In User Service (RADIUS) server that does authentication, authorization, and account management of all endpoints.
UAM is given a 5.2 release number even though it is new so it can lock-step (in a marketing sense) with the IMC tool it plugs into. It runs on fairly modest x86 servers with Windows Server 2003, Windows Server 2008 boxes, or Red Hat Enterprise Linux 5 or 6.
And when you are all done, this is what your hybrid campus and branch networks should look like: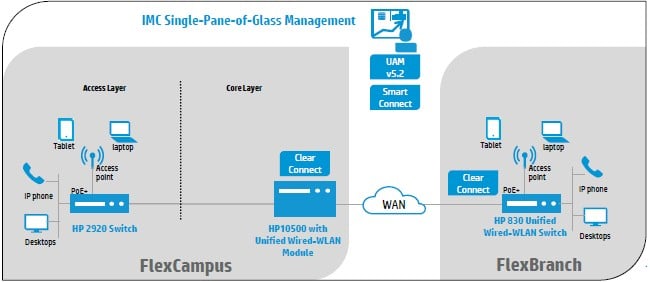 What a wired-wireless SDN deployment looks like to HP
That leaves services. (You can't have an HP announcement without services, as you know.) In conjunction with these hybrid network switches and the management software, HP is pushing services through its networking partner channel to help customers design hybrid networks or to validate them once they have been designed if you are a DIYer.
Tom Tillar, director of worldwide go-to-market network support services at HP, tells El Reg that these services are designed to cost under $10,000 for an engagement for a single site with something on the order of 200 users hitting the network. This price scales as you add users, and it also scales as you do multi-site designs and validations.
"These services are really meant to be affordable," explains Tillar. "We want to reach out to customers who have never had these kinds of products before." ®