Apple released iOS 6.1.2 on Tuesday, an update that it says will fix the battery-draining Exchange bug — which it very well may do – but the update does not fix the finger-dancing hack that allows you to bypass an iPhone's passcode, launch the Phone app, and access all of its contacts, phone-history information, and the like.
Apple had said that a fix for the passcode-avoiding hack was in the works, and so we were understandably curious as to whether the Tuesday's 6.1.2 update would do the trick, even though Apple didn't mention that fix in its description of the update's contents: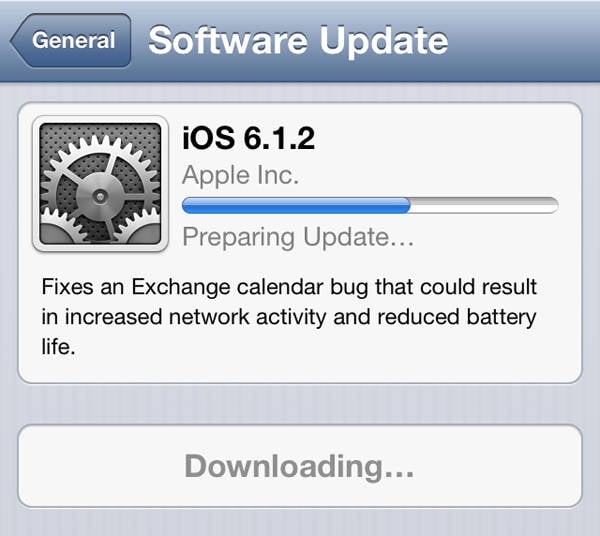 Wel, you can't fault Apple for overstating the iOS 6.1.2 update's capabilities
After installing the petite 12.8MB update onto our iPhone 5 after accessing it at Settings > General > Software Update, we crossed our fingers and tried the passcode-bypass finger dance as outlined in the video by Jailbreak Nation that surfaced last week.
Nope. Not fixed. The Phone app and all its contents and capabilities – such as running up the owner's phone bill, emailing contact info, sending text messages, accessing voicemails, et cetera – are still accessible on any passcode-locked iPhone you might get your hands on. Not that any Reg reader would ever think of invading someone's privacy, of course.
We're unable to test whether the 6.1.2 update does, indeed, solve the Exchange over-polling bug that drained users' iPhone batteries — but if you, dear reader, can verify or refute that improvement, we'd love to know in Comments, below.
The iOS 6.1.2 update, by the way, is available for any iDevice that can run iOS 6.X, meaning the iPhone 3GS and later, the iPad 2 and later (including the iPad mini), and the fourth-generation iPod touch and later. ®