This article is more than 1 year old
iPad? Pah. Behold the EYEPAD, patented by Sony for the 'PS4'
Totally different from Apple because it glows
Sony has filed for a patent in Europe on the EyePad, a fondleslab with glowing edges that could be a controller for the PlayStation 4.
The fresh paperwork, which was published this month after Sony submitted it last July, "is typically a panel, tablet or slab-like device comprising one or more illuminated regions, two stereoscopic video cameras and optionally a touch sensitive surface".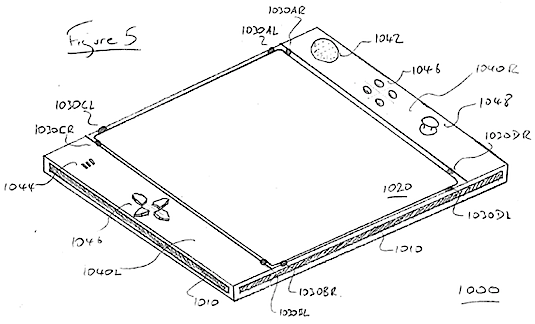 Sony's submitted design for the 'EyePad'
The device is called an EyePad not to primarily annoy Apple, but because the naming is in line with its other PlayStation peripherals: the EyeToy and the PlayStation Eye. The device could potentially be a part of Sony's announcement on Wednesday about the "future of PlayStation".
The EyePad is designed to be a motion-tracking controller, using sensors to track its position, orientation and any nearby objects. The glowing edges would help the PlayStation pick out the controller's outline using the cameras. ®