Making connections
With the increased data rate of HD-SDI, 100m is pretty much the limit as losses over long cable runs became more critical and problems ensued using the existing creamy PSF 1/3 or PSF 1/2 coax cable, favoured by the BBC, that had its origins in composite analogue video studios.

Triax, optical and SMPTE 304M patchbays: SMPTE 304M patch cables cost £500 apiece – makes Thunderbolt cables seem like a bargain
Click for a larger image
"Every joint in a digital cable adds about 30-40ft to the total length of the cable. So if you go through a patch field, you'll go through a BNC connector on to another connector then another – perhaps up to eight connectors in a patch field – which adds something like 200ft just by going through that patchfield. That's a problem. So if you have 100ft coming into there, you've already hit your 300ft [100m] limit. Yet in an OB truck, distances between everything are very short, so you don't have an issue cabling everything internally with [HD-SDI] video cable on BNCs."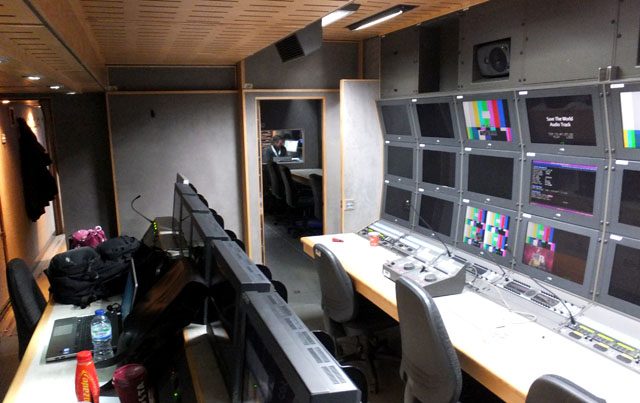 CTV OB truck vision mixing area and in the distance the audio mix room
Interestingly, the problem isn't so much to do with the camera cabling: optical can run over several kilometres and Triax copper wiring varies, pushing it at around 1500m for HD but most prefer to work within 500m. The cabling headaches are all to do with HD-SDI video signals that are being distributed from the outside broadcast truck for monitoring elsewhere. For instance, to frame a superimposed shot, two different camera operators would need to see the vision mix coming from the truck for positioning – cameras even feature a dedicated return feed button for this purpose. Monitoring aside, each camera has its own camera control unit (CCU) – dedicated hardware made by the camera manufacturer. The CCU can talk to the camera, controlling its zoom, iris, levels and other functions remotely.
Typically, cameras will be set up with either triax or SMPTE 304M cabling. Triax cable is the industry standard for connecting digital cameras. It features a copper core and two separate outer braids – it's a signal combination enabling the picture, power and comms information to be conveyed to the camera control unit. That's fine for most scenarios and is cost-effective too. The alternative standard camera cable is the specialised SMPTE 304M standard connector that utilises fibre optic cabling which brings both a distance advantage and a high price. Clerke explains how it all works in a SMPTE scenario.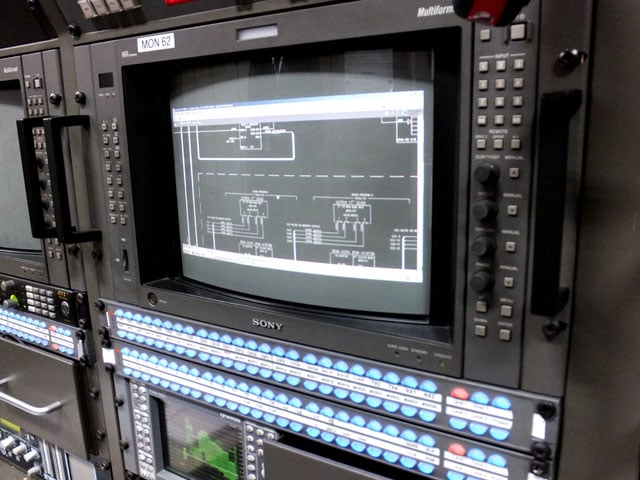 OB truck video matrix switcher
"The camera control unit lives in the truck and is connected by a SMPTE cable to the camera. At the back of the CCU there are BNCs and these are used to distribute [HD-SDI] video. Normally it goes into a matrix switcher so you can put video up on screen inside the truck and the mixer too. The truck matrix will usually be 64 x 64 or 128 x 128 and the camera input can be distributed anywhere, and a return feed goes back to the camera.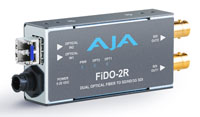 Aja FiDO 2r convertor handles fibre to HD-SDI
So if truck stays at back of the venue and the guy on the jib is on level 4 of the auditorium, he could be up to 600m from the truck in terms of cabling. We're never going to get that [HD-SDI] picture back from the truck to his camera on a bit of cable. Send it down fibre, convert it from fibre at the other end the last link into the camera and monitor itself will be 100m cable sitting on the floor."
Vision On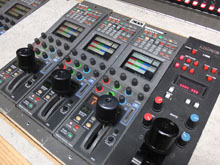 CCU remote control panel handles four cameras
Touching the joystick activates individual control
Click for a larger image
That preparatory probing is crucial given that a range of voltages are used on different cameras and you could easily blow one up without this check. There are legacy cameras you can use with a CCU too, so it has to be pretty careful. Also, in some outside broadcast environments, having a camera cable with 180V running through it can present safety issues. For instance, covering sporting events such as golf can involve long lengths of cable across the course. One approach is to run fibre round the golf course and locally, generate the high voltage the camera needs and that fools the CCU into detecting that there's a camera on the end.