HP has introduced follow-on systems to the iSCSI P4500 and a channel-only pairing of a StoreServe 3PAR array with StoreOnce Backup. The firm believes both will help channel partners in the mid-range/high-end external array and purpose-built backup appliance markets.
The new HP StoreVirtual products are based on ProLiant Gen8 servers and HP's LeftHand OS v10 software, and provide a storage appliance with direct-attached storage made into a storage area network (SAN). StoreVirtual nodes can be clustered to scale out SAN capacity. The products also include Network RAID, meaning data is protected by having multiple copies on different nodes.
Previously HP had announced the StoreVirtual 4130 and 4330 products and we thought at the time that a P4500 update was coming as well as a P4800 one. We were right. Now we have the StoreVirtual 4530 and 4730 models added to the StoreVirtual mix and they follow on from the P4500 and P4800.
HP says they have 10 times more memory and four times more cache than the P4500, and have 10GbitE connectivity.
The 4530 is fitted with 3TB drives to deliver half as much capacity again as its 2TB drive-using predecessor, the P4500 G2.
The 4730 is a 25-drive system using 900GB small form factor drives. HP claims it delivers "triple the capacity and double the performance over the HP StoreVirtual P4500 G2."
Both the P4500 and P4800 systems have been replaced. The P4900 remains in place and will have, El Reg has learned, a ProLiant Gen8 server engine refresh coming its way. The 4730 system can be populated with SSDs instead of disk drives and that provides very much more performance in an IOPS sense, up towards the P4900 area.
Version 10 of the LeftHand OS provides:
1-click online upgrade featuring proactive alerts to configuration errors
Three times faster data replication performance than the previous generation.
Centralised console and ability to non-disruptively move data across tiers and locations and between models.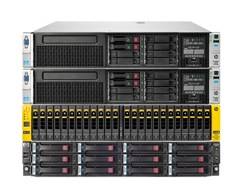 HP StoreSystem
The channel-only HP StoreSystem is a combination of StoreServe (3PAR) and StoreOnce Backup, orderable with a single SKU (Stock Keeping Unit), and is shipped as a racked system providing primary block and file storage and deduplicated protection in one system. HP claims partners can quote and configure StoreSystem deals 90 per cent faster than before because of the bundling which includes:
StoreServe 7200 hardware; a mid-range, quad controller array.
StoreServe array software including base operating system, replication, data optimisation, reporting and security suites, as well as application suites for VMware.
StoreServ File Services.
StoreOnce Backup with deduplication.
There is pretty well-integrated management for the StoreServ 7200 hardware and software and file services but a different UI has to be used for managing StoreOnce. This difference will be addressed in a later release according to Tom Joyce, VP for marketing in HP's StorageWorks.
It can be complemented by adding HP's DataProtector software, StoreEver storage and Storage Networking. Find out more here.
Joyce said that the StoreSystem bundle was put together to hit a sweet spot below $200K for the channel. If partners want more capacity or power or added networking then there are ten other configurations available, using the 7400 and Brocade switches for example, but they don't come as single SKUs.
Price and availability
The StoreVirtual 4530 and 4730 models will be available from resellers globally next month with starting prices of $28,000 for the 4530 and $48,000 for the 4730. The HP StoreSystem is priced at $171,000, which includes hardware, software, support and installation services, and is available from HP channel partners around the globe. ®