Nasuni fondles clouds, says Microsoft's is nicest...
Amazon's S3 drops in the rankings
---
Nasuni says Microsoft's Azure is the best cloud service provider for users of its cloud storage gateway. Last year the enterprise storage company ranked Amazon's S3 at the top.
It tested five cloud service providers (CSPs): Amazon S3, Microsoft Azure, Google Cloud Storage, HP Object Cloud Storage and Rackspace Cloud Files.
Last year's report tested Amazon S3, AT&T Synaptic Storage as a Service, Microsoft Azure, Nirvanix, Peer1 Hosting and Rackspace. This year AT&T, Nirvanix and Peer1 are out, and Google and HP are in. Why the changes? Nasuni says: "Currently only these five platforms offer the combination of functionality, market experience and price that Nasuni requires for our solution."
The report, available here (registration needed) looks at performance, scalability and availability mostly, and details testing across a mix of file sizes and object numbers.
According to Nasuni: "Microsoft Azure has taken a significant step ahead of Amazon S3 in almost every category tested."
Azure was 56 per cent faster than S3 in write speed, and 39 per cent faster at reading files than its closest competitor, HP Cloud Object Storage.
Azure's average response time was 25 per cent faster than second-placed Amazon S3.
S3 availability varied only 0.6 per cent from its average in the scaling tests, with Azure varying 1.9 per cent. HP and Rackspace, both OpenStack-based clouds,showed significant variance of 23.5 per cent and 26.1 per cent respectively. Performance became more unpredictable as object counts increased.
The report adds: "Benchmark results varied significantly across CSPs, illustrating that parity does not yet exist in this market," with a Write/Read/Delete benchmark illustrating this well.
The test evaluated 23 combinations of file sizes and thread counts -from 1KB to 1GB and from 1 to 50 threads, with Nasuni stating:
The results show that raw write/read/delete performance varies significantly as object sizes and thread counts vary. Specifically, small object sizes and smaller thread counts highlight the transactional overhead of any platform.
The report is illustrated with comparison charts and here's one for file write performance: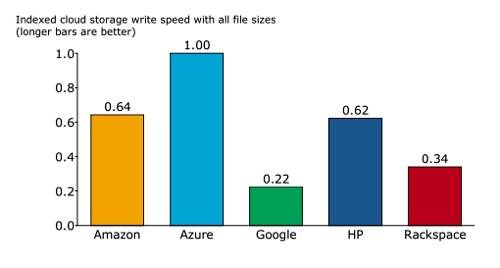 Nasuni CSP Write benchmark test
Write and read performance rankings changed with file size. Delete performance did not, and Azure was quickest: "Microsoft is more than twice as fast at deleting files as its nearest competitor. Amazon and HP share second position, well above both Google and Rackspace. Varying file sizes does not vary the results of this benchmark test."
Microsoft wasn't top in every category, though. Newcomer HP put in a strong showing. Rackspace was singled out for inconsistent availability compared to the others: "Rackspace is the most inconsistent of all the CSPs, with meaningful swings visible day over day. "
Nasuni CEO Andres Rodriguez said: "Microsoft's investment in its second generation cloud storage, which it made available to customers last year, has clearly paid off." He noted there had been "marked performance improvement across the board."
Nasuni points out: "Some CSPs required the creation of brand new accounts to take advantage of improved infrastructure... this is unacceptable in the real world and represents a clear deviation from the traditional Infrastructure-as-a-Service (IaaS) model." Azure was highlighted by Nasuni in this regard as it did not migrate storage accounts from an older Azure implementation to a newer one with better scalability targets. Tsk tsk. ®