Seagate has added one, two and four-bay desktop filers to its product range, calling it Seagate Business Storage. The boxes also feature an external SATA bus to hook up removable drives. The manufacturer has, unlike its rivals, mercifully resisted the temptation to call the network-attached storage a personal or small-biz "cloud".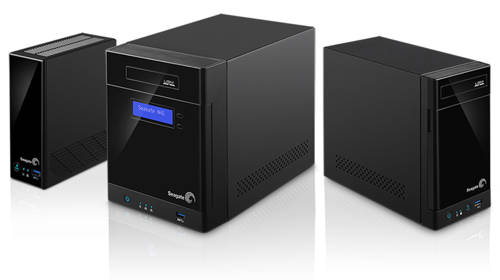 Seagate's new 1-, 2- and 4-bay NAS boxes (click to enlarge)
Effectively replacing the old BlackArmour network-attached storage (NAS) kit, Seagate Business Storage (SBS) takes 3.5-inch disk drives, and is aimed at home offices, remote mobile offices and small to medium-sized businesses.
Just like BlackArmour, SBS can act as a central backup store for Windows PCs, and is compatible with Apple's backup drive software Time Machine. Users can access the files on the box from Android and iOS applications or via a secure networked connection from any notebook or other computer. Files can be encrypted for greater security.
Seagate claimed its hardware is DLNA compliant so one can "stream your media library to networked computers, internet TVs, game consoles and more" There are RAID 0 and 1 (aka mirroring) options for the 2-bay models, and RAID levels 0, 1, 5 and 10 for the 4-bay product. The drives are hot-swappable.
The 2-bay and 4-bay boxes can be bought in chassis form; customers supply their own disks to stick in the slots - a Drobo-like feature.
USM, or eSATA, rides again
The two and four-bay boxes have a USM module. What's that?
Remember the eSATA - external SATA - interface that failed to dislodge USB? The USM, Universal Storage Module, is a 14.5mm or 9mm-thin dock for a removable external drive with a SATA III (6Gbps) interface. In other words, eSATA with a makeover.
It's a Seagate-driven spec and the 9mm version, called USM Slim, is said to be suitable for notebooks, TVs and so forth. Drives, such as Seagate's Backup Plus, come with the required casing and can be slotted into a USM dock with no cabling required. A Seagate USM FAQ can be accessed here [PDF].
Seagate SBS USM
USM is not universal, but it is taking on USB 3.0 and the forthcoming USB 4.0 (or whatever it's going to be called) and Thunderbolt interfaces, plus Tandberg's RDX removable drive products.
Will it succeed? If Western Digital supports it, possibly, but why should WD do that? It is more likely to support the USB 4.0 spec and snub Seagate's USM. Until then, USM allows Seagate to sell removable versions of its external drives as an SBS NAS expansion, backup or copy feature.
A 2TB single-bay SBS box has a manufacturer's suggested retail price (MSRP) of $199.99; a 4TB one could cost $329.00. A two-bay chassis-only build has an MSRP of $199.99. Capacity levels of 4TB, 6TB and 8TB cost $469.99, $549.99 and $749.99 respectively. The four-bay chassis-only option is $429.99, and a 16TB four-bay box could cost $1,499.99. The systems can be bought this week from CDW, Amazon and Newegg. ®