This article is more than 1 year old
Meet the stealthiest UK startup's app Swiftkey - and its psychic* keyboard
* Actually quite a lot of maths in new version 4
If ever there was a company that found itself in the right place at the right time, it's TouchType - the team behind SwiftKey.
The firm is one of Britain's most successful tech startups: it says its intellectual property is used in 100 million phones and that its SwiftKey software was last year's best-selling program in the Google Play Android store.
It's achieved it all without setting foot in London's trendy startup playground of Shoreditch, funnily enough. And today, the latest build of its phone keyboard app - version 4 - is available from the Play store.
SwiftKey began life as TouchType, which remains the name of the company, and was founded by two Cambridge graduates: natural languages postdoc Ben Medlock and physics graduate Jon Reynolds. The pair designed a touchscreen keyboard application that used a probabilistic language model to predict which words the user would type next based on what they typed before in other messages.
The breakthrough came in 2010. Having signed its first licensing deal at their first Mobile World Congress in 2010, along came the Android market.
Until 2009, Apple had sold its iPhone exclusively through one carrier in each territory - which meant rival mobile operators and retailers were pining for an alternative. And Android, while crude, fitted the bill.
Google's original on-screen keyboard was pretty meh. The Android development team had roots in devices with real physical QWERTY keyboards such as the Sidekick, and the very first Android device (the T-Mobile G1) had a physical keyboard, too. But the operating system's programmers provided a software interface for third-party developers to hook into to provide text entry. SwiftKey offered a very decent improvement and in September 2010, asked for a very small fee.
Fast forward to today and TouchType, thanks to the revenue and significant licensing deals, employs some 90 staff. SwiftKey are forbidden to talk about these contracts. Your El Reg writer did suggest that the BlackBerry OS 10 on-screen keyboard operates remarkably like SwiftKey, but on pain of death the team couldn't comment.
The most eyecatching new feature in the latest version of the software is that it attempts to predict entire phrases. It introduces continuous dragging over the keys, which Swiftkey calls "flow" - and was first seen in the Swype soft keyboard. You don't lift your finger from the keyboard but drag it around - as you do, you are given choices for several words ahead. The n-gram is four or five deep, SwiftKey's Joe Braidwood explained to us.
It works very well - and makes for a dazzling demo.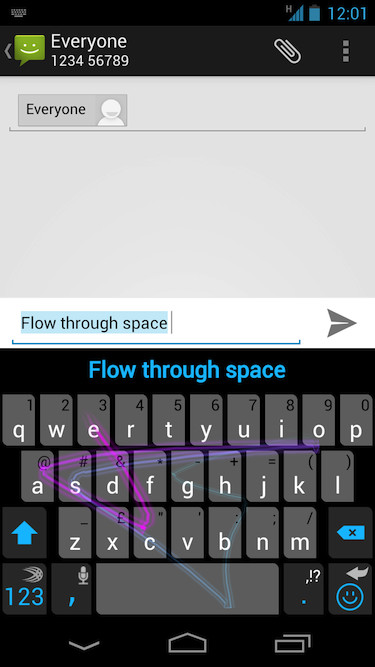 SwiftKey 4 has a bash at predicting whole phrases
Another impressive aspect is how it juggles multiple languages. Type "je" and the suggestions will be French - but carry on in English and the suggestions will switch to English. Given that so many potential users are bilingual (the huge US Latin market, for example) this is a huge advantage. It effectively removes the need to manually switch keyboards. SwiftKey now supports 60 languages, and can mix left-to-right and right-to-left (ideal for Arabic and Hebrew) in the same message.
The software also performs probabilistic interaction modelling - guessing not just the next word but when you've made an error. It does so by building up a heat map of where you type - as illustrated below. What this means in practice is that it can judge that a "u" and an "h" are likely to be errors, but "s" and "d" are likely to be the first letters of real words.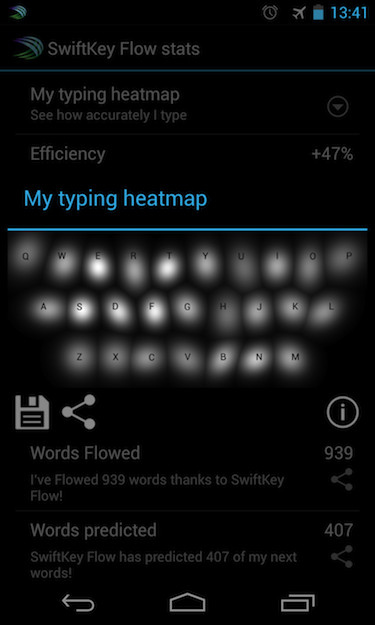 A heat map generated by a sloppy typist. Look: they're all over the place - they're probably a drug-addled wreck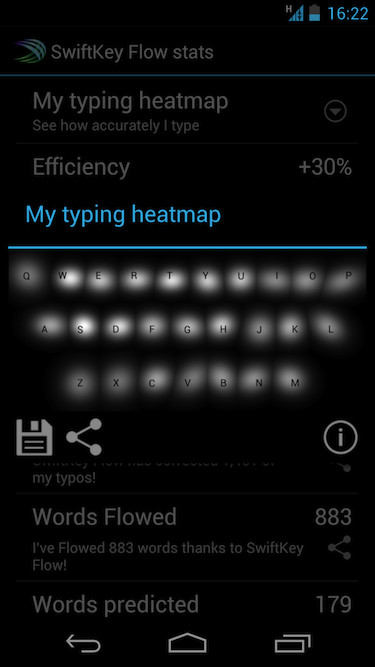 By contrast, this typist is very accurate
The new version is available today as a free upgrade, or £1.49 for new punters. ®