Apple files 'iWatch' patent application
Flexible video display to slap onto your 'appendage'
The US Patent and Trademark Office has published a patent application that juices rumors Apple is working on a bit of wrist-wearable kit that hardware hypothesizers have dubbed the "iWatch".
"Bi-stable Spring with Flexible Display" was revealed in the USPTO's weekly Thursday-morning application dump, and describes a snap-on device much like the iWatch that The Wall Street Journal reported that Cupertino was developing with its manufacturing partner, Foxconn.
The application, however, makes no mention of the device as being a timepiece – it is described, more generally, as a "wearable video device arranged to be worn by an end-user" on said user's wrist. Like a watch.
Well, not the user's wrist, per se. The device is described as having "a flat state and a curled state," that latter of which "conforms to an appendage of the end-user."
Remember those slap wristbands you played with as a kid? The ones that snapped onto your wrist – or, for that matter, any other appendage – when you slapped them against it? That's the idea.
Of course, not all of our wrists appendages are of equal girth, and so the flexible display as described in the application is described as being able to adjust the amount of information that it presents to the user based on how much of the display is viewable when worn.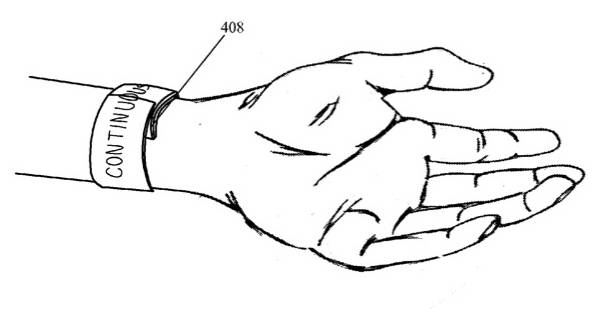 No matter how petite or buff your appendage might be, the display will adjust to the area that's visible
But it's also usable when not wrapped around your choice of appendage, and in that flat-state usage model, the entire display can be lit up and usable.
The display itself is described as being touch-controllable, and the device has "a wireless communications antenna; a battery; an integrated circuit for driving the flexible display; and a data and power connector."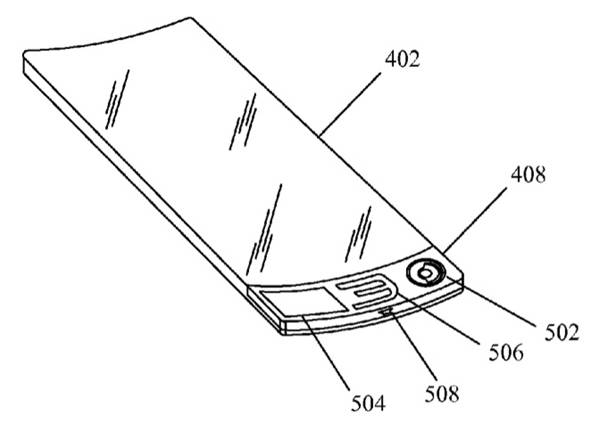 When flat, you can see the battery (504), connector (508), antenna (506), and kinetic-energy gatherer (502)
Interestingly, no mention is made of a processor being onboard the device. Instead, a "bi-directional communication link" is established between the device and a "portable electronic device" – which we can only assume would be an iPhone, iPad, or iPod touch – and information is passed between them, displayed on either device.
Another nice touch is that the device is described as being self-powered by "a kinetic energy gathering component, wherein the battery can be trickle charged" or "ambient light energy collectors disposed on at least one edge of the accessory device" – a self-winding wristwatch for the ultra–low power digital age, it appears. ®
Bootnote
Slap wristbands are not entirely new to the iDevice world. Griffin Technology, for example, offers the appropriately named Slap, which turns the sixth-generation iPod Nano into a somewhat clunky wristwatch.