Further blurring the line between desktop computers, laptops and mobile gadgets, Google has stuffed the app launcher from its Chromebook into its desktop Chrome web browser.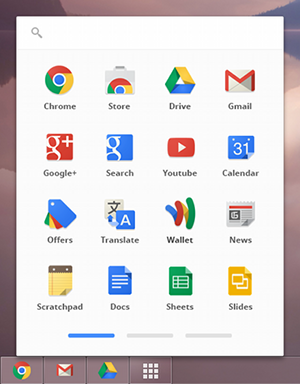 Ta-da. That's it.
The program launcher, basically a little window to run packaged JavaScript apps within the browser, looks just like a phone home screen, and was ported over from Chrome OS - the Linux-based operating system used in the Chocolate Factory's netbook. Chrome OS, as the name suggests, is built around a build of the Chrome web browser.
For now, only Windows users on the developer release channel of the Chrome web browser can try out the launcher, but versions for Mac OS X and Linux are "coming soon", according to the Google Chromium Blog.
The feature only shows up if you install a Chrome-packaged app from Google's web store, at which point you'll get an extra icon in your Windows taskbar to run the app offline.
Since the launcher isn't ready for a full release yet, Google is inviting developers to give it a whirl and then let the Oompa-Loompas know what bugs need fixing on Stack Overflow or the Chromium Apps Google Group. ®