Curiosity Mars rover flashes pics of GREY drilled powder sample
Rock dust could hold key to Mars' wet past
---
Mars rover Curiosity has beamed back pics of what lies beneath the surface of the Red Planet, whose rosy complexion turns out to be just skin-deep.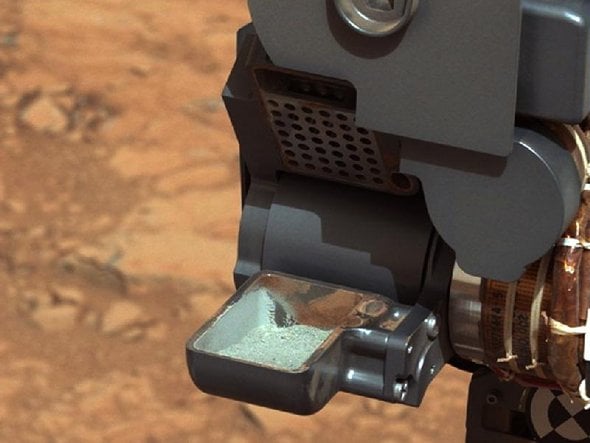 The sample drilled out of Martian rock by the mobile science lab appears to be a blue-grey powder, visible in the robot arm's open scoop.
"Seeing the powder from the drill in the scoop allows us to verify for the first time the drill collected a sample as it bore into the rock," said JPL's Scott McCloskey, drill systems engineer for Curiosity.
"Many of us have been working toward this day for years. Getting final confirmation of successful drilling is incredibly gratifying. For the sampling team, this is the equivalent of the landing team going crazy after the successful touchdown."
Curiosity bored into the planet nearly two weeks ago, making a 2.5-inch (6.4cm) hole in the Martian bedrock, the first time any rover has ever drilled into a rock beyond Earth.
The resulting sample is sitting in the scoop of the rover's Collection and Handling for In-Situ Martian Rock Analysis (CHIMRA) device. The next step is to enclose the powder inside CHIMRA and shake it up once or twice over a sieve to take out particles larger than 0.006 of an inch (150 microns) across. Then portions of the samples will be delivered into the Chemistry and Mineralogy (CheMin) and Sample Analysis at Mars (SAM) instruments for analysis.
The sample comes from a fine-grained, veiny sedimentary rock, named "John Klein" in honour of a Mars Science Laboratory deputy project manager who died in 2011. The rock was chosen because it could hold evidence of wet environmental conditions on ancient Mars. ®