Less than six months ago, there were just a handful of Miracast-certified products listed in the Wi-Fi Alliance's kit database. Now there are nearly 150. A spectacular improvement for a little known technology. So what is it?
Miracast was formally launched in September 2012, but it was Google's announcement a month and a half later that the system would be integrated into Android 4.2 Jelly Bean which gave the technology all its momentum of late.
Miracast is essentially a brandname for the Wi-Fi Alliance's Wi-Fi Display specification, a technology along the lines of Intel's Wireless Display (WiDi), which can be used to stream the output of one of the company's integrated graphics cores to a compatible TV - or to a TV with a suitable adaptor hooked up to one of its HDMI ports.
WiDi was created to help Intel sell wireless chips - its own, Centrino-branded Wi-Fi adaptor cards are necessary to use WiDi - but this was holding the technology back. A case in point: The Register wanted to review WiDi a couple of years back but we were unable to do so because no laptop maker could supply a notebook that they could be certain had all the necessary Intel components on board.
Not just for notebooks
Meanwhile, Apple was promoting its own, likewise proprietary display streaming system, AirPlay. The Apple technology allows a compatible iDevice to mirror its screen on a television by way of one of the company's Apple TV set-top boxes. Again, it's all very handy if you have the right kit, but of little use if you haven't.
Both WiDi and AirPlay were designed on the back of the notion that users had content on mobile devices that they would quite like to watch on a large screen. About four years ago, a number of firms began offering plug in devices to create ad hoc wireless links between laptops and TVs, the better to save punters from having to string HDMI or DVI cables between the two. Some used Wireless USB technology, others made some of the first forays into ultrawideband (UWB) territory. WiDi improved on them all by leveraging the Wi-Fi adaptor already built into the laptop.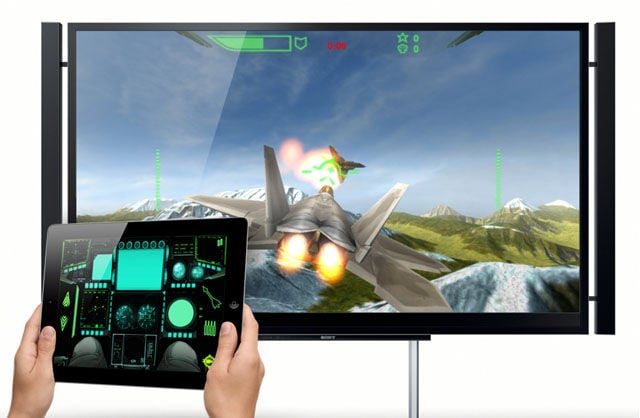 Apple's AirPlay isn't just for mirroring video - and neither is Miracast
Source: Apple
Neither Intel nor its add-on manufacturer rivals proved tremendously successful. In WiDi's case the restriction of being forced to use not only Intel processor and GPU technology but also the company's Wi-Fi cards - and very recent generations of them all too - ensured only three kit makers give it their support by releasing WiDi adaptors for televisions: Belkin, Netgear and D-Link. Sony's PlayStation 3 has supported WiDi for a while now, and there are a dozen or so LG and Toshiba TVs that do too, Intel's website says. Good support but not an overwhelming vote of confidence from the accessory and consumer electronics industries.
Part of the problem: few consumers could see the benefit in spending $100-200 or £75-150 on an adaptor to make getting content off a laptop and onto a TV. Not when a decent length of HDMI cable could be had for under a tenner, and not while they were just starting to get into tablets and smartphones, and to downloading content straight to these devices.
Mobile emphasis
Which is why AirPlay was cannily focused on getting content off an iDevice rather than from a mobile Mac, though it subsequently added AirPlay support to its laptops too with the summer 2012 release of Mac OS X Mountain Lion. That's win-win for the Apple: it encourages iDevice users to buy or rent more iTunes Store content, and to buy one of the company's "hobby" set-top boxes, which only coaxes them to download more content. Since Of late, Apple has also been evangelising the technology as a way of turning iPhones, iPod Touches and iPads into wireless games console-controller combos: running the game on the mobile device, but presenting the action on the TV, with the smaller panel being used as a secondary screen along the lines of Nintendo's Wii U controller. Dozens of titles - not all of them games - support this mode.
"Consumers today are looking for big-screen entertainment but prefer browsing and navigation on touch devices close at hand," says Sam Rosen of market watcher ABI Research. AirPlay plays straight to that desire.
Of course, there's still the problem of persuading punters to part with £100 for an Apple TV, but with so much buzz around tablets and phones, that hasn't proved too difficult. Apple keeps its sales figures close to its corporate chest, but based on the numbers its executives have mentioned at various times, it has probably shipped well in excess of 8 million Apple TVs, 2 million on the final three months of 2012.
That's surely a greater number of devices than the wireless USB, wireless HDMI and WiDi adaptor makes have managed to date. But it's still a tiny fraction of the number of Wi-Fi enabled smartphones and tablets in users' hands and TVs in their living rooms, and it's this much broader constituency that the Wi-Fi Alliance is targeting with Miracast.
The Alliance's pitch centres on standardisation and interoperability. Wi-Fi is a very well established standard. Miracast is a software solution, requiring only a foundation of standard Wi-Fi hardware to work. Wi-Fi Direct, the component of Miracast that allows a peer-to-peer link to be put in place between source and display, negating the need for both devices to be connected to the same wireless network, is now widely supported, especially by many of the devices the Wi-Fi Alliance expects to be Miracast sources.
Similar topics