This article is more than 1 year old
Google takes Chromebook upmarket with touchy-feely Pixel
Pricey touchscreen kit for the cloud warrior with money to burn
Chromebooks have traditionally been priced for the low end of the market, but Google has decided to go for the well-heeled cloud warrior with the Chromebook Pixel, a touchscreen laptop with a super-high resolution screen and a price tag to match.
"We've designed this for people who live in the cloud, even if they're like my parents and don't know what the cloud is," said Sundar Pichai, VP of Chrome, at an event in San Francisco on Thursday. "We think it's a real game-changer in how people love being in the cloud."
The Pixel is a skinny little thing, 16mm thick, and is built to look good in comparison to a MacBook Air or Microsoft's Surface. It has a 12.85 inch 2560 x 1700 screen that's configured for 3:2 displays rather than 16:9, which Pichai says gives around 18 per cent more viewing area for web browsing.
The system runs an Intel 1.8GHz Core i5 processor, 4GB of RAM and either 32 or 64GB of solid state storage, with 1TB of Google Drive space included. It comes in two flavors: a Wi-Fi only version for $1,299 (or £1,049 for UK buyers) and a US-only Verizon LTE/Wi-Fi version for $1,449. It's available for preorder now in the US and UK, with delivery in April, and other European markets will get it eventually.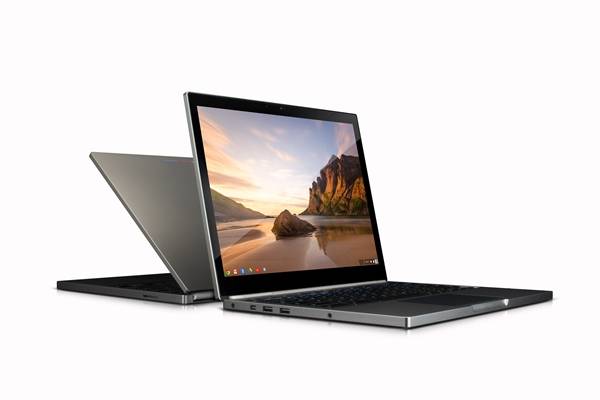 How much?!
That's a steep price for a laptop, but Google thinks that the combination of touch, high-end specs, and the cloud angle will make it a goer. Pichai said that Google will make a profit on each machine and that it's a serious player in the hardware business these days.
There are some nice touches in the machine. It has two microphones built into the top of the screen and a third under the keyboard, which is used to cancel out the sound of the user typing. The speakers, too, are under the keyboard to make the laptop look sleeker, and the air vents have been hidden under the hinge at the back of the system.
In terms of connectivity, there are two USB 2.0 ports, a mini-display port, and a slot for SD cards. Google is claiming a battery life of five hours for the unit.
Chrome OS has now been optimized for touch, Pichai said, and the Pixel was designed to show off the operating system to its best abilities. Support for viewing and editing Word and Excel documents via Quickoffice has also been added, so that the device can slot easily into the enterprise market.
With such a hefty price tag and the Chrome OS operating system, the Pixel isn't for everyone – $1,299 buys you a lot of laptop these days – but the Chocolate Factory thinks it's got a winner on its hands. El Reg has a review unit and we'll be putting it through its paces over the next few days and publishing a full review. ®