Nvidia plans new 'reptile HQ' to match its IT aggressiveness
Keplersaurus Rex to stomp into Silicon Valley
Move over Apple. Nvidia cofounder and CEO Jen-Hsun Huang wants to build his own futuristic space-station campus – and as you might expect, the Nvidia design is black and green and built from triangles, the basic building block of the mathematics around graphics processing. And, as it turns out, the strongest shape in architecture.
Nvidia was founded 20 years ago, and has grown from three people addicted to video games who were sick of crap video cards to an 8,000-person company across 40 offices worldwide that doesn't just make graphics chips and GPU cards any more.
Nvidia has expanded out into ARM processors and supercomputing, and extends from PCs out to tablets, smartphones, and in the coming years, servers proper. And not just as a GPU coprocessor, but as a maker of CPU/GPU hybrid chips for both PCs and servers. (That, of course, assumes that "Project Denver" comes to fruition and Nvidia can come up with an alternative interconnect to the "Aries" networking that it had its eye on and that Intel bought out from underneath it last year.)
The company raked in $4.28bn last year and brought $562.5m to the bottom line, and while no one would call the GPU and adjacent CPU businesses where Nvidia plays easy ones, that might be about as good as it gets.
It is good enough for Huang to shell out an unknown sum to build a massive new HQ for Nvidia.

Street view of the future Nvidia HQ
"Our headquarters in Santa Clara, just a few blocks from where we started, barely has a spare desk. We're absolutely bursting at the seams," Huang said in a blog post announcing the real estate investment. "So, we've decided to build a new campus right across the street, one as distinctive as our company."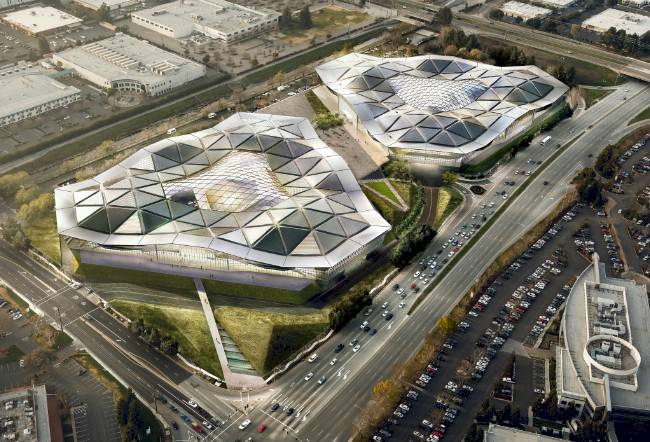 Bird's eye view of the proposed new Nvidia HQ
The building – or rather pair of buildings – is being designed by Hao Ko, an architect who trained at Harvard University and who works at M. Arthur Gensler Jr. & Associates in San Francisco, which did the T5 terminal for JetBlue at JFK airport in New York, the home base for UK spooks at the Government Communications Headquarters (which looks a bit like Apple's HQ spaceship), and the Shanghai Tower, which will be the tallest building in China when it is finished next year, and the second tallest in the world.
"The design harmonizes smart functionality and a shape that connects with and inspires our employees – a triangle, the fundamental building block of computer graphics," Huang wrote.
It also looks a bit reptilian, which may or may not be a theme Nvidia was shooting for. The company did not say when this new facility would be completed or what it would cost. ®