Ride Riverbed's Whitewater all the way to Glacier
Cold data storage in Amazon's icy vaults
---
Use Riverbed's Whitewater gateway product to send your data centre's cold but still wanted data up into Amazon's glacial archive storage vaults where entry is cheap, stays long, and restores cheap as chips unless you get lost in Amazon's pricing jungle.
Riverbed has its Whitewater cloud storage gateway product which squirts data up into private and public clouds, such as Amazon S3, AT&T, HP, Azure from Microsoft, Nirvanix, and Rackspace. It's also added Google's cloud as a backend target.
Private cloud destinations include clouds built using EMC Atmos, Nirvanix, OpenStack and Rackspace. Whitewater appliances can receive data from backup servers, filers and database servers; the value of a cloud storage gateway box being partly the breadth of the devices it can receive data from and the breadth of the targets it can send data to.
Now it's added Glacier, with its $.01GB/month cost, as a back-end cloud, with data being deduped, compressed and encrypted before sent Glacier-wards.
Riverbed's cloud storage marketing guy Jerome Noll said; "We've had many requests to support Glacier and we've worked closely with Amazon to do this." The competitive focus is against on-site tape vaulting with Riverbed saying Glacial storage is much, much less costly than buying and running your own tape library.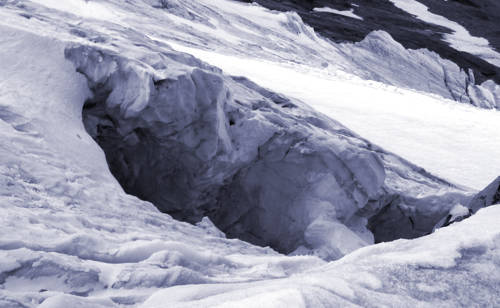 The refreshed Whitewater appliance takes, Noll says, all the hassle out of dealing with Glacier and its famous-stroke-notorious 3 - 5 hour restore time. Whitewater caches the most recent and frequently accessed data within the appliance and the delay will only be encountered if data is not within the cache. At that point Whitewater will submit the Glacier restore request and alert the user when the data has been unfrozen and is ready in the appliance.
Customers can also tell the appliance to fetch files known to be in Glacier and not in the appliance's cache.
Riverbed suggests up to ninety days of archive data could be in its cache with the bulk being in Glacier. The Glacier restore cost is based on the timeframe of the restore, with slower being cheaper. Up to 5 per cent of the total data stored can be recalled free each month. The Whitewater appliance understands the free tier limits and will throttle restores to minimise cost.
Fear not if your Whitewater appliance fails. A disaster recovery arrangement can be set up with a second Whitewater and it can take over with uninterrupted cloud access if the primary appliance goes out of commission for any reason.
Riverbed has also announced V210 4TB and V410 8TB virtual Whitewater appliance models to cope with the potentially larger amounts of data involved, both in virtualised data centres and in the glacial archiving situation.. In that vein Riverbed has expanded Whitewater's bandwidth limiting from data uploads to restores. The aim is not to have your network bandwidth taken over by Amazonian size data movements.
You can also manage many Whitewater boxes, physical and virtual, from a single GUI. Users can pick a cloud destination from a simple drop-down windows and Whitewater sets up the connection, using the provided access key and other necessary information.
Riverbed claims that Whitewater is certified with 85 per cent of the data protection market's suppliers; the breadth of the source data suppliers being crucial. It says ARC, CommVault, EMC Networker, IBM Tivoli, HP, Quest Software (now Dell), Symantec and Veeam are included as source data feeds for its Glacier backend as are SQL Server and Oracle.
Noll says Riverbed's Whitewater preoccupation is data protection; "We are really focussed on cloud storage for backup, restore and archive."
If customer's already store data in S3 Amazon itself has provided an S3 to Glacier data link. Amazon also provides its own storage gateway (ASG) but, Noll says, it does not do inline dedupe and compression and only has an iSCSI block interface; "We expose NAS as well." He says; "ASG is for a different use case and is competitive with Microsoft's StorSimple which also has iSCSI access."
Nasuni sells a cloud storage gateway and its CEO, Andres Rodrigues, said; "Whitewater is not a bad solution if what you want to do is archiving. But, really, that only scratches the surface of the potential for cloud storage. … Nasuni provides cloud-based storage as a service solution for primary data (CIFS, NFS and iSCSI), while Whitewater is one part of an overall archive solution."
He added another differentiation point; "Nasuni manages the service, so customers do not have to manage a relationship with a separate cloud vendor. … This is different than Riverbed which leaves the work of selecting and managing the cloud storage solution to the customer, and does not include an SLA."
If you want a dedicated backup and archive cloud facility then Whitewater is a gateway to use for that, particularly with its Glacier support. If you want more then Nasuni could be on your list - but it doesn't support Glacier as a backend cloud.
Grab yourself a free Whitewater trial here if you wish. ®