VCE collective takes integrated systems battle down to the midrange
Cisco-EMC-sometimes-VMware converged boxes take on the tier ones
---
It is safe to say that the effort by Cisco Systems to break into the server racket with its Unified Computing System blade and rack servers nearly four years ago has succeeded much more than its rivals in the business had expected.
And the Virtual Computer Environment partnership between Cisco, storage juggernaut EMC, and its server virtualization minion VMware, which was formed in November 2009 to peddle integrated systems, complete with servers, storage, networking, and virtualization when necessary and which had a bumpy start, has not only done better than expected. The fact that it did not fail at all and now has an annualized system revenue run rate of $1bn is remarkable.
But the VCE collective wants more, and it wants to make it up in volume because this, in the end, will help pump up sales at all three member companies in the consortium.
To that end, VCE is hosting a big event on Thursday where the bigwigs of the three companies – Cisco CEO John Chambers, EMC CEO Joe Tucci, and VMware CEO Pat Gelsinger – will all give their rah-rah speeches about how well the VCE partnership is working as the companies announce two new integrated systems – the Vblock 100 and the Vblock 200 – as well as enhancements to the existing machines – the Vblock 300 and Vblock 700 machines.
The companies will also announce new custom variants of VCE stacks that are tuned for particular application software, and the very first one is a set of specialized Vblocks aimed at running SAP's HANA in-memory database for fast analytics and now for running Business Suite applications at much faster response times.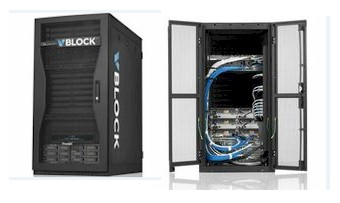 One VCE rack, and another one flashing you
Ahead of the event, VCE executive vice president of development and strategy Todd Pavone walked El Reg through the announcements and talked about the state of VCE business, which is operated independently of the three partners as if it were another systems maker and Cisco, EMC, and VMware were just extremely interested and vested parts suppliers.
Having exceeded the $1bn annual run rate as 2012 was coming to a close is a big deal, and particularly when you consider that this was done with only around 250 channel partners (who were not given enough margin early on and were a bit irked by this until VCE fixed it) and a little more than 500 customers.
Not that averages mean anything, But Cisco said in its most recent call with Wall Street that it has over 20,000 customers for its combined UCS systems and Nexus 2000 and 5000 converged switches, and that this business was at a $3.5bn run rate.
Even if you added in storage for the Cisco boxes and virtualization when customers wanted it, perhaps boosting the apples-to-apples compare to maybe $6bn by El Reg's estimates, the VCE customers have to be spending considerably more dough per customer.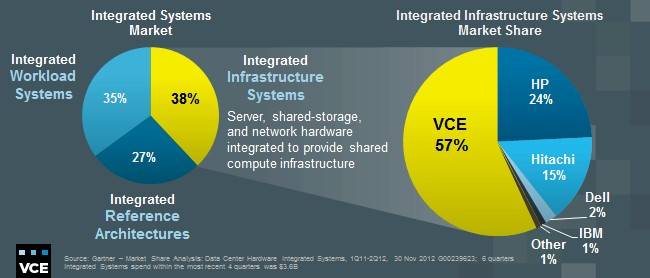 How Gartner diced and sliced the 'integrated systems' market in 2012
If you assume slightly more than half of those VCE customers spent in 2012, and use Gartner's reckoning of VCE's revenues for 2012 (which is a 57 per cent share of a 38 per cent slice of a $3.6bn integrated systems market as shown in the charts above), then you have the average customer spending maybe $2.5m for Vblocks.
Over the past four years, the average Cisco customer is probably on the order of a few hundred thousand dollars, with very modest sales during proof of concepts. But repeat customers for both Cisco proper and VCE are coming back with increasingly larger orders as they want integrated systems for more and more workloads.
The cluster is becoming the computer, at least for a number of key workloads, and while this is not a mainframe, it is a multiframe that has many of the same attributes of that venerable mainframe and is designed specifically for running distributed applications.
To grow its business and its channel (which in turn should grow the business more through a virtuous cycle), VCE needs to take the Vblocks downscale.
"What we have heard loud and clear from our customers is that they want us to take what we have done at the core of their data center and extend it to the edge," says Pavone. "And what we have heard from our channel partners, also loud and clear, is to get something more appropriate to the midmarket."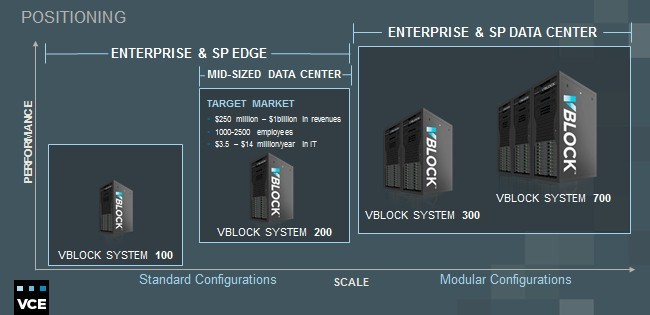 The types and targets of Vblock integrated systems from the VCE collective
Pavone says with a laugh that VCE learned from its mistakes of calling the original Vblock configurations 0, 1, and 2. That all sounded very clean, but it doesn't leave room to scale the line down and it doesn't allow the name to be iterated. So now we have the new Vblock System 100 and 200, and they stand alongside the Vblock System 300 and 700 stacks.
In general, as you move up the line, you have more customization options, until you get to the specialized machines like the new HANA system, which will be more like an appliance. (SAP insists on it, right down to the processor SKUs, to make it a level playing field.)
There are two flavors of the new Vblock 100, and both use the C220 M3 two-socket Xeon rack server, announced by Cisco last March, as their compute engines.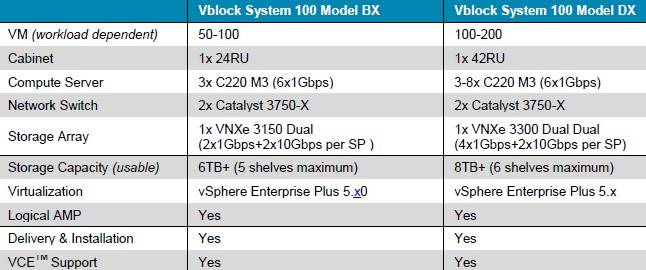 Specifications of the VCE Vblock 100 systems
The Vblock System 100 Model BX comes in a 24U half-rack and has three UCS C220 M3 servers, plus two Catalyst 3750-X switches and one EMC VNXe 3150 with 6TB of usable storage in those arrays.
The Vblock System 100 Model DX has a full 42U rack and starts out with three of the UCS C220 M3 servers and can expand up to eight nodes. This setup also has two Catalyst 3750-X switches and has a VNXe 3300 with 8TB of disk capacity.
In both cases, the server nodes are loaded up with VMware's latest vSphere Enterprise Plus 5.1 server virtualization stack. The Vblock license does not include the vCenter console as far as we know, but it should, this being a stack and all. Cisco also tosses in the Nexus 1000v Essentials virtual switch for the ESXi hypervisor. The entry price for the Vblock System 100 is $180,000.
The Vblock System 100 machines are designed to be used as development/test boxes for data centers deploying larger Vblock setups as well as for remote offices and branches for large organizations that distribute their computing around.
By putting computing, storage, and networking in the remote location, you can run applications such as virtual desktops, email, collaboration tools and such locally without having to pipe them out over the WAN. Some customers want to do that, and VCE is happy to sell you bigger machines for your data center and point you in the direction of a WAN optimization appliance.
The Vblock System 200 is a bigger stack that is aimed directly at midsized data centers or businesses that have requirements to segregate their systems or applications. The target market for the Vblock 200s, says Pavone, is for companies with 1,000 to 2,500 employees, with between $250m and $1bn in annual revenues, and with somewhere between $3.5m and $14m in annual IT expenditures.

The feeds and speeds of the Vblock 200 systems
The Vblock System 200 machines are also based on the UCS C220 M3 rack servers, but they swap out the Catalyst switches for the networking backbone and plunks in a pair of Nexus 5548 converged switches to speak both server and storage traffic (the latter using Fibre Channel over Ethernet).
The Vblock 200 also takes out those baby VNXe 3XXX arrays and brings in the fatter VNX 5300 arrays from EMC. The Vblock 200 system comes in a 42U rack and has from 4 to 12 server nodes. The base machine with four nodes has between 14 and 25 disks in that VNX 5300 array and has a Catalyst 3750 switch that is used to link all of the management ports on the servers and storage.
The fattest configuration has a dozen C220 M3 servers and up to 105 disk drives across the VNX 5300 arrays. The machines have the same vSphere Enterprise Plus virtualization stack as the Vblock 100s, but the Nexus 1000V virtual switch is upgrades to the Advanced Edition (which is not free like the Essentials Edition is). A base Vblock System 200 will run you $350,000 at list price.
With the Vblock System 300 and 700 machines, VCE is upgrading to the latest Xeon E5 iron that came out last year from Cisco, and the machines are based on proper UCS blade enclosures and the B Series blades. You can use the new Xeon E5 blades, or the older Xeon 5600 processors used in the second-generation of UCS machines from Cisco, known as the B Series M2s. (VCE knows customers sometimes want the older kit because they are certified on it and they just want to build out their existing clusters.)
The machines can have VNX 5300, 5500, 5700, and 7500 arrays from EMC and Nexus 5548 and 5596 switches from Cisco in addition to the networking inherent in the UCS chassis if you need to segregate networks. You can use the vSphere 5.0 or 5.1 virtualization stacks from VMware on the Vblock 300 or 700 setups.
Generally speaking, Pavone says that if you go with the new Xeon E5 blades, you can get about twice the compute performance into a given rack. An entry Vblock System 300 costs $650,000 and an entry Vblock System 700 will run you a cool $950,000. There are so many configuration options with these two Vblocks that it is hard to figure what is in them. (And if you think about that, it defeats the purpose of a Vblock a little.)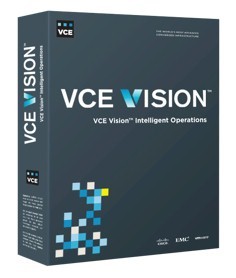 VCE has hacked together its own control
freak software for its Vblocks
In April, VCE will be teaming with SAP to roll out four-node and eight-node Xeon E7 clusters to support the HANA in-memory database. The precise configurations for these HANA boxes was not divulged, nor was pricing.
But Pavone did say that after VDI implementations and the Microsoft Exchange/SQL Server/Sharepoint triple whammy, SAP applications were the third most important drivers for VCE sales. And with HANA support and an appliance setup, Pavone thinks that SAP-related sales will accelerate.
Other specialized Vblocks will follow, but VCE did not elaborate on what software they might be tuned up to run.
That leaves the last bit of news tomorrow, which is that VCE has taken around 100 programmers and cooked up its own cluster management tool, called VCE Vision Intelligent Operations. This tool is specifically tied to Vblock iron to monitor and operate the devices, but according to Pavone it purposefully does not have its own GUI but rather snaps into the VMware vCenter management console.
However, if you run bare-metal and use management tools from BMC Software, IBM, Hewlett-Packard, or CA, the APIs for this VCE Vision monitoring tool are open and are designed to feed data to and take orders from these uber-freaks.
VCE did not announce pricing on VCE Vision, but it is meant to be a minor additional cost to the overall Vblock, not something that will give IT managers a heart attack. ®