Cheap iPhone mini 'makes sense' for world domination
Morgan Stanley analyst: China won't gobble leftovers
---
After meeting with Apple CFO Peter Oppenheimer, one well-placed analyst sees "several signs" that offering a lower-priced iPhone "makes sense."
Morgan Stanley analyst Katy Huberty's reasoning about the release of the long-rumored, downsized iPhone "mini" or "nano", says Forbes, is based on the success of the iPad mini in emerging markets such as China and Brazil, where 50 per cent of the sales of that li'l fellow went to new Apple customers.
Chinese phone buyers in particular, she notes, prefer to buy the latest models of phones rather than pay bargain prices for older models – a tactic that Apple is now persuing, flogging its iPhone 4 and iPhone 4S at lower prices than its flagship iPhone 5.
A smaller, less-expensive, new iPhone would fill that bill, and still leave Apple with enough profit potential to make offering it worth their while. "Even at a low 40 per cent gross margin and one-third cannibalization rate," Huberty says, "we see an iPhone Mini as incremental to revenue and gross profit dollars."
Apple is eyeing the Chinese market hungrily – there's nothing quite like over 1.3 billion potential customers to make a CFO's heart go pitter-pat.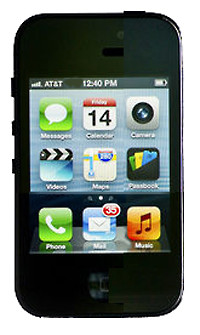 Behold our vision of the iPhone femto!
Apple is finding some success in the Middle Kingdom, as well. During the conference call following the company's release of its first-quarter 2013 financial results, Oppenheimer noted that iPhone unit sales had more than doubled in its Greater China market segment – China, Taiwan, and Hong Kong – when compared to the same quarter the previous year.
During that same call, CEO Tim Cook said that Apple's Greater China revenues during that quarter were $7.3bn, up over 60 per cent year-on-year. "We saw exceptional growth in iPhones, into the triple digits," he said.
Apple is also making a big retail push in China. A year ago there were six stores in that geographical segment; there are now 11, with more to come. "We obviously have many more to open there," Cook said, adding that Apple has increased iPhone point-of-sale locations from 7,000 to over 17,000 year-on-year.
"[China] is already our second-largest region ... and it's clear that there is a lot of potential there," he said.
One way of tapping that potential is for Apple to stock those retail stores and point-of-sale locations with a device that has been rumored since even before the original iPhone made its debut: the iPhone mini.
Offering a lower-cost, up-to-date phone in emerging markets would not only make Huberty look like one smart – and prescient – cookie, but if her profit predictions are correct, it would make Apple's shareholders happy, a feeling they haven't experienced since the company's share-price slide began last September. ®