Emulex under second investor assault
First Elliott and now Altai
---
Emulex, faced with a relatively static Fibre Channel HBA market and with the great white Ethernet-carrying FCoE alternative being as lively as a lethargic turtle, has decided to buy Endace, a New Zealand–based concern with Ethernet deep traffic inspection and analysis gear, so as to expand its addressable market.
This got up Elliot Management's nose, hence its assault on the board. Now Altai Capital has revealed itself as a second aggrieved investor with a letter to Emulex CEO Jim McCluney, who sits on the board, saying the company is grossly undervalued by the stock market, that it can't understand why the Endace buy is thought to be a good thing, and that the board should think about flogging Emulex off to deliver cash to shareholders.
Here are excerpts from its letter:
We appreciate the time that Emulex's senior management has spent with us over the past year, especially our visit to your corporate headquarters last September and our meetings at Altai Capital's offices in New York. Our discussions with you, CFO Michael Rockenbach, President and COO Jeff Benck and other key members of your team have helped us greatly in understanding your business. We continue to gain an appreciation for the complex challenges Emulex faces over the coming years and we share your excitement for the numerous opportunities that lie ahead.

Unfortunately, the public markets do not seem to share our enthusiasm for Emulex's prospects. Over the past several years, Emulex's stock price has materially underperformed the market. ... we believe that Emulex is deeply undervalued. ... we are perplexed by the Company's recent announcement to acquire Endace ... We would have preferred that Emulex use its strong net cash balance to continue to repurchase its undervalued shares.
Altai's letter says Emulex' board owns such a trivially low amount of Emulex shares that they are not incented enough to drive the company hard enough. It provides a table to show this: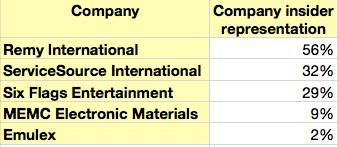 Altai's comparison of insider holdings in its five largest investments
Altai then asks that Emulex "consider a number of strategic questions over the coming months, including the following:
"Should Emulex continue to transform its business by (a) pursuing transactions such as Endace and (b) investing in research and development to address new growth markets;
Should the Company concentrate on its existing businesses and pursue profitability over growth;
Should the Company return capital to shareholders immediately through increased share repurchases; or
Should Emulex pursue a sale of itself in its entirety?"
Its conclusion is that:
We believe that Emulex and its shareholders would be well-served to add members to its Board with a greater economic stake in the Company. ... We look forward to continuing our constructive dialogue with you to achieve this immediate objective as well as our shared longer-term goal of delivering the highest risk-adjusted return to shareholders.
In other words, Altai wants board representation and it wants the board to choose a strategy "with the highest expected risk-adjusted return, as opposed to the option with the highest projected future value," meaning, we understand, going for profitability rather than growth.
Elliott owned 11.3 per cent of Emulex's shares in December last year. It now owns 9.9 per cent, making it Emulex's main shareholder. Altai says it owns 5.4 percent meaning, being Emulex's fifth largest investor. This means that 15.3 per cent of Emulex shares, as it were, are in favour of a significant change in Emulex's strategy up to and including a company sale.
There does not appear to be any connection between Elliott Management and Altai Capital. Emulex has announced that acceptances have been received for 88 per cent of the shares in Endace. Emulex has made an extension of the acquisition offer period to February 26, 2013 for the remaining shareholders to submit their shares to accept the offer. Altai's letter and its release is timed to try to stop this from happening. ®