This article is more than 1 year old
SimCity Classic
Micromanage your own mock metropolis
Antique Code Show Doughnuts. Doughnuts are what I think of when someone mentions SimCity in my vicinity. Not because I used to cram them into my face, Homer Simpson-style, while I played, but rather because, back in my childhood, I was obsessed with arranging my own 'simmed' city in perfect concentric 'doughnuts'.
Squares in three-by-three formation of interweaved residential, commercial and industrial zones forming the very backbone of my every mock metropolis. And then, particularly when it came to residential areas, there was an added treat - the jam in the doughnut, if you will - usually in the shape of a police station or local park.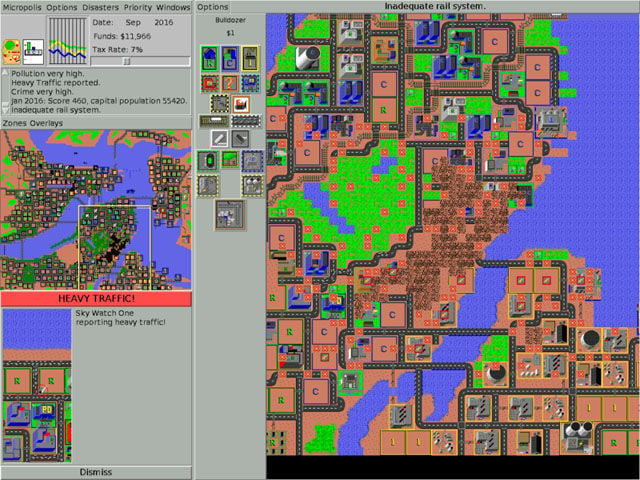 Mayor of your own micropolis: the original SimCity
To take the analogy still further, you might also say that the carefully constructed road network threaded around each block was tantamount to sprinkling hundreds and thousands on top.
Doughnut obsession wasn't my only consideration, either. Where to place industrial areas, versus living spaces, also presented an ever-challenging struggle. Too much industry and my Sims might choke on chimney fumes; too few and they'd be screaming for jobs and opportunities. Oh, the challenges of being a virtual mayor in a digital town.
Added flourishes came in the way you were able to micromanage your city's financial resources too, with the tax rate at your whim - and so key to your population's happiness. And even in the way you could lay mass transit, complete with its own moving trains.
While my ingenious doughnut formula might be a new concept for a great many SimCity players out there, so creative was Maxis' first foray into its idea of 'town building as fun' that I'm confident others have their own alternatives. Indeed, the vast majority of pleasure to be had from SimCity was derived from planning your bespoke town and laying it out exactly as you saw fit – whether the town in question be a dust bowl, or hive of industry.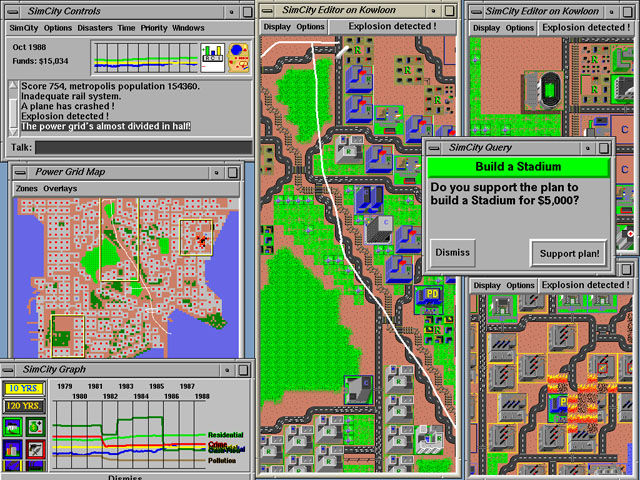 Don Hopkins ported SimCity to Unix in 1991
Such pleasures might never have been brought into the public eye at all, however, if, having hit upon the idea some years before its eventual release, designer Will Wright hadn't joined forces with Jeff Braun and Maxis. Before then, Wright had touted his Commodore 64 game to many a publisher but with no luck. In 1985, potential backers shyed away from what was something of a unique - and potentially unsellable - open-ended concept.
Of course, in the end, the lack of any real endgame made the 'Sword of Damocles' – the chance to call in numerous natural disasters to demolish your city – all the more compelling once you'd become bored with the status quo. Earthquakes and tornados, or even UFO and Godzilla attack, all might happen at random to derail your best-laid schemes. However, it was unleashing acts of God entirely purposely – and purely in a bid to watch your citizens tremble – that routinely led to the most amusement.