Bees use 'electrical sixth sense' to nail nectar-stuffed flowers
Sparks fly when bumbles see plants for plundering, say Brit bio-boffins
---
There's electricity in the air when bees meet flowers: according to a new study, the blooms and approaching insects uses electrical signals to find out whether there is nectar and pollen to spare.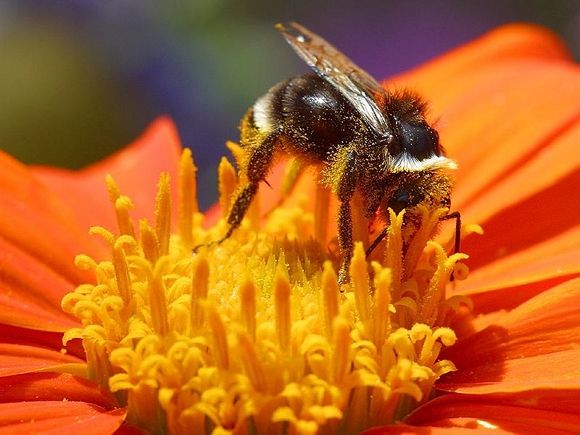 My spidey bumble senses are tingling
As they fly through the air, bumblebees acquire a positive electric charge, while flowers, which are grounded, have a negative charge. When the two meet, the bee somehow senses the difference, and it's that information - along with bright colours, patterns and enticing fragrance - that attracts pollinators to blooms.
Bio-boffins at the University of Bristol, which conducted the study, found that when a bee visits a flower and picks up its pollen, some of the positive charge on the insect may transfer to the plant and alter its electric charge. After several visits, this change in charge appears to be detected by other incoming bees who swerve away in search of a plant that hasn't been plundered.
But both the bee and the plant have a bit of control over their charge, we're told, and some plants may lie about their nectar supply.
"The last thing a flower wants is to attract a bee and then fail to provide nectar: a lesson in honest advertising since bees are good learners and would soon lose interest in such an unrewarding flower," lead author Daniel Robert said.
"The co-evolution between flowers and bees has a long and beneficial history, so perhaps it's not entirely surprising that we are still discovering today how remarkably sophisticated their communication is."
The researchers tested the electric chat by placing electrodes in the stems of petunias and observing that, when a bumblebee (Bombus terrestris) lands, the flower's potential changes and stays that way for a few minutes. They also found that the bees are able to detect and distinguish between different flowers' electric fields.
What they don't yet know is how the bees detect the fields with this sixth sense, although it's possible that bumblebee hairs bristle up under the electrostatic force.
The full study, Detection and Learning of Floral Electric Fields by Bumblebees, was published in Science Express. ®