This article is more than 1 year old
Woman nails 'cheating boyf' on Russian 'Street View'
Spots paramour pair in Perm panorama
A Russian woman has ditched her boyfriend of five years after spotting him with another squeeze on the local equivalent of Street View.
Marina Voinova, 24, said she was searching Yandex Maps for an address in Perm when she got an eyeful of her other half, named only as "Sasha", on an incriminating stroll (click for a bigger version):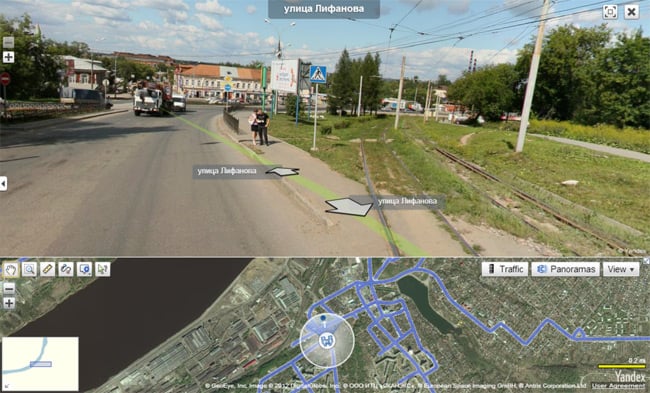 She told Russia's Life News that she recognised the man in the picture: "At first I just saw a familiar male silhouette. Looking closer, I realized it was my fiancé Sasha with another woman. There was no doubt when I saw his arm cast; just that summer he'd broken his hand."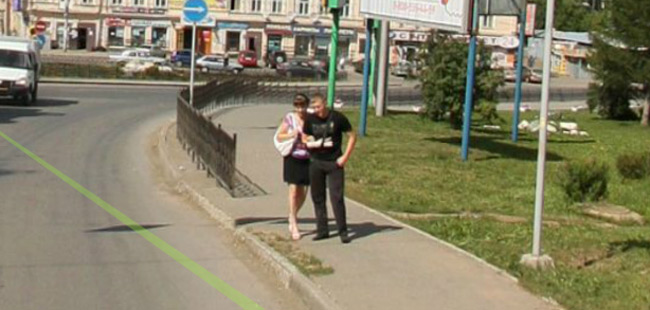 Voinova continued: "When Sasha came home, I immediately called him and asked him to find the address on the map. When the unfortunate image loaded, Sasha went pale."
That marked the abrupt end of the relationship, although Voinova described it as "silly" to blame the internet for her ex's exposure.
Yandex doesn't, unlike Google, have a policy of blurring faces. The company's Catherine Karnaukhova explained: "Showing people in panoramas isn't against Russian law, since they're not the main subject of the image.
"However, if someone objects to a particular image, they can request its removal. We always try to take into account the comments from our users."
We at the El Reg Street View desk were a bit sceptical about this story, so we took a trip to Perm in pursuit of "Sasha". After a bit of a stroll, we caught up with the man she fingered right here. Naturally we can't confirm the identity of the man nor if he is indeed Voinova's "Sasha". ®