This article is more than 1 year old
Ubuntu Preview alpha arrives for fondleslabs and phones
Beware – it's for brave Nexus device owners only
As promised, Canonical has released the Ubuntu Touch Developer Preview, complete with full source code and installation images for supported devices. The company warns, however, that this early, alpha-quality release is strictly for developers and enthusiasts only.
"While a huge amount of Engineering and Design work has been put into ensuring that the foundations for our user experience vision are in place, we want to stress that the Ubuntu Touch Developer Preview is currently work in progress," Canonical's David Planella wrote in the official announcement on Thursday. "It is not intended to replace production devices or the tablet or handset you use every day."
As The Reg has previously reported, the only devices currently supported by the Touch Developer Preview are Google's flagship Android devices, including the Galaxy Nexus and Nexus 4 handsets and the Nexus 7 and 10 fondleslabs.
The Preview itself does not run on top of the Android OS, however, nor is it a version of Android customized by Canonical. It doesn't run Android apps. Rather, it is an entirely different OS that's based on the same Linux kernel and related code as the desktop version of Ubuntu.
This means that in order to install it, you'll need to flash your device's firmware, erasing the OS that came with it – which explains Planella's words of caution. If you don't want to risk your fondleslab becoming merely a slab, this early release of Ubuntu is definitely not for you.
In fact, even if you manage to successfully install Ubuntu on your phone or tablet, the Developer Preview won't give you everything that you might expect from a production device. You'll be able to run core applications, network over Wi-Fi, use the device's cameras (mostly), and make phone calls and send SMS messages (assuming your device is a phone). Other than that, though, what you can do with Ubuntu on your device so far is pretty limited.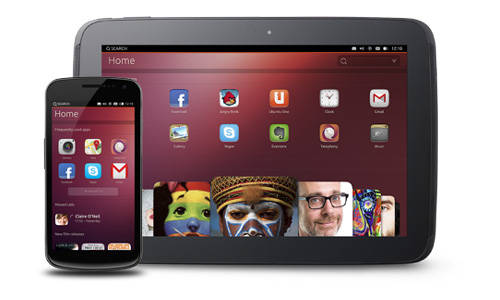 Yes, you can get Ubuntu running on your Nexus tablet or phone. And then what?
According to the release notes, the Preview doesn't support Bluetooth, Wi-Fi tethering, LTE, or any kind of advanced networking settings. In fact, it doesn't support mobile data at all; your internet access is limited to Wi-Fi only. It doesn't have Emergency Call support, it doesn't do speakerphone, it doesn't do MMS messaging, and so on – and individual devices each have their own, additional quirks.
Expect some of this to change soon. Planella says that although Thursday's release is based on the current Ubuntu 12.10 stable release, the project plans to switch to the Ubuntu development release, codenamed "Raring Ringtail", in the next few days, at which time the OS is likely to begin to develop more rapidly.
Even then, however, there's the issue of just what to do with an Ubuntu phone or tablet. Because it's Linux, there is no shortage of software to run on such a device, but at this early stage, installing it and getting it working is mostly going to be up to you.
More to the point, the reason Canonical is releasing the Touch Developer Preview is to get developers working on brand-new apps for Ubuntu that are designed from the ground up to run on touch-enabled mobile devices. If all you really want to do is run existing mobile apps, Ubuntu might yet be a little undercooked for your purposes. If you already have a mobile app that you'd like to get running on Ubuntu, however, you'll want to grab the alpha release of the Ubuntu SDK, which also debuted on Thursday.
El Reg will bring you more information on the device-centric flavor of Ubuntu, including our own thoughts on the OS as the project develops. ®