This article is more than 1 year old
Meet Antarctic sysadmin Richard Youd
Cisco, VMWare, and maybe helping with emergency surgery, at the bottom of the world
Live chat While some sysadmins bemoan the lack of training on offer in their workplaces, Richard Youd has just completed several courses, namely:
Two weeks studying to be a Lay Surgical Assistant
A week of Search and Rescue (SAR) technical training
Six days of fire fighting and emergency response training
A four-day advanced wilderness first aid
Competent crew training for the safe operation of Inflatable Rubber Boats (IRBs)
32 year-old Youd needed that training because his current gig is as a "communications technical officer" at Davis Station, one of Australia's three permanent Antarctic stations.
The last supply ship for the summer has just left and Youd is now one of 17 people who will spend the winter on ice.
Youd scored the job in the traditional way: he read an ad, applied and impressed in interviews.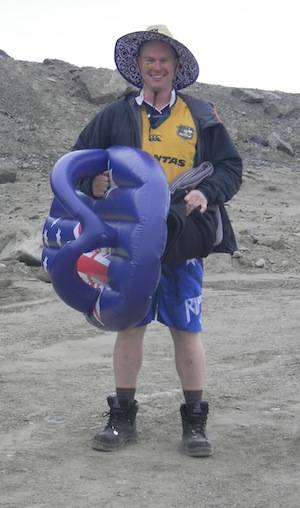 Antarctic Sysadmin Richard Youd
preparing for a swim on Australia Day
Photo by and Copyright Phil O'Brien
It helped that he has five years solid sysadmin experience and friends who had already spent time on the southernmost continent. "Their success and enjoyment of their stint in Antarctica is what prompted me to look more seriously at working on the frozen continent," he says.
Youd has joked that the job is all about keeping Facebook available over Davis' one megabit per second satellite link back to the rest of the world, as Facebook takes on added importance in a tiny community where the sun won't shine at all for six weeks of winter.
With the summer season over, Davis' population has just fallen from 90 to 17, which means Youd isn't sure if the work he's been doing for the last couple of months – user technical support, maintaining HF/VHF radio equipment, monitoring backups, Active Directory and Exchange administration, and running the base's Asterisk VOIP and Cisco switches – will be typical. His work will be diverse: users on base have Macs, PCs, and even some iOS and Android devices have made their way south.
Among his duties are enforcing rules that mean FTP, POP3 and IMAP traffic are all barred. Personal email is webmail-only and Skype is not allowed.
And then there are Youd's other jobs, including skippering IRBs, Fire Crew member, SAR First Responder, maintaining medical and dental X-ray machines and the possible role assisting surgery. To join us, register in the widget below.
Join us on Wednesday, 6 March at 1300 Sydney time (0200 GMT) for a Live Chat with Richard, in which you can ask him almost anything about his job, life on station and what he's got planned for the winter.