Drilling into a half-decent gigabit small-biz switch... from D-Link
The DGS-3420-28TC isn't from Cisco and I'm OK with this
---
Review I have a confession to make, dear readers. While I'm aware that this admission opens me up to virtually unlimited heckling from the Cisco-indoctrinated crowd, the truth of the matter is that D-Link switches have served me in good stead for over a decade. After having spent the past month reviewing D-Link's DGS-3420-28TC, I've decided its maker stands an excellent chance of remaining a staple vendor for my SMB clients for another decade.
The DGS-3420-28TC is a 24-port 1GbE switch with 4 10GbE SFP+ ports. It is marketed as a "Layer 2+ Managed Switch" as part of D-Link's xStack line. (xStack switches can all be stacked with one another.) It offers a web-based GUI for management as well as a Cisco iOS-alike command line - similar enough that those trained on Cisco can probably make their way around without needing the manual.
It supports the basics: various flavours of spanning tree (as well as loopback detection), VLANs (including basic Q-in-Q), some basic IGMP and MLD snooping and port-mirroring. It's the bare minimum I would expect from any switch that was rackmountable today. Layer 2 featureset, check.
The "2+" part of the featureset branding comes in with the layer 3 features it supports: IPv4 and IPv6 routing, basic QoS and rate limiting, various levels of authentication control and reasonable access control list capabilities. The featureset on this unit doesn't come anywhere close to that offered by enterprise offerings (like Dell's PowerConnect line) and would get eaten alive by a top-end Cisco switch. That's fair enough; it isn't aimed at the same market.
The vast majority of these switches that get deployed will probably never be used for anything excepting Layer 2 support. I expect that there will be a lot of deployments in which some configuration occurs... D-Link obviously envisions groups of these switches connecting hundreds of 1GbE devices and stacking among themselves via the 10GbE ports.
That will certainly be the case for some deployments, but for many others it will be seen as a way to get access to cheap 10GbE connectivity. I believe these switches will see extensive deployment within small businesses as a switch that allows 10GbE-equiped servers to talk to 1GbE devices, likely without other switches being involved on the network at all. In fact, I ordered a pair (primary and spare) for just such a deployment the other day.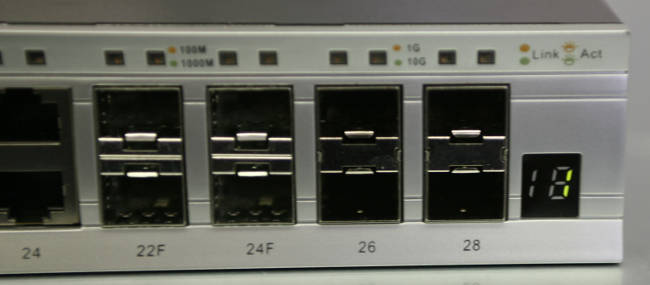 It will also see use as a top-of-rack switch in SMB server rooms where 24 1GbE servers and a couple of 10GbE servers are connected to a core switch – something like Supermicro SSE-X24S – via a link-aggregated pair of 10GbE ports. Chances are good that in both of these scenarios, the physical network will largely be unmanaged: one great big Layer 2 network with, at most, some VLANs to break up the broadcast domains. I've got a render farm on the drawing board based on exactly this configuration.
The D-Link switches I've deployed work well for the intended uses. Their failure rates are reasonable enough that I can put a set of identical switches into a given site and buy only one spare to sit on the shelf. I've never had a second one go while the first was getting RMAed, and I've only had a handful of RMAs over the course of a decade.
Buying an extra unit to keep as a spare on the shelf as your backup isn't exactly enterprise-class support, but the D-Link switches are certainly cheap enough for this to be a viable strategy. The DGS-1024D is normally $2,000 – though it can be found for ~$1500 - making it the entry point into 10GbE for most SMBs.
In the testing I've done on these switches, they perform acceptably well for typical traffic. Hit them with enough multicast traffic and the switch will fold like a cheap tent, but it'll handle layer 2 unicast traffic to full port speeds without complaint.
Layer 3 is another story entirely. Start using the switch for routing and the difference between the DGS-3420-28TC and pretty much any full-bore enterprise Layer-3 managed switch becomes rapidly apparent. The switch is perfectly capable of handling a few Gbit/sec worth of routing. 40Gbit/sec worth of routing, however, is nowhere within its remit. Tick-box support for a feature is explicitly not "turn the knobs to 11" support.

Fair enough. While my CCNP friends will cheerily point to this as an excuse not to use these units, I can't agree. I've been using D-Link since my very first DES-1026G allowed me connect up some 1GbE servers to my passel of 10/100 desktops. I've probably got over a hundred DGS-1210-48 and at least 250 DGS-1024D switches still in the field. The DGS-3420-28TC will be joining them soon. ®

Drilling into a half-decent gigabit small-biz switch... from D-Link
"Good enough" 10GbE switching for the cost conscious
Price:
Comes in under $2K RRP