Review: Britain's 4G smartphones
Nine handsets, one network - is it time at last to invest in LTE?
---
Product Round-up It's been a good few months since the first 4G LTE network fired up in the UK, and wiser men than I have already tossed their orbs about the what and the how of EE's monopoly 4G network. Time then to consider the 4G handsets now available for use in Blighty, and in the process cast a beady eye on speeds and coverage outside the hallowed boundary of the M25.
EE currently offers nine 4G handsets in the UK, including the new BlackBerry Z10. I've got seven of them sitting on my desk as I type this. Why only seven? Because the Nokia Lumia 820 and HTC One SV are just cut-down version of the much, much better Lumia 920 and One XL handsets. They're also both lumbered with 800 x 480 screens, and who on earth wants a WVGA handset these days?
All the major operating systems are represented - Android, iOS and Windows Phone 8. With the new BlackBerry Z10, that gives you a choice of four operating systems and four ecosystems. The list also covers all the major device makers with Apple, Samsung, Nokia and HTC all getting a look in as well as up and coming Chinese phone vendor Huawei.
Cost
Right now 4G is not for the shallow of pocket. The lowest cost contract EE has to offer is a two-year, £31-a-month deal with 500MB data and a Huawei P1, for £20 up front.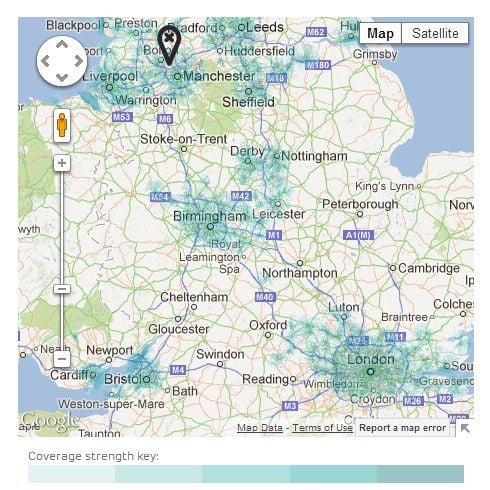 EE's national coverage is an issue
If you want 1GB of data that will set you back £41 per month, 3GB £46, 5GB £51, 8GB £56 and, in a recent addition, 20GB for £61. Handset costs drop the more you spend each month, but only the three cheapest devices - Huawei P1, HTC One SV and Nokia Lumia 820 - are devoid of an up front cost, even on the highest tariff with a 24-month commitment.
There's a rub with EE's 4G data offering, though. When you use up your monthly allowance you have two options: buy more data or have your data connection terminated and your smartphone effectively lobotomised.
To keep your data pipe open you'll need to cough up either £6 for an extra 500MB, £15 for 2GB or £20 for 4GB. Or wait until your next billing period arrives. I don't much like any of those options.
For comparison, if I sail past the monthly data limit on my T-Mobile 3G contract - and T-Mobile and EE are essentially the same company, don't forget - the worse that will happen is I'm prevented from streaming video or downloading large files. In four years, though, this has never actually happened. But I can still use all my phone's connected features and I don't get billed for the extra data used in doing so.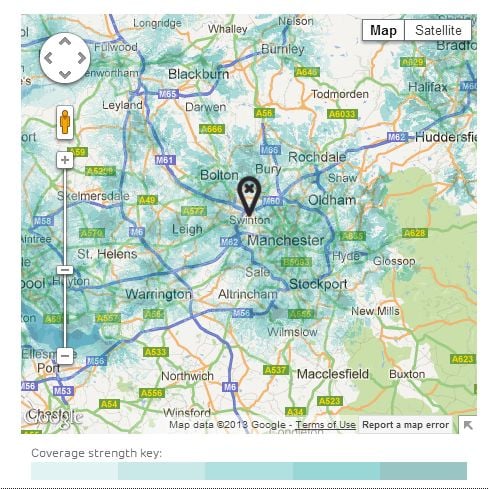 North West patchy on the ground
Realistically this means the cheapest EE 4G contract you should consider is the 3GB £46 deal. Why? Because if you go for the 1GB option and run out of data, the minimum top-up required to keep your phone connected takes you up to the same £46. Going for the 500MB or 1GB deal is false economy unless you seldom use mobile data. If that's the case, why consider 4G to start with?
Granted all EE's 4G tariffs offer unlimited voice minutes and texts, but you need to spend some very serious time yakking and LOL-ing every month for that to be a deciding factor.
Coverage
Manchester was one of the launch cities for EE and because it's where I live and the Reg isn't paying mileage, it's where I did my testing.
Drill down into EE's coverage map and you will quickly see that 'Manchester' means 'Manchester but with some pretty big gaps'. I live in Swinton which is hardly the back of beyond but it's still slap bang in the middle of a large low coverage zone that stretches west from Salford to the M60 orbital.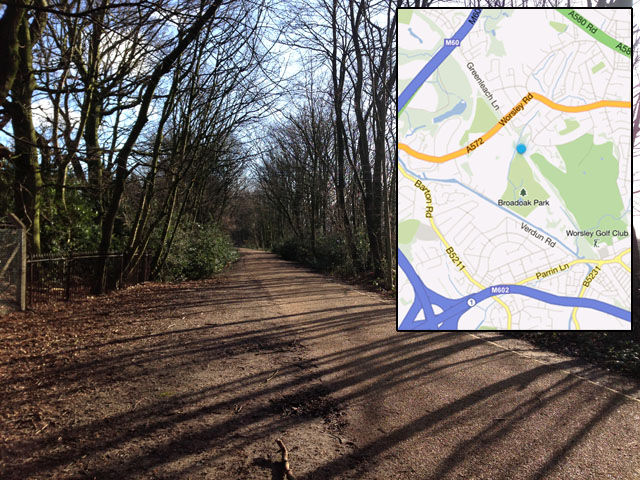 First test location, as Dr Beeching left it
According to EE's coverage checker, my home should have poor rather than no connectivity but I only got an occasional sniff of it by sitting next to a second story bedroom window - and then only with the HTC One XL, which seems to have an unusually sensitive 4G antenna. Ever has it been thus with coverage checkers.
Going walkabout in the 'hood, I was surprised by some of the places I did manage to get a reliable if low signal like the parkland walk that follows the disused Bolton to Eccles railway line. Maybe the nearby presence of the local great and good at Worsley Golf Club got this area special attention.
Things started to improve mightily when I headed into town down the M602. Once I got within a couple of miles of central Manchester I started to get coverage that could be described as very good - four and even five bars - and geographically uniform.