Review: Britain's 4G smartphones
Nine handsets, one network - is it time at last to invest in LTE?
Speed
Theoretically 4G can support speeds of up to 100Mbps but you're not going to see that or anything like it in the real world. EE reckons the best you will see is between 40 and 64Mbps. I'd say between 12 and 40Mbps is more likely because those are the sorts of speeds I was seeing.
In areas with a strong 4G signal I regularly recorded download speeds of over 30Mbps and uploads of over 12Mbps. That's better than the majority of domestic broadband connections and considerably faster than the best - and very rare - 8Mbps down and 1.5Mbps up HSPA+ speeds I managed on EE during the test.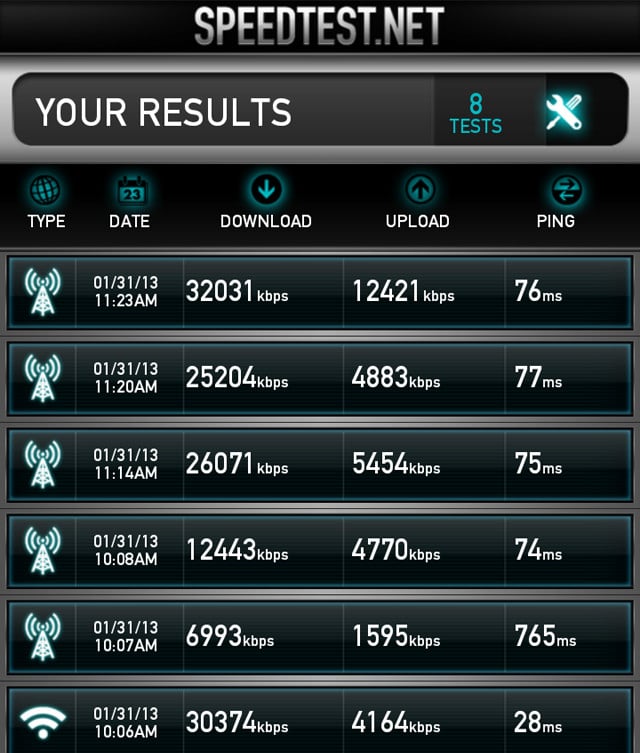 HTC's One XL samples the 4G airwaves. The bottom number is Wi-Fi, the next one up HSPA and then 4G as we move into a 4G zone
With the 4G connection only showing one bar, speeds generally dropped to around 10Mbps down and 4Mbps up, sometimes slower. That's close to the best HSPA can deliver in the real world though network congestion often reduces it massively.
For the record, 4G data speed differences between the various handsets were statistically irrelevant. Not one of these devices is going to offer faster upload or download speeds than the others.
No matter what speeds you actually get you'll be seeing much lower latency - in the region of 75ms if my experiences are anything to go by - which has obvious value for anyone gaming over 4G or doing something more critical than looking up the footie results.
Reception
All the handsets here drop back to 3G when you make or take a call. In view of that, you'd expect call quality to be pretty much the same as it would be if you were using a non-4G handset. And you'd be quite right. Whatever the technical issues of the handover between 3G and 4G, you don't notice it in day-to-day use so it's not something worth worrying about.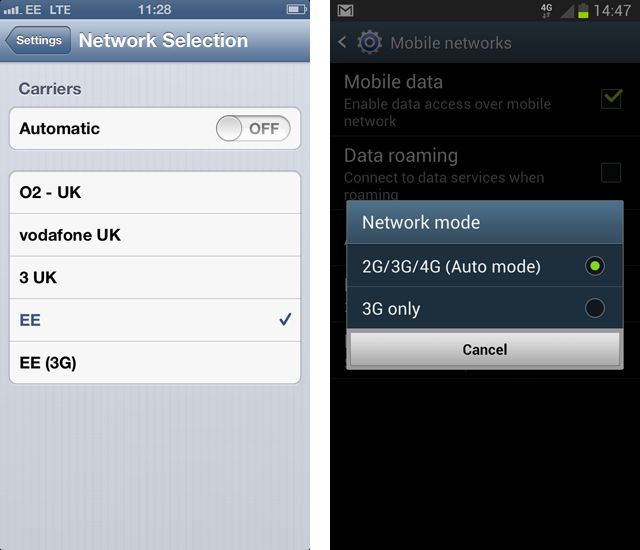 Pick the right one: network selection on the iPhone 5 (left) and the Galaxy S III
All six handsets performed perfectly well in call tests which saw me standing in the windswept western periphery of the Trafford Centre car park next to the M60 yelling to the other half and to my Skype voicemail. If I had to pick a winner, it would be the Nokia, which seemed just that bit louder and clearer whether making or taking calls.
When it came to cellular reception there was nothing to chose between the six handsets, but the HTC One XL distinguished itself by being the most eager to snag a 4G signal in preference to 3G when one was available.
Battery Life
As a rule of thumb you can expect each handset here to drain its battery between 20 and 25 per cent faster when hooked up to a 4G signal than the corresponding 3G version would when connected to a 3G network. Even in a 3G area drain is more pronounced because your handset is forever scanning for a 4G network.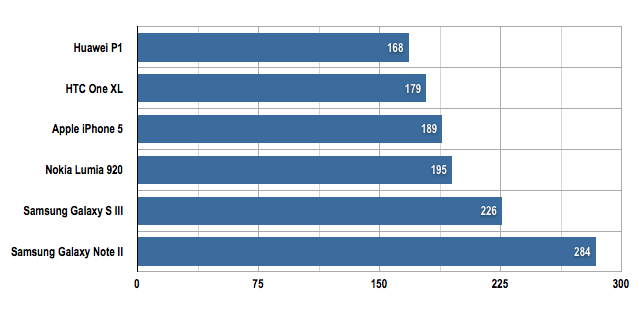 Battery life in minutes
Longer bars are better
To get a reliable ranking, I installed the Netflix app on all the handsets and streamed film after film over 4G until the lights went out. Unsurprisingly the Galaxy Note did the best, thanks to its massive battery. Unfortunately, I didn't wasn't able to spend enough time with the BlackBerry Z10 to run the test on it, hence its absence here.
Test results to one side, the two Samsungs and the Huawei P1 have a distinct edge because you can swap the batteries in and out while out and about. The Note II was the only phone that managed to comfortably get me through a full day of intensive use without a recharge.