IBM skips BladeCenter chassis with Power7+ rollout
End of the line for Power blades – PureFlex or bust
---
Even before IBM launched its Power7+ entry and midrange servers in early February, El Reg told you that it was suspicious, although not yet alarming, that no rumors were going around that Big Blue was working on Power7+ kickers to its PS7XX series of blade servers for its BladeCenter enclosures.
Well, it looks like the Power line of blades is going the way of those using Power Cell chips and Opterons, because IBM is telling customers there will not be a Power7+ upgrade of the current PS7XX series of blades.
El Reg speculated as much back in January, ahead of the Power7+ launch for entry and midrange machines, saying that it would not be surprising if IBM held back on Power7+ blades or stopped enhancing them altogether with the PureFlex modular systems in the market for nearly a year now.
"You guessed that right," Steve Sibley, director of worldwide product management for IBM's Power Systems division, tells El Reg. But, as we also expected, the Power7-based PS7XX blades are going to be in the IBM product line for quite some time yet.
"We have extended the life out for people who want to continue to buy blades because they have a BladeCenter infrastructure, so we will keep supporting the Power7 blades much longer than normal," says Sibley.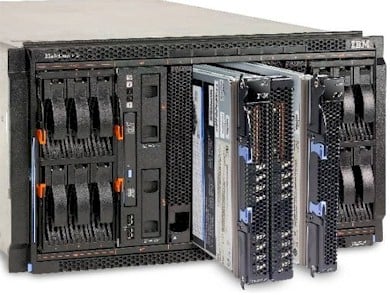 IBM's BladeCenter spitting out Power7 blades
So now the PS line of Power7 blades joins the ranks of the LS Series, which were based on the Opteron processors from Advanced Micro Devices, and the JS Series, which were based on PowerPC or Power6 processors, and the QS series, which were based on the PowerXCell "Cell" processor.
The latter Cell chip, a hybrid of Power4 cores and eight vector accelerators that can function as a graphics chip or a math coprocessor, was created by Big Blue and partners Sony and Toshiba. IBM used it for compute engines inside supercomputers (specifically for the petaflops-busting "Roadrunner" massively parallel blade machine that married Opteron blades to Cell blades), and Sony as the main engine inside of its PlayStation 3 game consoles. And don't forget the T2BC blade server, based on Sun Microsystems' Sparc T2 chip and made by Themis Computer.
It is not surprising that IBM would de-emphasize BladeCenter blades with the shiny PureFlex iron out there and available with either Flex p260 Power7 or Flex p260+ Power7+ chips in two-socket servers. A four-socket Power7 node, called the Flex p460, was launched with new chassis and companion Xeon E5 server nodes last April, and a Flex p460+ variant using Power7+ chips is expected any day now. There are two-socket and four-socket Xeon E5 server nodes for the Flex chassis, but there are no Opteron variants – and none are expected.
At first blush, the BladeCenter E and H chassis look to be the better enclosure compared to the Flex chassis. The original chassis, the E enclosure, could put 14 blades in a 7U enclosure. But it was prone to overheating if faster CPUs and memory were installed. And so IBM added a little space on the top and the bottom of the enclosure to create the BladeCenter H chassis, which put 14 blades in a 9U enclosure.
This allowed better airflow and fatter power supplies and compute nodes, but sometimes companies had to space out their nodes or enclosures or be careful picking CPUs and memory. With the Flex chassis, IBM is only getting 14 server nodes in a 10U chassis, which is a backstep compared to the BladeCenters in terms of compute density. But again, the Project Troy design has compute components that are not pressed so thinly. Moreover, if you want a four-socket node, you do the link between nodes and inside of the server node envelope and you do not have to create custom connectors that snap together individually wrapped blades. Similarly, IBM can roll disk arrays and other devices into the bays. Creating a mix of server and storage blades in the BladeCenter was more of a challenge than it is with the PureFlex setup.
None of this means that PureFlex will necessarily sell better than BladeCenter, or that PureFlex will take a bite out of Hewlett-Packard's BladeSystem and ProLiant BL sales or Dell's M1000e enclosure and PowerEdge M series blades. It may also fail to stunt the growth and blunt the attack of server upstart Cisco Systems, which put a machine in the field in March 2009 based only on Intel Xeon processors that IBM is, to a large extent, mimicking with the "Project Troy" PureFlex iron. The HP and Dell enclosures are relatively new, by comparison with the BladeCenter, and will probably be around and be enhanced for a while. Just last week, HP launched new c3000 and c7000 enclosures, the so-called Platinum Editions, with more backplane bandwidth and more efficient power supplies.
If you were one of the last companies to invest in the BladeCenter enclosures and Power7 blades, you are probably annoyed with IBM. But once the PureFlex machines were out, the handwriting was on the wall. If you want the fastest backplane and the snazziest networking and other peripherals from IBM and you want a converged system, then you need to buy PureFlex. And given that the Power7+ processors are socket-compatible with the Power7 machines, it is a bit perplexing why IBM did not kill off the BladeCenter PS7XX after putting the Power7+ chips in these blades.
But Project Troy is the first big hardware announcement managed by the software people inside the converged Software Group and Systems and Technology Group inside of Big Blue, so it stands to reason that the top brass at IBM want to lead with the new stuff that they conceived and brought to market.
If you are thinking that the HS series of blade servers from IBM might see support for Intel's future "Ivy Bridge" Xeon E5 v2 kickers later this year, you might want to think again. While IBM has not said what its plans are, it would be best not to bank on it unless you get it in writing. Socket compatibility between the Xeon E5 and E5 v2 chips doesn't guarantee you anything. This can be illustrated by the situation with the Power7+ chips - where the existing blades could take them... at least in theory ®
Similar topics
Narrower topics