Mellanox pumps up channel for InfiniBand, Ethernet pushes
Trying to pull in more biz to fill in revenue hole
---
Switch and server adapter maker Mellanox Technologies gave Wall Street a bit of a shock with some cable issues and a big revenue shortfall in its most recent quarter and a projected one for the current quarter after one of its OEM customers bought more product in the latter part of 2012 than they could sell even into the first quarter.
Now under the gun from Wall Street to get back to the aggressive growth that pushed Mellanox up above $500m in sales last year, the networker wants to broaden its sales efforts beyond direct and OEM sales and start pumping up its reseller channel to spread the gospel of 56Gb/sec InfiniBand and 10/40Gb/sec Ethernet.
"Although many companies are familiar with Mellanox, we have a little bit of an identity crisis in the channel, where some are not as familiar with us," explains Darrin Neil Chen, senior director of worldwide channels at the company.
And getting the channel fired up is particularly important for Intel, which is selling InfiniBand and Ethernet adapters, InfiniBand switches, and peddling silicon to Ethernet switch makers. Intel can offer very substantial incentives to channel partners to try to eat market share and has far deeper pockets than Mellanox can even imagine.
In recent months, to bolster its channel efforts, Mellanox has tripled its channel sales team to 36, with 22 people in the Americas, eight in EMEA, and six in Asia. Today, Mellanox is rolling out a new web portal for channel partners, which will help distribute sales leads to partners as well as driving more education and training to help them get up to speed on the latest networking technologies and to close the sale.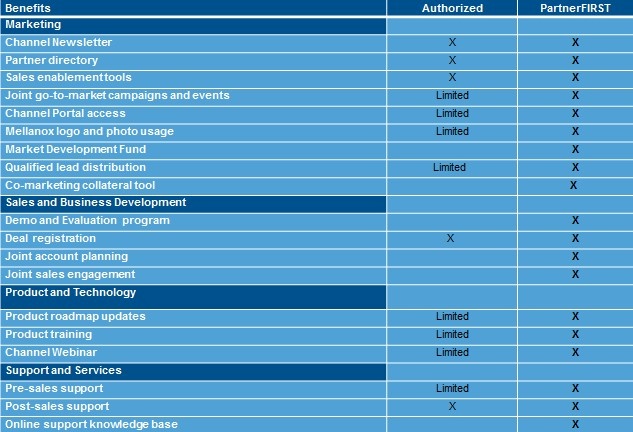 How the bennies stack up for Authorized and PartnerFirst partners at Mellanox
With the PartnerFirst effort (PDF) announced on Monday, Mellanox is also emphasizing the margins that high-end InfiniBand and Ethernet switch and adapter sales can give to customers. This is what is bound to get the attention of the distribution and downstream resellers that Mellanox is chasing. Chen was in southern California talking to partners last week, and margins of 2 to 3 per cent are common in the switch and adapter racket, he heard them complain, with resellers expected to make their cut through rebates and other programs and to – wait for it – make it up in volume.
Mellanox says that by peddling its wares, downstream resellers can see up to 4X higher margins if they work more tightly with Mellanox. Provided they don't decide to pass some of those margins through to customers to win deals, of course... In PartnerFirst, Mellanox is offering discounts of up to 57 per cent off manufacturer's suggested retail price on ConnectX server adapters and up to 54 per cent off for InfiniBand and Ethernet switches. This sounds pretty steep, considering the margins that Cisco Systems is able to take from the channel, but Chen says that even at these reseller discounts Mellanox can still make good money.
Four years ago, says Chen, before Mellanox bought rival/partner Voltaire and made its way into the Ethernet switch and fabric management software business and before InfiniBand took off as an interconnect for both parallel supercomputers and database and middleware clusters, Mellanox only did direct customer sales, with a few big OEM customers accounting for a big part of its business. Today, Mellanox has 26 distribution resellers – including Avnet, Ingram Micro, Tech Data, and Synnex in the Americas and Logicalis, TechExpress, Avnet, and Arrow in EMEA – that in turn have hundreds of thousands of downstream resellers. But in 2012, those resellers only pushed about 10 per cent of the top line at Mellanox.
The PartnerFirst effort wants to push more product through the channel. "We expect that the reseller part of the business will grow," says Chen, adding that when the channel program reaches maturity, something on the order of 25 to 30 per cent of revenues should come from the channel.
The channel will therefore be a key part of the effort by Mellanox to take a bigger bite out of its total addressable market, which it sees thus: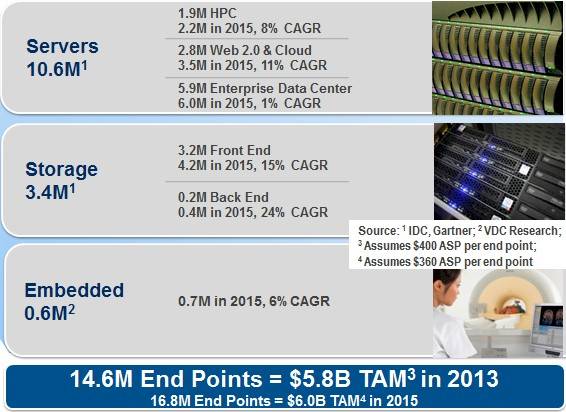 How Mellanox sees its market opportunities
An end point in the table above is a port on a server, storage array, or some other kind of device. Add it all up, and some 14.6 million InfiniBand and Ethernet ports will ship in 2013, and that will drive something on the order of $5.8bn in revenues. Mellanox has a relatively tiny share of this worldwide business, obviously. There is plenty of room to grow, and perhaps as much as $250m a year in revenues a year for Mellanox from the channel, El Reg estimates, if it grows at a modest rate of 20 per cent a year for the next three years and can hit that 30 per cent channel slice target. ®