Nokia opens Maps to rivals, flogs uber-budget €15 phone
Saves 'best' of Maps for Nokia mobes
---
MWC 2013 A Linux phone running Mozilla OS can be found on Nokia's stand at Mobile World Congress in Barcelona this week – but it's not a "Plan B". It's more a statement of intent from the Finnish handset company about its Maps platform, which Nokia is opening up and licensing more aggressively to non-Nokia mobile devices.
CEO Stephen Elop promised that Here Maps, as it is now known, "will be first and best on Nokia mobiles" although the company will open up APIs to achieve scale. Amazon already licenses the platform, the core of which arrived with Nokia's €7.7bn acquisition of NAVTEQ five years ago. This naturally raises questions of what to license when Nokia is competing with itself – as well as pricing questions. For example, what will Nokia deny licensees that's "first and best"? What comes free, and what will require a royalty-paying licence? But evidently, Nokia thinks it can resolve these ancient conundrums - they aren't new...
For now, Nokia Maps is rebranded as HERE Maps (and HERE Drive and HERE Transit) on its own Lumias range - a range which has just expanded. Nokia announced two new low and midrange Windows models, driving the price of Windows Phone 8 even lower, as well as a phone that costs just €15, the Nokia 105.
The €139 (£120, $184), 4-inch Lumia 520 will launch in select markets including Hong Kong this quarter, and in Europe and China in Q2. It has no flash, but the camera is unexpectedly good nevertheless, particularly for a model at this price. The model is even cheaper than Nokia's current budget model, the Lumia 620, which even at under £150 stands up well compared to budget Androids. The new 520, however, is aimed more at emerging markets like China, Mexico and Vietnam, where no-name Androids with Google services stripped out (often sold village-to-village by the "backpackman") are dramatically shifting the market.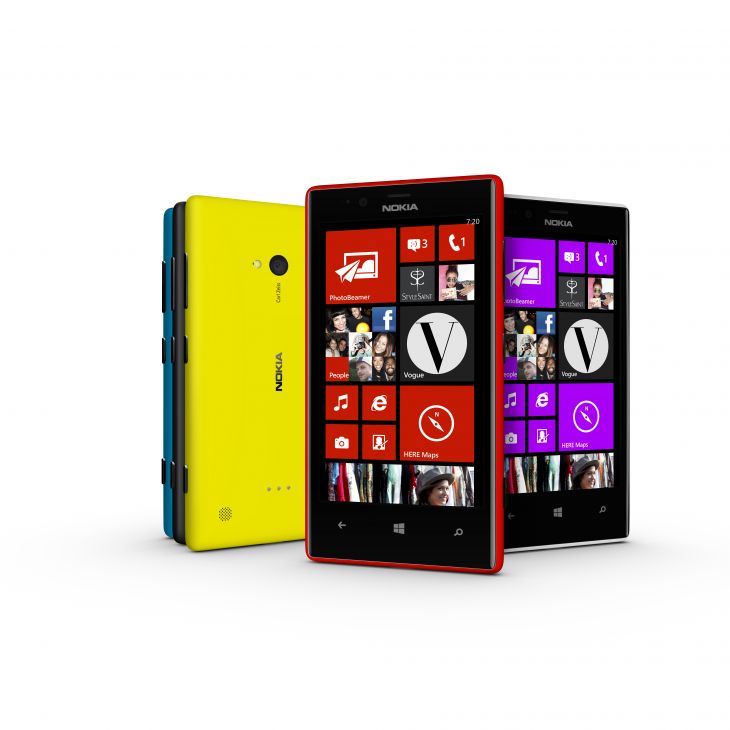 Lumia 720
Nokia also unveiled a midrange, unibody Windows Phone, the Lumia 720, similar in size to the 820 (with a 4.3 inch screen) but considerably slimmer and lighter (127g vs 160g) – there's much less bulk here, although you can use a micro SD card for the first time in a Nokia unibody design. The 720 is sold on its imaging - a 6.7MP camera with wide f1.9 aperture) produces some excellent results, possibly the best in the mid-range, although we'll have to wait and see. It will be released into Asia in Q1 and Europe in Q2, at around €249 (£220, $330) before taxes or subsidies. It also has a cumbersome looking clip-on wireless charging shell.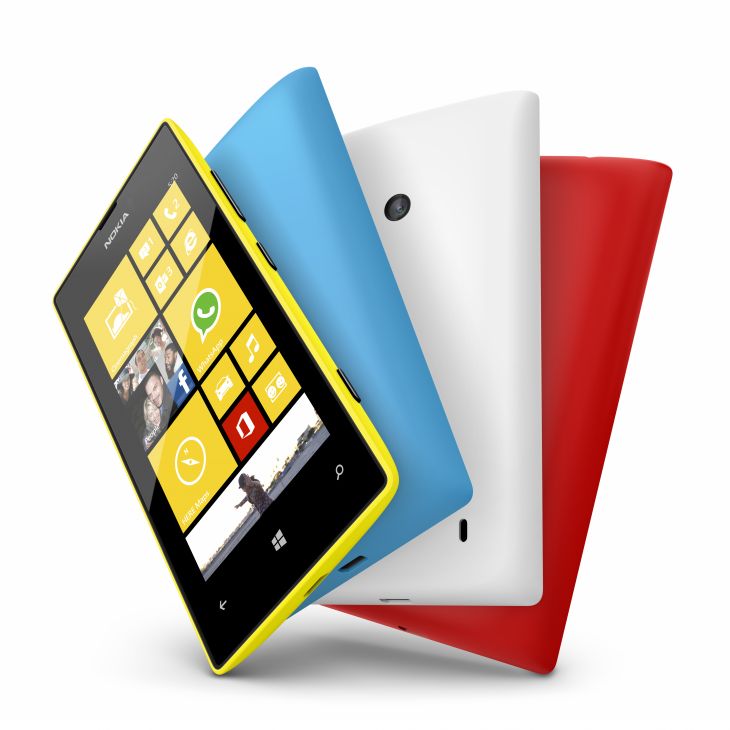 Lumia 520
The talktime specs hint at improved battery performance from Windows 8, using optimizations we haven't see yet. As it is today WP isn't too shabby at all by Android standards.
Nokia has also scored TD-SCDMA versions of handsets for China Mobile. TD-SCDMA is China's home-grown flavour of 3G.
At the bottom end of the market the humble, dustproof 105 costs just €15; (£13,$20), has a 160x128 colour screen and the specs claim 780 hours of standby from a 800mAh battery. It will probably shift more units than most models announced this week combined. ®