Razzie voters drive stake through Twilight
Seven awards for cinematic undertainment
The 33rd Razzie Awards honoured Twilight: Breaking Dawn Part 2 over the weekend with no less than seven statuettes for outrages against the cinematic art, with the final installment of the teen vampire franchise picking up Worst Picture, Worst Actress (Kristen Stewart) Worst Supporting Actor (Taylor Lautner), Worst Screen Couple (Lautner and Mackenzie Foy) and Worst Screen Ensemble (the entire cast), Worst Remake/Rip-Off or Sequel and Worst Director (Bill Condon).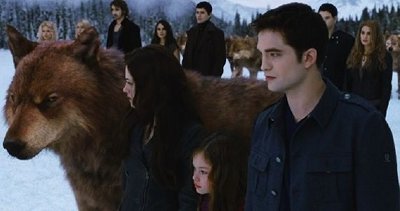 Who farted?
The movie fell short of last year's "unprecedented all-ten-category sweep" by Adam Sandler's Jack and Jill, as Bajan popstress Rihanna pipped Twilight's Ashley Green to the Worst Supporting Actress post with her notable performance in Battleship.
Sandler secured Worst Actor for That's My Boy, and the "comedy" also walked away with the Worst Screenplay title.
That the Razzies took this last opportunity to have a pop at the Twilight franchise came as no surprise. The Academy Awards waited until the final Lord of the Rings outing to dish out a Best Picture Oscar, and Razzies founder John Wilson said last month: "This is our equivalent to The Lord of the Rings. It's our members' last chance to razz Twilight."
Similarly, Sunday's Oscars love-in went according to expectations. Argo took Best Picture, while Daniel Day-Lewis soaked up the applause for his Best Actor in a Leading Role achievement (Lincoln).
Jennifer Lawrence, of Silver Linings Playbook, now has an Actress in a Leading Role Oscar to put on her mantelpiece, and Anne Hathaway went home with the Actress in a Supporting Role gong for her part in Les Misérables.
Quentin Tarantino's Django Unchained was never a real contender for Best Picture, but the film's Christoph Waltz mounted the podium to collect the Actor in a Supporting Role statuette, followed by Tarantino himself who is now the owner of an Original Screenplay Oscar.
Brit contender Skyfall's Per Hallberg and Karen Baker Landers nailed the Sound Editing category, and Adele's theme song for the latest Bond outing was named Best Original Song. ®