Wi-Fi leeching tech Devicescape has reinvented the Wi-Fi landing page, popping a notification into the Android menu to alert those users for whom the internet is no longer the web.
Devicescape calls the technique PopWiFi, and hopes to sell* the service to businesses already giving away Wi-Fi to customers who currently might not even know they're using it, limiting its value as a promotional tool.
In days gone by, free Wi-Fi would almost inevitably lead to your browser being redirected to a landing page, requiring you to agree to some terms and, critically, view the name and message from the Wi-Fi provider. But these days a user's phone might make its own connection to update Twitter, download some Facebook postings and send off a few queued emails, all without the browser, or the user, being involved.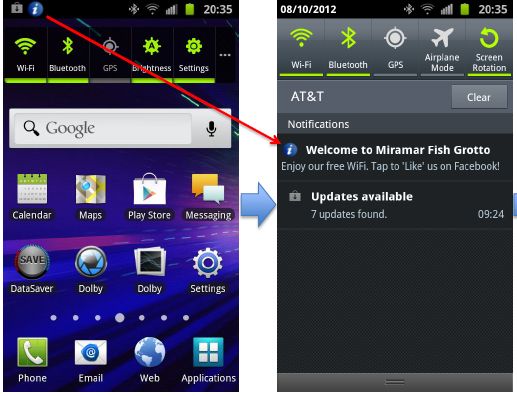 DeviceScape cunningly addresses the problem of notifications on the iPhone by not supporting iOS
Devicescape provides what it calls a "Curated Virtual Network". That's basically a client app which automatically logs on to free Wi-Fi points, bypassing any landing page though the use of crowd-sourced experience to provide connectivity without user intervention.
The app is part of Intel's Ultrabook platform, and a limited form comes preinstalled on Windows Phone 8 devices, connecting users to 11 million Wi-Fi hotspots without the user, or hotspot owner, ever knowing it happened.
Unless, of course, the hotspot owner takes up the PopWiFi offer, in which case they get a dashboard showing usage and the ability to customise that notification message to link to special offers, or their Facebook page, or even a new landing page. They also get the ability to deny users access until they've clicked on that link, or at least viewed the message, but that obviously removes the user-not-present capability.
Assuming that option doesn't prove popular, the accumulation of notifications showing whose Wi-Fi you've been leeching from seems a fair exchange for free connectivity - even if it feels a little like Devicescaoe is blackmailing the small businesses offering free Wi-Fi. Of course, the businesses are free to be remove themselves from the Curated network, so it's not really blackmail.
With Wi-Fi connectivity increasingly becoming part of the cellular mix, those providing it do deserve some recognition, and a notification is certainly superior to a landing page when it comes to finding out who's paying for your connectivity. ®
* That's "sell" in the broadest sense: shops don't have to pay DeviceScape for PopWiFi. The money comes from installation deals with Intel and the like.